Through a partnership between Outdoor Retail and Nalgene Outdoor, more than 25,000 attendees of the Outdoor Retailer Summer Market this past June could opt to pick up a custom, 32-ounce, wide-mouth water bottle by Nalgene for free to fill up at more than 170 water stations located throughout the show floor.
If you walked down into the Venture Out section of the Show, Hydaway Bottle was an exhibitor. Designed in the U.S.A., Hydaway showcased their collapsible, ultra-stashable, water bottles which we thought were pretty darn cool.
As outdoor enthusiasts, we all know that staying hydrated is important, which is why there's a huge market for bottles of every shape and variety. The Bend, OR-based company, creators of the Hydaway, came up with a collapsible bottle for convenience whether your outdoors, at the gym, traveling, commuting, a family with kids, or just on-the-go with a busy life.
The bottles, when fully folded, collapse to a little more than an inch with a circular diameter of just four inches. Weighing just a couple of ounces, the bottles fit just about anywhere, including your back pocket—for on-the-go hydration. There's even a travel case sized to fit the bottle when fully collapsed so it won't take up additional, and valuable, square footage in a carry bag where space is at a premium. For air travel, it's perfect because the bottles store easily even in a jacket pocket.
Made from BPA-free, food-grade silicone and dishwasher safe, they work great whether you're on the trail, in the car or working at your desk, and the rubber-like material does not change the taste of water even if the water has been in the container all day. The company is so committed to a high-quality, reliable hydration experience, that they offer a one-year warranty against manufacturer defects on all of their hydration products.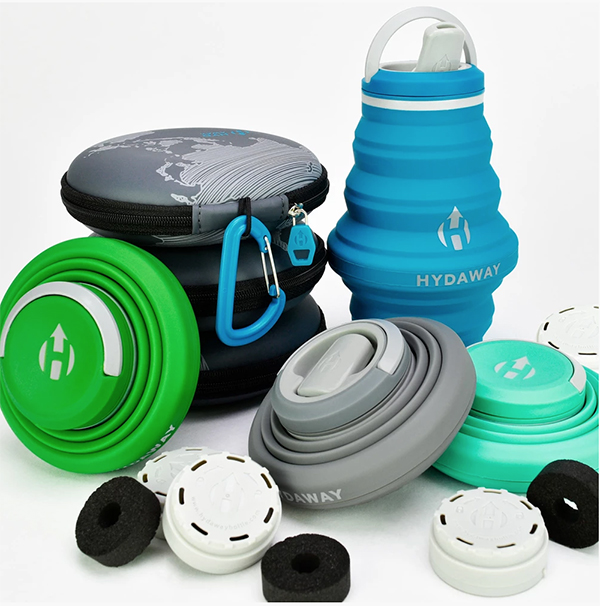 There are two lid options—screw off top with flip-up handle or screw off top with flip-up-straw. The bottle keeps water cold on average the same as most water bottles, same if you were to add ice cubes.
The brand firmly believes in protecting our planet from littering the landscape with plastic bottles and that "lugging empty water bottles around for no reason makes zero sense. That we should each do our part to limit waste from plastic water bottles, and that there's a better way to stay hydrated on the go—fill, sip, stash, repeat."
Hydaway has partnered with no2plastic.org to reduce single-use plastics with five percent of sales from custom Hydaway no2plastic travel packs going to no2plastic.org. With more than one trillion pieces of single-use plastic entering our waterways every year since 2015, Hydaway has prevented "over 1,100 metric tons of plastic waste from reaching our oceans, streets and landfills."
To support Hydaway's efforts, consider a limited edition no2plastic travel pack with five percent of every purchase going back to no2plastic.org. Shop here.
Photos courtesy Hydaway