Founded in 1971 in Sweden by Bo Hilleberg, the very first Hilleberg tents were ridge models, followed by tunnel tents. The inner and outer tents were connected, which provided faster pitching, even in bad weather. It was revolutionary at the time and was well-received by backpackers and hikers.
In this video, produced in 2015, Bo and Petra Hilleberg talk about the early days of the brand and how his experience in the Swedish military led to his becoming a pioneer in the tentmaking industry. Click here on the still shot below to listen to their conversation.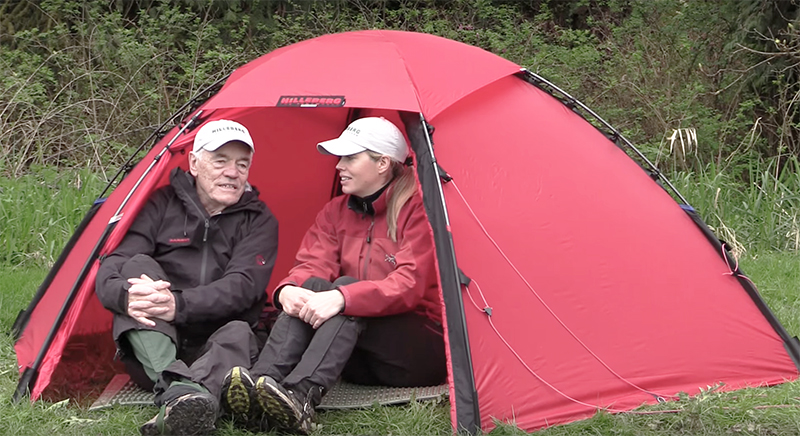 In January 2016 Petra Hilleberg was named CEO of the Hilleberg Group, which comprises Hilleberg the Tentmaker, the Swedish headquarters which oversees product development and handles all sales in Europe; Hilleberg, Inc., the subsidiary in Seattle, WA, which manages all sales outside of Europe and is responsible for all marketing for the company; and Hilleberg Eesti, the company's manufacturing facilities in Estonia. Her Dad continues to oversee the design process. We spoke with Petra earlier this month about her role in the company and what defines a Hilleberg tent.
Hilleberg does not come out with new models just to come out with new products. That's correct. It's a long process because we put our tents through a rigorous testing process with a small development team run by my Dad. Our latest model, the Anaris, shown below, available Spring 2020, is inspired by our first tent, the Keb, which my Dad introduced in 1973. The Anaris is an old-school ridge tent that you use with trekking poles.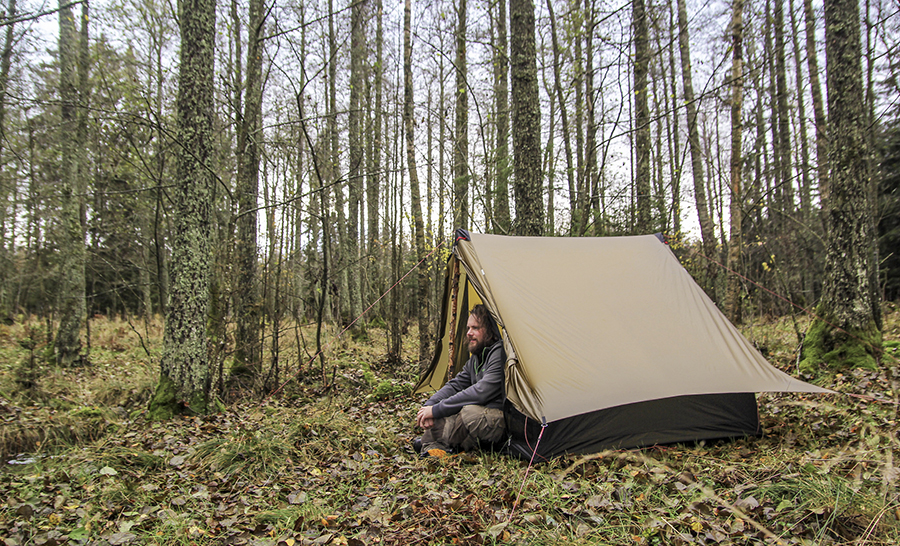 With your company-owned manufacturing facilities, the lifecycle of Hilleberg Tents is very different because you are not reliant on third-party manufacturers. We've built up our factory for over 23 years in Estonia. We have very close controls of the full manufacturing lifecycle, which is unusual in the tent making industry. Everything is performed in-house from the design to production to marketing to sales.
What factors contribute to a great tent?  Function first. Quality first. We will not put details on a tent that is there just to make it look pretty. We use our 50-years of experience making tents and also use our whole product life cycle—from idea to prototyping to manufacturing—to create our tents. We don't skimp on quality materials, and the main reason our tents are more expensive.
What materials make the best choice for Hilleberg tents? It depends on what the tent is being used for. Any fabric will deteriorate over time but if you have a high tear strength to start with, you are going to have a longer life span, and that is what we strive for. This also ties into our sustainability work and our safety best practices. Poles, flexibility and strength are also important. We look at every component that goes into our tents. 
Tent fabrics are divided by color, and within those labels, there are different criteria. Click here to learn more. For instance, our Yellow Label three-season tents are made for the snow-free times of the year, they're not as strong as our Black Label tents which offer our highest strength fabrics. We balance fabric choices based on the category they will be used for.
What trends are you seeing in tent design? What styles are customers gravitating toward? We haven't removed a model from our line for many years because they work across the board. Customers purchase a tent depending on the reason they are buying one of our tents. For instance, we sell more free-standing tents to Asia and on the other side of the spectrum, we are known for our tunnel tents where you get the best weight to space ratio. 
We're seeing an increase in sales overall but equal sales across the board. More people are looking to invest in products that last longer. That comes from a greater emphasis on sustainability and not throwing things away. We are getting more new customers to our brand and what we see as a part of that.
What are some advancements in tent making? We don't look at trends. As a Swedish brand, our philosophy continues to be that going outdoors is the best opportunity to not be plugged in.  
Scandinavian design is based on simplicity, minimalism and functionality. Are the underlying principals, which favor sustainability, attracting new customers? Again, following trends in tents are more difficult to quantify. It's not easy to crank out tents quickly based on trends. 
The functionality of our tents goes hand-in-hand with Nordic simplicity where the design is functional and doesn't have many bells and whistles for the reason of having bells and whistles. Our tents follow those principals for ease of use, durability, longevity, and strength. If the tent is too complex and complicated, it's not going to be easy to handle. It's not going to be quick to set up. And in certain conditions, that becomes a matter of survival that you can set up your tent by yourself wearing gloves in the dark in a storm.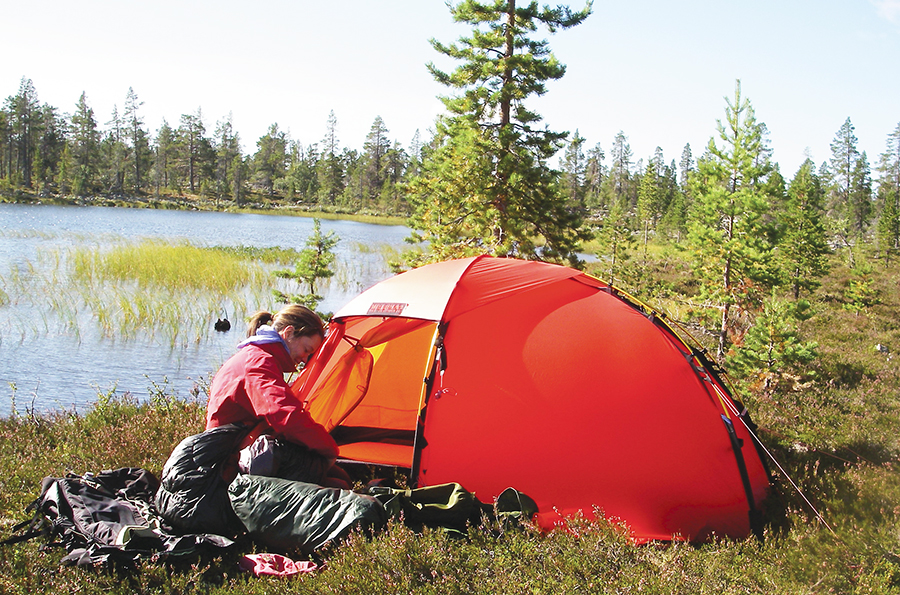 A tent is there to help you survive the elements when you are outdoors. If you have a complicated setup, that prohibits you from having shelter when you need it most. Is that the premise behind Hilleberg Tents? Yes, that is one of our design philosophies. We get people asking for a wind rating but It doesn't matter if you can't set up the tent in a storm no matter what the strength of the material is. That's also why we've always had the integrated inner and outer tents. The poles are always on the outer tent, or the flysheet, where you have the poles on the structure of the outer tent so you never have to set up the inner tent first and then put the fly on top of that. Because if you have bad weather, then the inner tent is going to get wet or you have to struggle with the outer tent and it makes it more complicated. 
If you are somewhere where it's warm, and you are not going to have bad weather, then there are a lot of features that can be nice with having a tent that goes up with having the inner tent going up first and the fly second. But, in general, our tents are used for pretty harsh conditions so they have to be built for anything and that goes from warm desert to the arctic. 
Are you working on designs that may be a departure from what you currently have in the collection? Not really. Our latest tent, the Anaris, uses trekking poles and doesn't have the same pole structure as our other tents do. But it's technically not a new design. It's an old school design where you use a single, straight pole. You can suspend it or use a stick or trekking poles. The set up is very simple and you can use each unit separately as well. You have a lot of flexibility in our tents.
Which tent is your favorite? That would be like choosing your favorite child. You can't pick one! 
You are one of the top amateur dressage riders in the U.S. with your horse Boogie Woogie, a Dutch Warmblood gelding. How has being an equestrian contribute to your success in business? I started riding at three years old. It's always been part of my life and an important part of me. I gravitated toward dressage because it's a precision sport and matches my personality.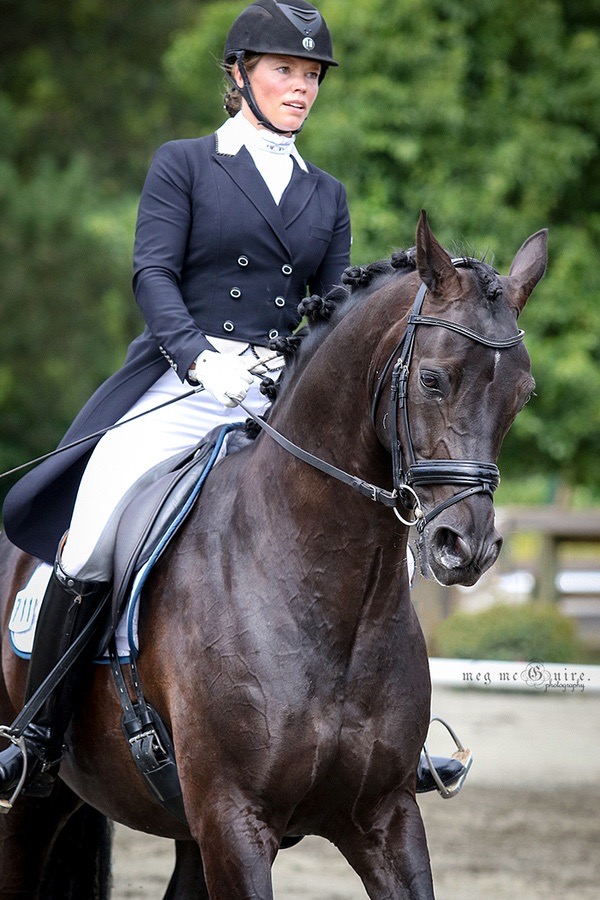 The discipline and responsibility of taking care of your horse is something that makes you disciplined, organized, focused, and goal-oriented throughout your life and is relatable to work in a way that you don't get with most other sports because you have that responsibility for someone other than yourself. You can't go to the barn and be selfish. It's a big commitment. It's not about you and your performance it's about you and your horse. It has made me be a much better leader on many levels.
Photos courtesy Hilleberg Tents