By Thomas J. Ryan
Hibbett Sports Inc.'s second-quarter sales came in below Wall Street's targets due to shifts in the footwear launch calendar and a later back-to-school shopping season. Hibbett officials said same-store growth has picked up in August and healthier comp gains are seen for the second half.
The company also raised the adjusted earnings guidance for the year but shares were still off sharply on Friday due to the sales shortfall. Shares closed at $15.16, down $1.84, or 10.8 percent.
In the quarter ended August 3, sales jumped 19.6 percent to $252.4 million, including $42.0 million for the recently-acquired City Gear chain. Wall Street's consensus estimate for revenue had been $256.0 million.
Comparable store sales inched up 0.3 percent, also below analysts' consensus target of a gain of 1 percent. The results marked Hibbett's third consecutive quarter of positive comparable sales. Comparable store trends will not include City Gear stores until the fourth quarter.
Digital sales for the second quarter increased 25 percent over last year, representing 8.6 of consolidated sales for the quarter and 10.1 percent of sales excluding City Gear. Hibbett is progressing on an initiative to migrate City Gear's online platform to the Hibbett digital platform with completion targeted in the third quarter.
The net loss in the quarter widened to $8.8 million, or 49 cents per share, from a loss of $1.2 million, or 6 cents a year ago.
Excluding non-recurring costs, the non-GAAP net loss for the latest quarter came to $2.4 million, or 13 cents per share, including 9 cents a share in one-time executive compensation costs related to the CEO transition. Results came ahead of Wall Street's consensus estimate of a loss of 16 cents.
In March, Hibbett announced that CEO Jeff Rosenthal would retire as CEO after nine years once a successor is found. A new CEO is expected to be appointed by the fall.
Gross margins in the quarter eroded 110 basis points to 30.3 percent. Approximately half of the margin decline was attributable to margin pressures from the complete inventory liquidation of 32 of the 40 stores closed this quarter as part of its previously-announced Accelerated Store Closure Plan. The company is planning to close approximately 95 Hibbett stores this year, which is expected to result in non-recurring impairment and store closure charges in the range of 10 cents to 15 cents for the full year.
The other half of the margin decline in the quarter was due to some limited markdown activity which resulted in the strong ending inventory position. A shift of product releases also led to a reduction in full-price sales in the second quarter. Logistics and store occupancy expenses increased slightly as a percent of sales, which was a result of City Gear's higher store costs as a percent of sales.
SG&A expenses in the second quarter increased to 31.8 percent of sales compared with 29.4 percent a year ago. The increase included the one-time charge related to the CEO transition, $7.6 million in costs related to the City Gear acquisition and $900,000 in costs related to the company's accelerated store closure plan. The acquisition costs included a charge of $7.1 million for an increase in the estimated valuation of two contingent payments based on an update to City Gear's projected achievement of defined EBITDA thresholds.
Excluding these costs, comparable SG&A expenses improved 170 basis points to 27.7 percent of sales.
"We're very pleased with our business during the quarter as we had two significant headwinds to overcome," said Jared Briskin, SVP and chief merchant, on a conference call with analysts.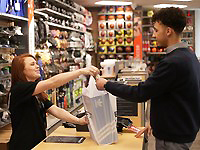 The first headwind changed to the launch calendar which impacted the second quarter but is not expected to impact full-year results negatively.
The second is shoppers waiting until the last minute to make their back-to-school purchases. Briskin said the BTS trend resulted in peak volume days occurring as close to the school start date as possible. He said, "This volatility did impact our July results negatively, but is having a positive impact to August."
Among categories, footwear comps were up low-single digits, the eighth consecutive quarter of comp sales gains. Men's was up low-single digits, women's up double digits and kids were up mid-single digits.
"Nike Sportswear was exceptionally strong during the quarter led by Air Force One basics and fashion executions," said Briskin. "Max Air was also a key driver of our business as both Heritage models such as Air Max 97 and Air Max 90 performed did exceptionally well along with new product creations such as VaporMax and Max 270."
During July two additional Max Air models were released, the React 270 and Air Max 200 which are both performing well. The Jordan business performed well during the quarter. However, the launch calendar changes were "significant challenges to overcome," said Briskin.
Increased investments from Champion, Fila, Brooks, and Reebok were also key contributors to the quarter.
Apparel comps were down low-single digits for the quarter. Activewear was up low-single digits, including a double-digit gain in men's apparel. Women's and kids apparel were both down primarily due to the later BTS season. Said Briskin, "We've seen a nice acceleration in these businesses during August."
Accessories were up low-single digits, driven by strong results in bags, headbands, and water bottles. The licensed business remains soft and was down high-single digits. Team Sports business was down high-single digits. Baseball, softball and volleyball performed well and were positive. Soccer was down low-single digits. The largest impact on the Team Sports business was football, which was down double digits.
Said Briskin, "While the second quarter had its challenges, we executed our strategy well. We exited the quarter in a very clean inventory position and are excited about the product investments we've made for the balance of the year."
Inventory increased 9 percent from last year's second quarter, but the year-ago period doesn't include City Gear's inventory.
"We are quite pleased with our second-quarter results," said Rosenthal. "We believe our strategic initiatives are taking hold as we recorded positive comparable sales in three consecutive quarters. We expect a solid finish to the back-to-school season along with momentum from a strong product offering for the second half of the year."
He added that results from Citi Gear, acquired last December, "are encouraging and we expect a strong finish to the year as they enter the back half with a strong assortment of fresh and fashion-forward inventory."
The migration of City Gear's Web site to the Hibbett digital platform is expected to create an elevated shopping experience for customers by increasing access to products regardless of which site the customer visits.
For the full year, the updated guidance included:
Comps are expected to climb in the range of 1 percent to 2 percent from 0.5 percent to 2 percent previously.
Excluding the impact of non-recurring items in both fiscal years, non-GAAP gross margin is expected to decline 40 to 50 basis points, versus previous guidance calling for a decline in the range of 35 to 45 basis points.
Excluding non-recurring costs, non-GAAP EPS is expected to be in the range of $2.15 to $2.25, including 9 cents a share impact from CEO transition costs. Previous guidance called for adjusted EPS in the range of $2.00 to $2.15.
Net EPS is expected in the range of $1.35 to $1.50, which includes 75 cents to 80 cents per share for non-recurring costs associated with the acquisition and integration of City Gear and costs with its accelerated store closure plan. The company previously expected non-recurring costs to be approximately 25 to 35 cents per share and the increase is the result of the greater expected impact from the valuation of the City Gear contingent earn-out liability. The previous net EPS guidance had been $1.70 to $1.85 a share.
Photos courtesy Hibbett Sports