During a session at the virtual NRF Big Show, Bill Quinn, SVP digital commerce at Hibbett Sporting Goods, discussed how the small-town sporting goods chain navigated the increase in online orders during the pandemic and in turn elevated its omnichannel offerings.
"The biggest thing that the pandemic did for us is to stress test everything that we had," said Quinn. "When you put that much volume through processes, you see where the issues are quickly."
Hibbett, which operates under the Hibbett Sports and City Gear banners, was a late entry to online selling with its e-commerce site launching in 2017.
Quinn said Hibbett operates mainly in small towns, and its approach is different from many of its competitors that are located in major metropolitan cities. However, Hibbett found customers increasingly expecting an omnichannel experience. Quinn said, "Not only better online experiences, but also integrated experiences with online and in-store."
Quinn feels Hibbett is "very, very high" on the digital path, including adding curbside pickup in early April due to the pandemic to add its existing in-store pickup. Ship-from-store has been in place since launching e-commerce with online orders fulfilled from its nearly 1,100 stores.
This summer, Hibbett launched ship-to-store, or reserve online pickup in-store (ROPIS), despite the pandemic challenges because its customers were looking for the option.
"We had a full omnichannel offering by the midpoint of [last] year, so when the pandemic came, a lot of it for us was leveraging what we had and how we could turn those dials and knobs and pull those levers," said Quinn. "I mean to manage the supply chain effectively, and manage customer service effectively."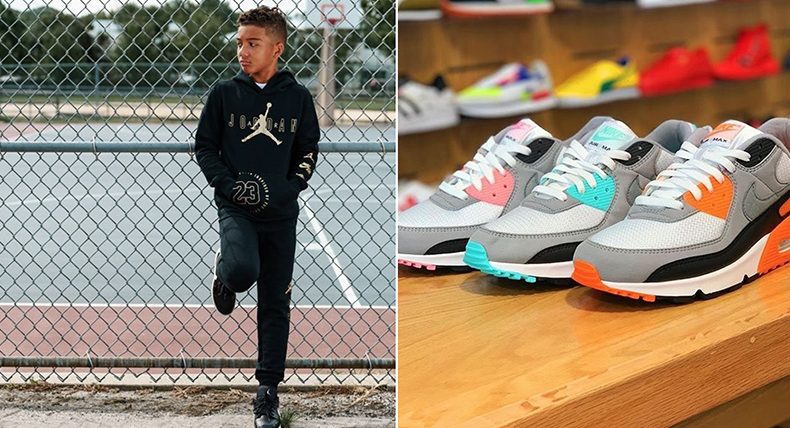 As the pandemic emerged in the early weeks, Hibbett saw online comps expand over 200 percent, with some stores forced to close temporarily. Quinn said being able to ship from its stores "helped us get through that huge surge in online demand."
Hibbett's e-commerce revenues increased 212.2 percent in the second quarter and grew 50.7 percent in the third quarter. In the first nine months of the year, online represented 16.6 percent of total sales compared to 9.1 percent of total sales in the same period last year.
Quinn said the two most challenged areas handling the surge in online orders this year were fulfillment and customer service. He added, "I would have to guess that was the same for many retailers."
From a fulfillment standpoint, Hibbett faced challenges balancing orders, with some locations sending out too many orders and others too few. He said, "It was about orchestrating where orders would flow and communicating with our stores and supply chain teams to make sure that we were processing orders and removing issues and barriers."
On the customer service side, the volume of typical calls from customers asking when their order would arrive or reporting a damaged or stolen item saw a significant increase in line with the surge in online orders. "During certain points, we had much longer call wait times than what we wanted," said Quinn. "We took all that data, and we began to work through those things."
Some solutions led to creating a self-service center on its website and overall providing more self-serve options for customers. For example, Hibbett now allows customers to cancel their orders online rather than calling a customer service agent.
Free package insurance is now offered on every purchase on its website or through its apps. The move followed an uptick in reports of stolen and lost packages tied to e-commerce growth in recent years. Quinn said, "That has helped cut down on customer service contacts because we're providing insurance on lost, stolen or damaged packages."
Hibbett has also focused its attention on ensuring communication with its customers is clear to avoid customer service calls. For delayed shipments, the retailer now sends a text message to customers. It also more regularly provides updates on delivery status. Quinn added, "Simple things like that, we realized, 'Hey, this is going to make a difference.' And it did."
For 2021, Hibbett plans to continue investments in the customer experience to ensure it's "as frictionless as possible." The focus will be on improving its existing omnichannel programs and exploring further steps to integrate the online and physical store experience for customers. Quinn said, "I think about omnichannel programs as Lego building blocks. Some of the things that we built over the past years can combine in new ways to produce future combinations that are going to be exciting to our customers."
As an example, he pointed to the addition of curbside pickup to its store pickup program. He added, "We think there's a big opportunity around omnichannel and to improve on that. And the other is to keep listening to your customers because they're going to give you a lot of information on where you can improve."
Other priorities in 2021 for the retailer include speeding fulfillment times, personalization and enhancing its loyalty program.
Photos courtesy Hibbett Sporting Goods