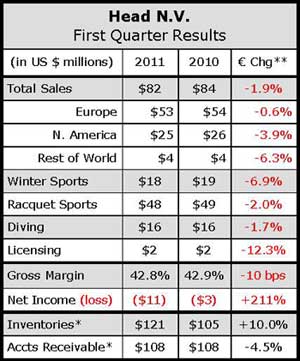 Head N.V. wrapped up the 2011 first quarter with revenue declines in all three of its primary business segments, including a 6.9 percent drop in its Winter segment that resulted partially from a significant weather-related drop-off in re-orders through most of the quarter.


Overall sales for the group slipped 1.9 percent to €59.8 million ($82 mm) in the first quarter from €61.0 million ($85 mm) in the year-ago period. The company recorded a net loss of €7.7 million ($11 mm) for the period compared to a net loss of €2.5 million ($3 mm) in Q1 2010. Management attributed the steeper loss to the lower adjusted operating performance compounded by lower ESOP income, along higher interest and other finance costs. The increase in interest and other finance costs of €3.1 million ($4 mm) in the period mainly arose due to the buy back of €14.4 million ($20 mm) of par value senior notes and the resultant acceleration of the amortization of non-cash disagio costs.

Winter Sports segment sales declined 6.9 percent in constant currency terms to €13.0 million ($18 mm) from €14.0 million ($19 mm) in Q1 last year as good snow in Europe, the U.S. and Japan tapered off after the New Year, reducing sales orders considerably and driving total sales down for the division. The company said retailers endured a dramatic slowdown in January and February that was caused by warm weather and sparse snows. For the season, management expects the snowboard and helmets market to be even versus last year. Additionally, management said there is still a significant trend towards skiers renting ski equipment but buying ski boots. Based on bookings, the company estimated that alpine equipment sales as well snowboards and protection products will be slightly down for fiscal 2011.

For Racquet Sports, sales dipped 2.0 percent in constant currency terms to €35.0 million ($47.8 mm) from €35.7 million ($49.5 mm) a year ago as the companys tennis division reported lower volumes of balls and a decline in racquet sales due to a later introduction of new products in 2011. Expanding on the 2011 year-to-date, management noted that while it was still early, the retail market seems to be at a similar level to last year at this time in all major regions except Japan, which continues to recover from the earthquake and tsunami. For the remainder of the year, management expects a significant downturn in Japan for all tennis-related products.

Diving segment sales slipped 1.7 percent to €11.3 million ($16 mm) from €11.5 million ($16 mm) in the year-ago quarter, impacted heavily by political turbulence in key dive destinations in North Africa and natural disasters in Australia and Japan.
Management said dive travels practically stopped in Egypt following a political crisis and the war in Libya, while the Australian market was impacted by unfavorable weather and floods on the eastern coast. Management said they now expect a stronger second quarter than the 2010 quarter and growth for the entire year 2011 due to favorable weather conditions in central Europe, a late Easter and the U.S. market picking up.
Licensing revenues for the quarter decreased 12.3 percent to €1.2 million ($1.7 mm) due to fewer licensing agreements.
Management also said the newly introduced Sportswear division generated nearly €1m in sales in the first quarter, but they do not expect it to be profitable this year.

The company said that while the impact of increasing raw material prices has yet to fully impact margins, management believes operating results will be significantly below those achieved in 2010.