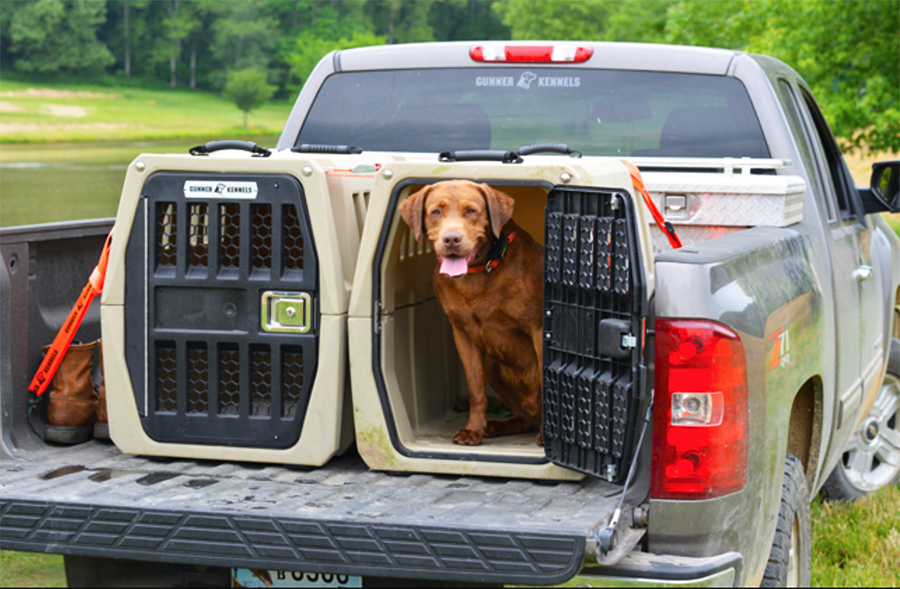 By Teresa Hartford
This is the story of Gunner, the English lab, who inspired his Owner, Addison Edmonds, to create a 5-Star Crash Test rated kennel to help save dog's lives all over the world.
…
Addison always knew he was going to start his own company. Having an interest in being an entrepreneur like his Dad, he didn't know what that was going to be, but from an early age, it was what he was going to do.
When he was in college at the University of Mississippi, Addison focused his education in Business Management and started an advertising company in his junior year because he wanted to stay local after graduation. He learned a lot about starting a company and essentially called the business his graduate program.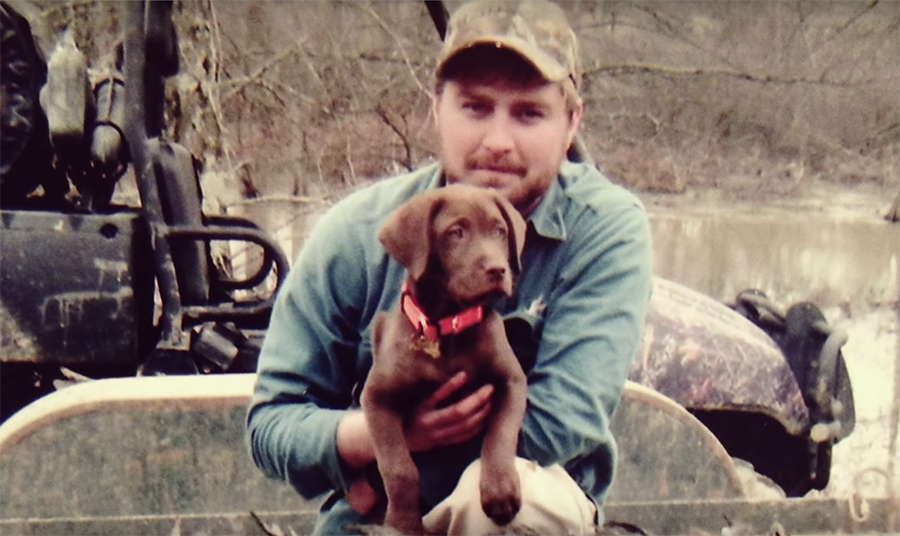 When he wasn't running the company, he was able to enjoy two of his favorite sports—hunt + fish. He got a chocolate lab that he named Gunner, pictured above and left, in his junior year at Ole Miss.
"He is a phenomenal dog. A great hunting dog. He is perfect."
Addison was into all the gear, training and working with Gunner but was never happy with the kennel(s) he bought for his dog, but there were no options. He could buy a $60-to-$70 plastic, injected molded crate or a $2000 aluminum box that filled up the back of his pickup, which he couldn't afford and didn't need.
What he needed was something better, and he got to thinking about it. One day it clicked. Why doesn't someone make the best plastic travel crate? He thought it over long and hard and told some of his buddies and his girlfriend at the time, Emily, (now his wife), about the idea. She instantly said she could already see it and that Addison was going to do great. He convinced himself that if he didn't do it, someone else would. That was 2010.
When Addison said he was going to make the best kennel, he meant the safest, the best looking and a kennel with the best features for Gunner—like having a drain plug, rubber feet, tie-down pen, and a good door you could lock. And he wasn't kidding.
By the end of 2012, he sold his advertising company, married Emily and put everything they had into starting the kennel company. He incorporated in 2014 and took more than a year to get the design perfect. When it all started, he didn't know what it was going to look like, but it was going to be the best.
Watch their story here, or click on the still shot below.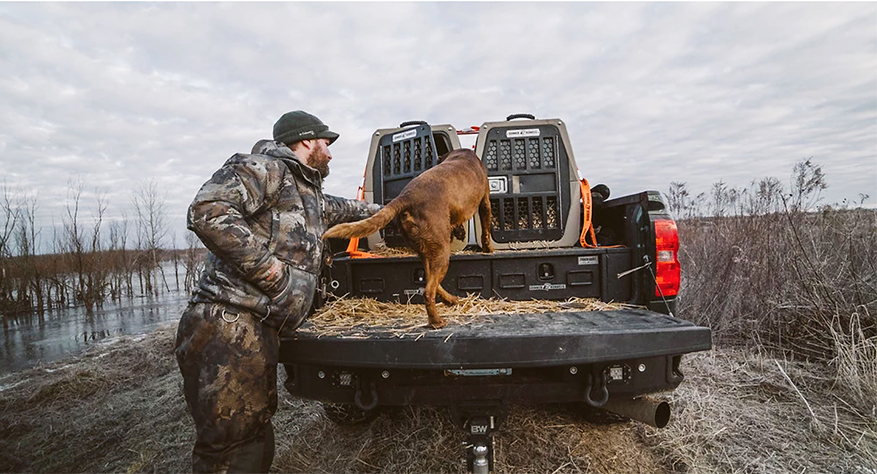 We spoke with Addison yesterday morning to hear more about his incredible dog Gunner and their successful company, Gunner Kennels.
The name of the company, Gunner Kennels, seems appropriate. I've done this all for him. It's also a cool tribute to him. He's such a special dog. I wanted people to know his/our story.
In March 2015, you launched the website, had your first child and moved into a new "old" house that you renovated. It's been a very busy time. Yes! Since then we've had four children and my wife is now involved in the business doing most, if not all, of the branding, marketing and customer service. She's amazing.
We started delivering the product at the end of July 2015 and at the same time, Subaru of America and the Center For Crash Safety announced that they had done a crate worthiness crash test and Gunner Kennels won Top Performer—5 Star Crash Test Rating—in the category. Good Morning America and USA Today picked up the story, and we've been in a backorder position ever since!
Gunner Kennels are Made in America. Where are you manufacturing? The top and bottom halves, the rotational (roto) molded plastic parts, are made in Iowa. Our door frames and door panels come from the Northeast. We have a facility below Nashville where we assemble and ship all of our products.
What dogs are the kennels designed for? Originally, I just wanted to build the best dog crate for Gunner. At that time, he was a hunting dog. He's 11 now, our hunts are fewer and further between. So, we started in the hunt and sport dog world. When we won the Crash Test, most of the people ordering the kennels were family pet owners who wanted the best for their dog. We knew right then that there could be a crossover.
Our crates have made a big splash with the military and police K9 units. For those dogs, which are $60,000-to-$70,0000 a dog, they were traveling in $60 crates. That segment of the market quickly saw the opportunity that our kennels offered. They are our second largest segment purchasing the kennels.
We've been honored to ship kennels addressed to Air Force and Navy SEAL bases, the Pentagon, ATF, the Border Patrol and other military locations around the country. Seeing those go out never gets old. More recently we had the opportunity to go see our kennels on site, being used by the Canine Team with the NYPD Emergency Services Unit, pictured below.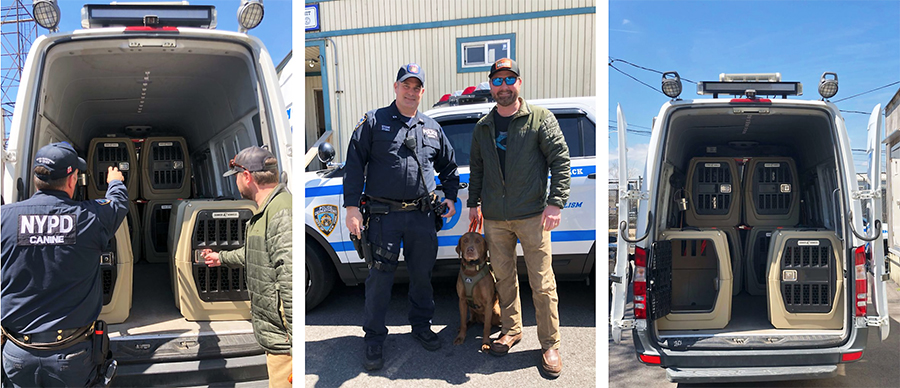 We offer four sizes of kennels Small, Medium, Large and X-Large. Our kennels are for all dog owners who love their dog and want to keep them safe and comfortable during travel whether in the back of a car or the flatbed of a truck.
After seeing crash tests, you know how violent it can be on a dummy dog when they're in a flimsy crate. I've had people at trade shows tell me that their dog rides in the front seat and they would never put them in a kennel. After seeing crash tests, it is extremely violent with a dummy dog flying through poorly made crates. To not kennel your dog, in what I feel is a safe option, I don't know if I would call it irresponsible, but people need to get educated because a dog will become a projectile and go through the windshield. We've conducted strength tests in addition to crash tests on our Kennels. See the action here or click on the still shot below.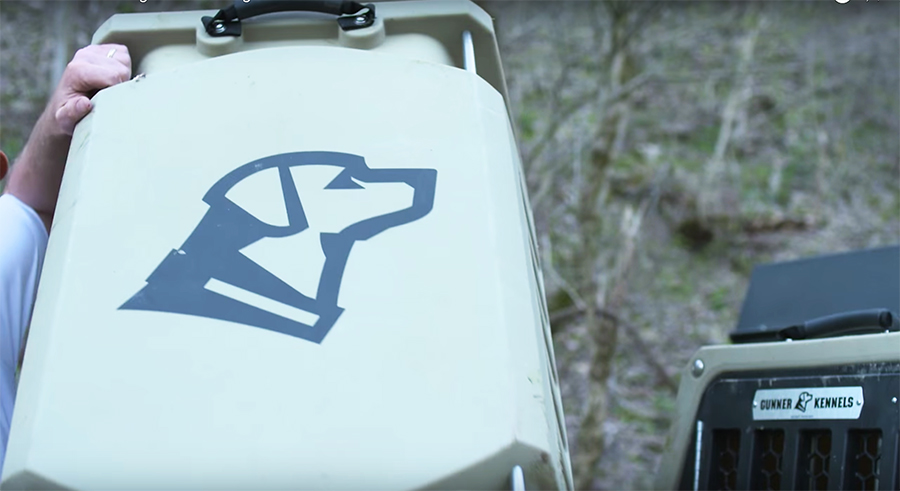 Our mission is to extend the relationship between you and your dog. We provide the best kennels and products for dog owners and their dogs, because we see the value in what dogs can bring to your life—and they deserve it.
Do you sell retail or DTC?  We sell direct-to-consumer (DTC) through our website gunner.com, and the number one reason is customer experience. To have that relationship with the customer from start to finish is very important because if you buy a crate from us and there's a QC issue, we're not going to tell you you're out-of-luck. We're going to send you a new kennel right away because that's part of our wanting to make the best kennel. We want to have the best customer service, too. Everything that has to do with our company, has to be the best.
By going DTC, that helps our margins, but it also helps us learn about our customers, and the more data we have on their preferences and what products they want, the better decisions we can make on what products to provide next.
If you are someone that doesn't own a kennel, what do you say to them? Do some research. The Center For Pet Safety has done a great job trying to make sure the consumer is informed. I'm on the board of the Pet Safety Council. They're pushing for informing the consumer and testing all types of products because it's such an unregulated industry.
I don't want to be the one to say that if you are traveling with your dog and you're not crating your dog, your dog is going to die. When I came up with the idea for the business, I stopped using my flimsy plastic crate because I was worried that if I got in a wreck, the kennel would fly apart and do more harm than good to Gunner. Until I saw crash testing and how violent these wrecks are, it was an amazing sense of relief when I had our kennel strapped down in the back of our vehicle and had Gunner in it. I had the relief that I've done everything I can do to try to give him the best chance of survival if I were to get in a wreck.
Dozens of customers have shared stories of unfortunate accidents and written testimonials about their Gunner Kennel saving the life of their dog. You can read their incredible stories here or click on the still shot below.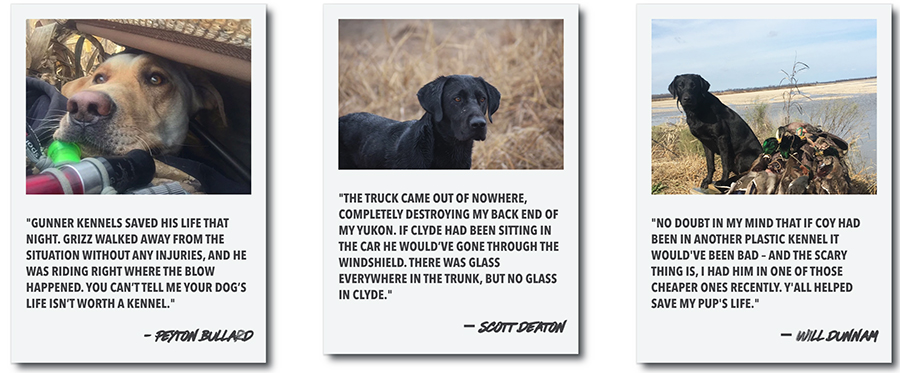 The message then is not about crating your dog but keeping your dog safe by putting them in a quality crate so that they don't end up as a projectile if you're in an accident. I never intended Gunner Kennels to be used for where you put your dog all day/every day while you're at work.
The kennels are for travel. The sizing is a tighter fit because if you're slamming on the breaks, or get in a wreck, you don't want the dog to go from one side of the kennel to the other. You want your dog to be in a tight space.
Why did you choose to use roto molded plastic for the kennel material? Rotationally molded plastic is a lot slower plastic to mold, it's not brittle and is significantly stronger than injection-molded plastic. And when cold, does not crack. The material keeps dogs warmer in winter and cooler in summer.
Did you have someone help you design the kennel? I took the proceeds from selling my first company and spent a year-and-a-half with an engineer, who works for one of the best custom rotational molding companies in the country, to creae the initial G1 Kennel design. It took us about six months to get the general shape down and then additional months to hammer out the features. In the beginning, Gunner helped us get the proportions correct. We collaborated with many people since then to make the best kennel.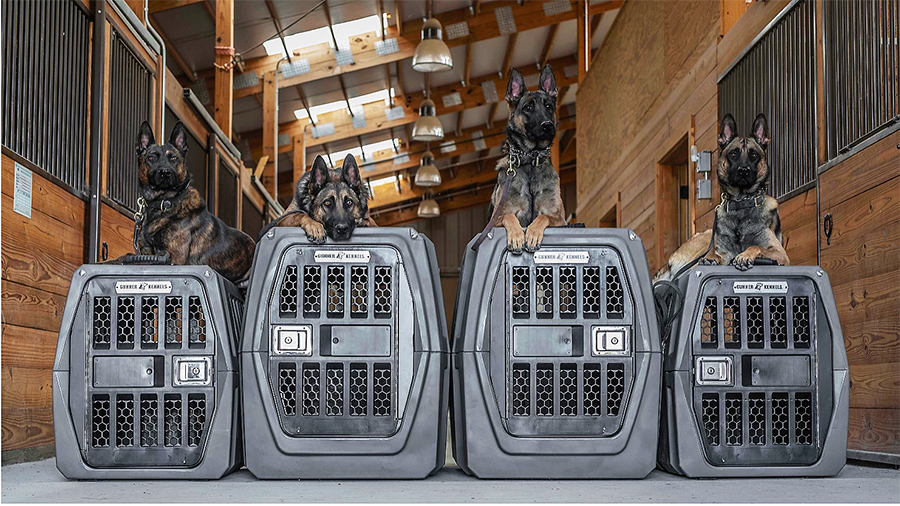 What are your thoughts about putting a dog in a crate and transporting by air in a cargo hold? The International Air Transport Association (IATA) has no pass or fail standards, and the rules are both outdated and don't make sense. The only kennels that pass the standards are cheap plastic crates with doors that are junk. The dogs get nervous, scared, get lost or crushed by cargo.
We're working with a major airline and the IATA to make an after-market kit for our kennel to where they will say 'if you want to fly our airline with your dog, here's what we suggest, and it will pass.'
I never flew with Gunner when I was designing the kennel so it wasn't a huge requirement to make it airline compliant, but they need to update the standards and open their eyes to what's out there. We make the best crate and would be the best option to fly with on more airlines.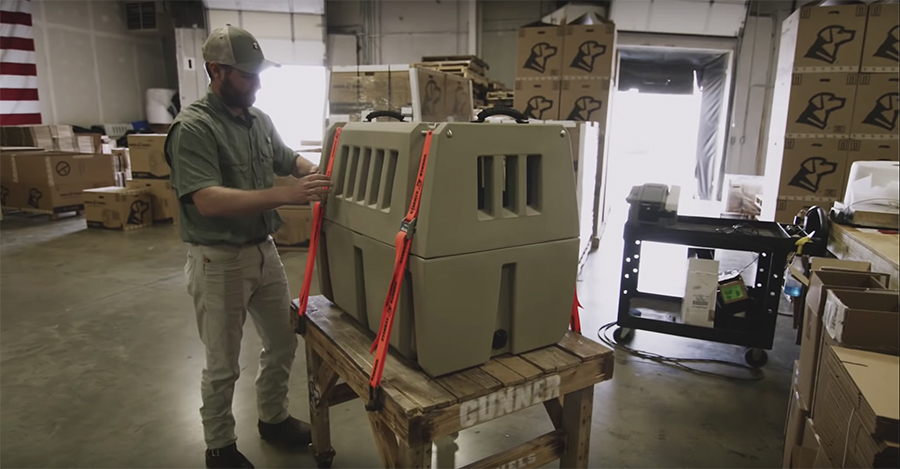 Speaking with Addison, pictured above, we found that together he and Gunner have made the best performing kennel beyond all others. And the dedication and honesty behind the product they created blow the competition away.
With so many dog crates on the market that don't work, if you are a dog owner and need a kennel for traveling, visit gunner.com and check out their 5-Star Rated certified kennel. Your dog will love you for it.
Photos courtesy Addison + Gunner