For more than 80 years, Grundéns has been a commercial fishing brand primarily focused on PVC bibs for commercial fishermen. In hiring outdoor industry and footwear veterans, the old school commercial fishing brand branched into footwear three years ago, quickly becoming its fastest-growing category.
SGB Executive sat down with CEO David Mellon, a former Simms executive and head of product for Black Diamond, for the reason behind the brand's footwear launch, the fishing industry and the brand's sustainability efforts.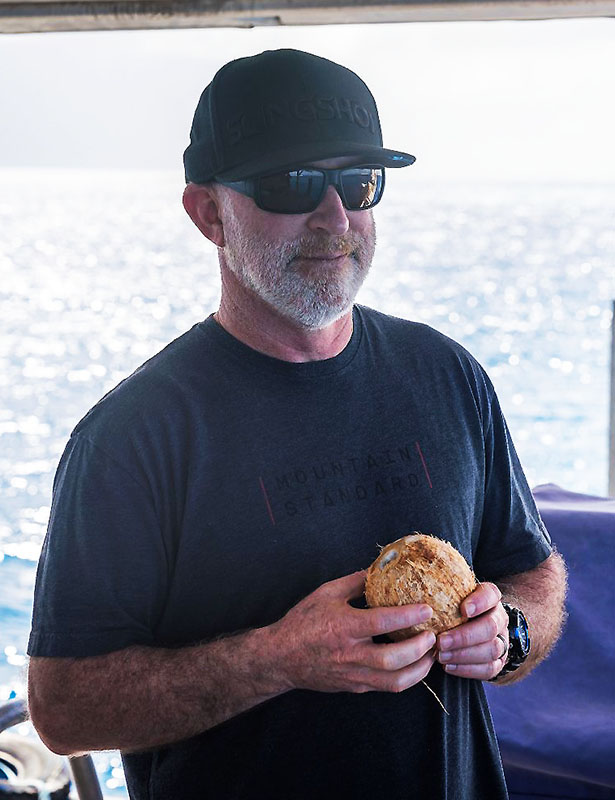 You've been a commercial fishing brand making PVC bibs for 80-plus years. Why move into footwear? This brand has been protecting people from the elements on the water with foul weather gear for its entire history. Translating that to footwear and sportfishing apparel were categories we believed we could make a difference in. We had meaningful ideas that would resonate with anglers and make their experience better. One of the most consistent things we hear is how credible, authentic and real the Grundéns brand is and how well the products work. We were founded in 1926 and have an incredible history surviving through World Wars and becoming a leader in foul weather gear in the harshest on-water environments worldwide. While we've made the best commercial fishing gear during that time, in 2015, we embarked on a focused "We Are Fishing" vision to become a leader in all aspects of fishing apparel and footwear.
What footwear products did the brand introduce? The first footwear product we launched was the 15-inch DeckBoss boot in 2017, which we followed up with DeckBoss Ankle Boot, shown below, and our launch this year with the SeaKnit Boat Shoe. The response has been overwhelmingly positive and has exceeded our expectations.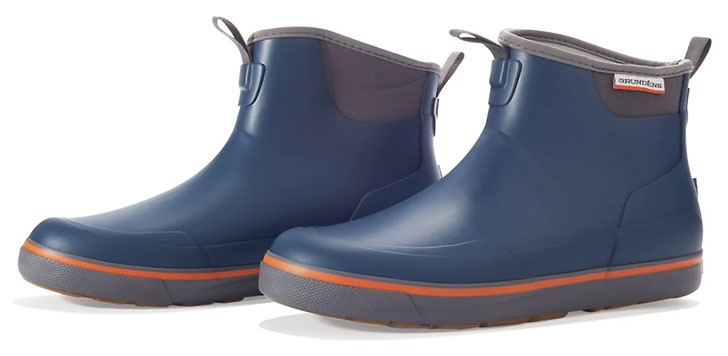 What trends do you see in the bib and footwear category? We will keep the perspective to the fish/hunt/ general outdoor categories and steer clear of ski and technical outdoor. 
For too long it's been either a sea of sameness or overly busy and complicated designs that haven't been built with an understanding of the user's needs or to withstand the rigors of conditions on the boat and water. On the hunt side, a couple of brands have done an excellent job with innovation and meaningful differences. In footwear, we saw an opportunity on the boot side to make more durable, comfortable products. And for the warmer climates, we saw this convergence of traditional boat shoes, athletic running shoes and water shoes. We've introduced new products providing better solutions for fishing and tangential uses.
How were sales during the height of the pandemic? 2020 was a crazy, wild ride. It started out of the gate with incredibly strong demand, and we were looking at all-time highs for the year. Then March to May came along, and it was tough. We'd planned to make a significant change with our distribution center and logistics, but then along came June. Whether it was the COVID effect or other factors, the second half of the year was unpredicted and strong across all channels and account types. And that's continued into 2021. Without a doubt, once people could get out to fish, and once restaurants re-openeD, increasing the demand for fish, there was a significant uptick. The Grundéns brand has a lot of momentum right now.
Do your core work product sales fluctuate with fish prices? Before March 2020, we never thought part of our business was so directly tied to restaurants. But we felt it, just as our retail partners did, and ultimately the people who fish for a living to put food on our tables, felt it when the demand for fish dropped and prices dropped. It was tough. But by June 2020, the Bristol Bay season had a record year again, and things started to return to some semblance of normal. The optimistic view is that the human spirit, our resilience to adjust to life with the pandemic, and finding our new collective normal is where things have stabilized.
How have retailers responded to Grundéns footwear line? As with all new things, there are those that like new and innovative and see the opportunity and others that like to keep it stable with what sold well in the past. And there are those that follow. All of which is natural and fine. We were fortunate that we had early validation with the footwear when Skeet Reese won the first MLF tournament of the year in the Grundén shoes. And we see consumer demand increasing. We're seeing early adopter accounts be successful. We launched SeaKnit shoes shown below, in mid-March, and some dealers sold out in less than two weeks. And we've heard comments regarding our Ankle Boots and SeaKnits that retailers have never seen a brand launch go as well. We're optimistic, and I'm proud of the team for the program.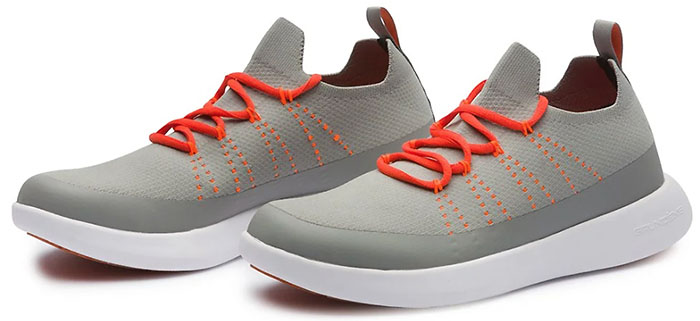 What's unique about your footwear offerings? Building on Grundéns' reputation for solution-based products, our footwear's foundation is comfort, which sounds simple and obvious, but it's amazing how many brands don't get this right. Then it's about thoughtful designs and engineering to make the most appropriate footwear for use. With the original 15-inch DeckBoss boot, which Mike Jackson created, we came up with the idea of making a multi-injected, essentially one-piece boot that wouldn't degrade in water environments they get used in and a footbed bilge system so that if you did take a wave over the rail and water leaked in the top, your foot wouldn't be sitting in water. We consistently hear people rave about how all of our models are some of the most comfortable footwear they own.
What's the breakdown between recreational offerings and workwear in your footwear category? That's the beauty of our footwear line. Similar to some of our outerwear, versatility and utility make them great for recreational fishing and commercial fishing and around the boatyard, home or farm. Of course, each product has an intended use, and we have an end-user in mind when designing it—whether it's for either the commercial fisherman, sport fishing angler or on the deck of a bass boat. Today's range extends from the 15-inch DeckBoss boots, ankle boots, sandals, and lightweight mesh shoes.
You recruited Ash Williams from KEEN. Was that to further your footwear penetration? Are there other marketing initiatives planned? Ash has been a tremendous boost for the business and leadership team. We're grateful to have him on board and fortunate he brings a deep marketing skillset to the brand. He started in late December and has made a notable impact on how we bring products to market.
Is sustainability a focus of the brand's business model? I'm glad you asked because sustainability is part of our stated purpose as a business. Without fish and healthy environments to support sustainable fisheries, there is no fishing, and there is no Grundéns. We get that and understand the impacts. We're not a fishing brand trying to become the next snowsports brand, either; we're committed to fishing. But more importantly, we as a business and employees do everything we can to help protect fisheries and the environments that support them. I wish we were larger, if only because we could do more.
Bristol Bay and Pebble Mine feel like a never-ending battle, but it's critical that fishery and the ecosystem are protected. Locally, our wild steelhead population is perilously close to collapsing, so that's an area I've personally been focused on. By 2050 experts estimate there will be more plastic in the oceans than fish. Our team just shifted all of our apparel product packagings away from polybags to compostable packaging, which is a great move and removes close to a million polybags from the waste stream and potentially ending up in waterways or oceans. Admittedly, we're behind where we'd like to be on a complete circularity plan for all of our products, but the team is energized around this and working to move to a recycled, sustainable and circular footprint.
Photos courtesy Grundéns