By Thomas J. Ryan
GoPro, as expected, reported dismal third-quarter results in part due to production delays but management forecasts a robust fourth quarter due to strong early reads on the Hero8 Black and Max cameras.
"Simply put all signs indicate Hero8 Black and Max are unquestionable hits," said Nick Woodman, CEO and chairman, on a conference call with analysts.
Woodman said that since the launch, unit sales of Hero8 Black at GoPro.com have eclipsed every previous GoPro, including last year's flagship Hero7 Black by 40 percent. Hero8 Black has also generated the highest social engagement and positive sentiment metrics of any new GoPro, up 57 percent over Hero7 Black a year ago.
At the same time, unit sales of dual-lens Max at GoPro.com has shattered the debut performance of its predecessor Fusion by a factor of four through the month of October. Said Woodman, "We believe Max is going to play an increasingly important role in our business going forward, helping to raise ASPs (average selling prices) and gross margins while delivering the wow innovation our customers demand."
Woodman noted that GoPro's line-up for the holiday—including the $399 Hero8 Black, $499 Max, $329 Hero Seven Black, and $199 Hero Seven Silver—extends across price points to reach a broad range of consumers. He said, "We're confident in our lineup's ability to grow both top line and ASPs in the fourth quarter of 2019 and 2020."
Woodman added that since the launch of Hero8 Black and Max, all camera models are selling well at GoPro.com with aggregated camera unit sales up 50 percent year-over-year. Said Woodman, "We believe GoPro.com's sell-through performance serves as an encouraging indicator of demand as sell-through ramps in retail channels."
In the third quarter ended September 30, the net loss in the period came to $74.8 million, or 51 cents a share, against a loss of $27.1 million, or 19 cents, a year ago. On an adjusted basis, the non-GAAP loss was $52.7 million, or 42 cents, against a loss of $6.1 million, or 4 cents, a year ago. Revenues tumbled 54.1 percent to $131.2 million.
On October 2, GoPro cut its revenue and profit forecasts due to a delay in the production of the Hero8 Black, triggering a 19 percent drop in its shares. The annual growth forecast was slashed to 6 percent to 9 percent, well below its previous estimated rise of 9 percent to 12 percent.
Third-quarter results at least came in above the updated guidance due to a quicker recovery from the production delay than expected. Guidance had called for sales in the range of $123 to $127 million and a non-GAAP loss between $65 million and $75 million.
The company also lifted its gross margin outlook for the second half and full-year versus the early-October update due to savings from the quicker-than-expected ramp-up and slightly lower operating expenses. Non-GAAP operating expenses were reduced by 8 percent to $90.3 million, representing the company's lowest quarterly level since 2014.
The revenue forecast for the year was kept the same despite the encouraging start for Hero8 Black and Max.
GoPro estimated that the camera unit sell-through for the third quarter was between 850,000 to 900,000 SKUs. Hero7 channel inventory is estimated to have declined between 35 percent to 40 percent to support placement for holiday offerings. The average ASP was $274 per camera in the quarter, up 5 percent year-over-year and is expected to be above $280 for the full year.
Other highlights of the quarter included:
GoPro content generated another record-setting quarter in Q3 with 234 million organic views, up 35 percent over the previous record set in Q119. Organic GoPro video views on channels like YouTube and Instagram increased 48 percent sequentially and 64 percent year-over-year.
Within the first month of release of the Quik mobile editing app into the GoPro app to simplify the app experience, monthly active users grew 8 percent and the number of people using the app's automated editing tools jumped 73 percent. This resulted in a 131 percent increase in total edit sessions. Said Woodman, "This engagement bodes well for our plans to monetize the app in 2020."
GoPro's Plus subscription service's subscriber count was 305,000 as of November 4, up 21 year-over-year. Increased international availability, newly introduced annual subscriptions and improved in-cart accessibility at GoPro.com are supporting the growth. Between 600,000 to 700,000 paying Plus subscribers are being targeted by the close of 2020.
Woodman spent much of his presentation elaborating on the holiday launches.
Woodman said that while the level of demand for its new products was expected, positive social sentiment metrics exceeded them. In the first month, product videos, social posts and other launch-related assets achieved a global reach of 857 million, up 5 percent from the launch of Hero7 Black. Seventy million engagements on social channels were achieved, up 74 percent from Hero7 Black. The Hero8 Black launch video has become the most viral launch asset in the brand's history.  WATCH HERE or click on the still shot below.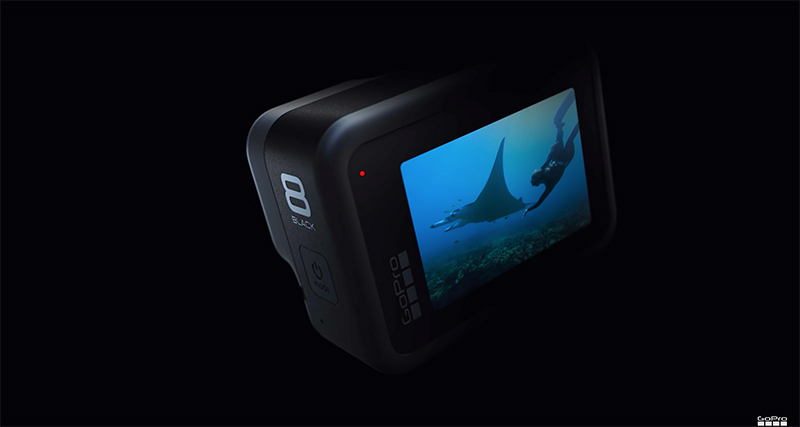 Said Woodman, "This momentum builds off the widespread media and consumer acclaim we continue to see for our new products." Nearly 4000 articles and reviews were published in the 10 days after the product announcement.
He added, "Reviewers acknowledge that we've taken our products to the next level of performance versatility and importantly appeal by addressing both the needs of our traditional customers as well as entirely new customer segments such as vloggers. Again, we believe that by extending GoPro's brand and products to solve problems for a broader set of consumers, we can grow our TAM (total addressable market) while taking more share from the greater $13 billion digital imaging market.
The Hero8 Black and Max holiday push will be supported by an aggressive marketing campaign that includes out-of-home advertisements including billboards in major cities; a return to television in the U.S., Germany, Australia, and Japan; placement in movie theaters; as well as digital.
"Momentum—we've got it across our entire business," said Woodman. "Be it our market-defining cameras, our rapidly advancing mobile app or our accelerating high-margin subscription service, GoPro is steadily advancing on all fronts. This puts us in a strong position for the rest of 2019, and we're confident in our ability to grow both top line and EPS in 2020."
For the fourth quarter, GoPro expects:
Revenue to be in the range of $550 million to $585 million, up between 46 to 55 percent from $377 million a year ago;
Gross margin to climb in the range of 40 percent plus or minus 50 basis points, versus 38 percent;
Operating expenses of $105 million plus or minus $2 million, versus 109,150;
Non-GAAP EPS in the range of 74 to 84 cents compared to 30 cents a year ago; and
GAAP earnings between 65 to 75 cents, up from 22 cents a year ago.
For the full-year, revenue is still expected to be in the range of $1.215 billion to $1.25 billion delivering growth of 6 percent to 9 percent. Non-GAAP EPS is now expected in the range of 30 to 40 cents, up from 30 to 35 cents previously. GAAP EPS is now projected in the range of a loss of 10 cents to breakeven versus a loss in the range of 2 to 9 cents previously. EBITDA is expected in the range of $85 to $95 million, up from $80 to $90 million previously.
Photo and video courtesy GoPro