Golfsmith International reported third quarter sales for the period ended Oct. 2 edged up 3.0% on sales generated by new stores, although the company recorded a loss due largely to charges related to store closings. Excluding the one-time charges, management said earnings would have been about $500,000, or 3 cents per diluted share. The company closed two stores during the quarter.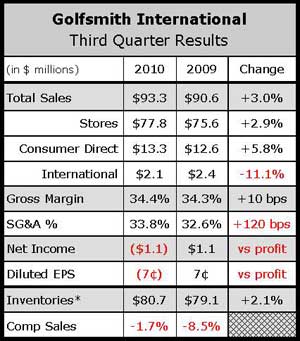 Same-store sales for the period dipped 1.7% as traffic slowed between 3% and 6% throughout the quarter, said CEO Marty Hanaka, adding that in-store traffic patterns emulated a similar decline in rounds played during the quarter. "There is good news," Hanaka said. "Conversion is up nicely…average order is (up), as well." Hanaka said comps for the quarter suffered from a weak August and September, which offset strong sales in July.
Where retail suffered, however, Golfsmith's direct-to-consumer thrived, surging 5.8% on building momentum within the company's e-commerce business. For the other business segments, Hanaka said softgoods finished strong while club making was the company's weakest area, falling about 10%. By region, California was the weakest performer – especially Southern California – while Texas, Atlanta (GA), Phoenix (AZ) and most of the Midwest recorded strong sales.
Among other results, margins for the quarter increased 10 basis points, to 34.4% of sales, due primarily to a 40 basis point increase associated with higher margins categories and a 20 bps increase due to a decline in shrink expense which resulted in inventory improvements.
Regarding outlook, Hanaka said the company expects single-digit comp growth for fourth quarter as the company implements assortment and buying changes and bolsters its apparel selection.