Globe International reported recently that currency exchange rates dropped it's top line 9% in constant currency terms for the fiscal year ended June 30, but the company swung to a net profit after tax (NPAT) of A$1.3 million (US$1.1 mm) from a loss of A$8.9 mm (US$6.6 mm) in fiscal 2009.


Management for the Abbotsford, Australia-based apparel and board sports company that said despite the sales dip, Globe generated A$5.5 mm (US$4.4 mm) of EBITDA compared to a loss of $4.5 mm (US$3mm) in the prior year. The company attributed the improvement in EBITDA to restructuring initiatives undertaken during 2009 as well as a "refined approach to working capital management and on-going cost control at all levels within the business."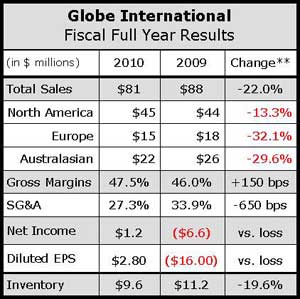 By region, Globe's North America business declines to A$50.8 mm (US$45 mm) from A$58.5 (US$44 mm) in fiscal 2009, but was up a bit in U.S. dollar terms. Globe predominantly sells direct to U.S. and Canadian retailers, with most of the consumer focus keying on the Globe and Dwindle brands.

For the Australasia region, sales fell 29.6% to A$24.4 mm (US$22 mm). Within the Australasia region, Globe predominantly sells direct to retailers in Australia and New Zealand and sells to select Asian distributors. Consumer focus keys on the Globe and Gallaz brands with a regional Dwindle hardgoods operation.

In Europe, revenues fell 32.1% to A$16.5 mm (US$15 mm) for the fiscal year. Globe sells direct to retailers in certain Western European markets and sells to distributors in many countries in Eastern Europe and the United Arab Emirates. Focus is exclusively on the Globe brand.
In related news, directors declared a fully-franked final ordinary dividend of A$5 cents per share. Globe International Limited CEO Matt Hill said that the performance was in line with expectations.