Since 1986, the Red River Gorge climbing community has been anchored by Miguel's Pizza, which doubles as a campground known as "The Camp Four of the East."
The Red River Gorge (RRG), a canyon system on the Red River in east-central Kentucky, sees about 7,500 annual climbing visitors according to a recent Eastern Kentucky University study, and climbers bring in an estimated $3.6 million to the six counties around the Red.
This ever-growing climbing community is anchored by Miguel's Pizza.
Known as "The Camp Four of the East," climbers from all over make the pilgrimage to Miguel's. They set up camp, eat and of course proudly don their Miguel's Pizza t-shirts. Over a 32-year period, the Ventura family has managed to build their own house, develop a farm, raise three children, take care of Miguel's parents and keep their business thriving.
Miguel Ventura was born in Portugal into a family of bakers that moved to Connecticut in the 1960s. As a teenager, Miguel was accepted at the Rhode Island School of Design, but he declined for financial reasons. Being a self-taught artist, he instead opened an art studio in California, where he would endure the triumphs and failures of the creative world. He then returned to Connecticut to start a family with his wife, Susan. After they married, they grew weary of the fast-paced life of their town, so in 1983 they decided to move to a farm in Slade, KY with some friends. The rest is history – built by a great deal of hard work.
In 1984, they rented an old run down storefront called The Old Jottem Down Store and opened an ice cream shop, which they called The Rainbow Door. In 1986, they decided to try to make pizza, and Miguel's Pizza was born. For the first 20 years, they mostly ran the restaurant with the help of their growing children. During this time, the Ventura family befriended the hikers and rock climbers that came to the area, and slowly a campground developed.
Miguel's now boasts outbuildings and additions, including a pavilion, bathrooms, shower shed and even rental rooms in a home out back.
The RRG, thanks to the rich soil Miguel's pizza joint-campground combo provided for the area's climbing community to take root, has become a well-known cliff that attracts pro climbers and has an international following. And as the destination gains popularity, Miguel's is still ground zero. No visit is complete without a pizza.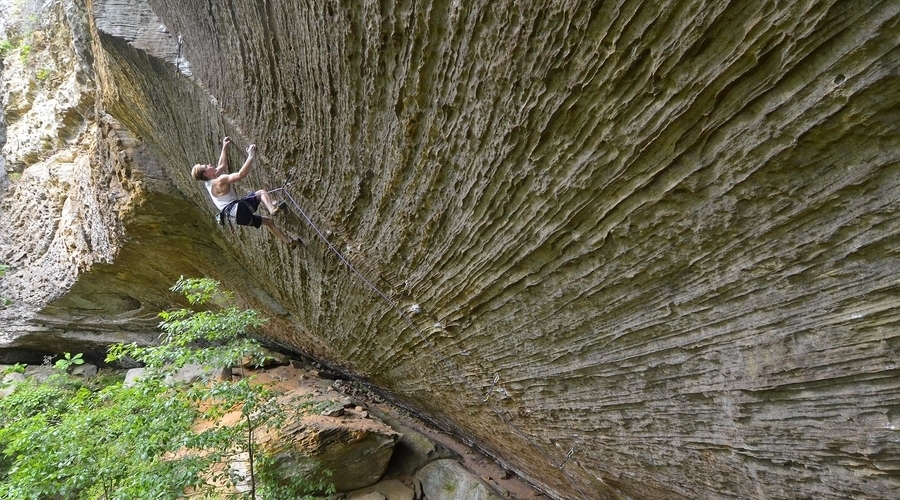 Photos courtesy Miguel's Pizza and Red River Gorge