By Thomas J. Ryan
Genesco Inc. reported fourth-quarter earnings that came in well above Wall Street's target but also indicated that the first quarter has gotten off to a slow start due to unseasonably warm weather impacting boot sales and softening traffic in tourist areas tied to the coronavirus.
In the quarter ended February 1, sales were flat at $678 million. Excluding the impact of lower exchange rates this year, revenue was still flat for the quarter. Comparable sales increased 1 percent, with stores down 2 percent and direct up 19 percent. Direct-to-consumer sales were 16.6 percent of total retail sales for the quarter compared to 13.7 percent last year.
By segment, comps grew 1 percent at Journeys Group, rose 3 percent at Schuh Group and declined 3 percent at Johnston & Murphy Group.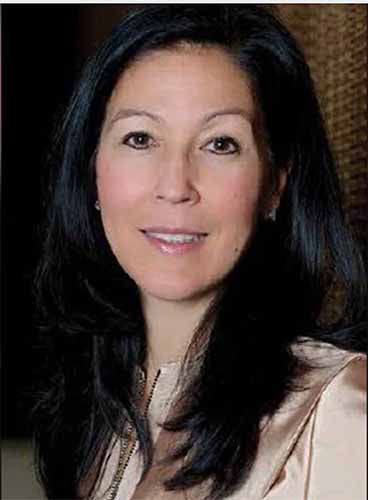 "The fourth quarter was marked by a pronounced shift from brick & mortar to e-commerce on both sides of the Atlantic," said Mimi Vaughn, president and CEO, shown right, on a conference call with analysts. "This dynamic was driven not only by heightened consumer preference for online shopping throughout the holiday season but also encouraged by retailer offers and promotions, which jumpstarted the selling period."
She said the digital shift within Genesco's business was helped by investments in mobile. With stores seeing lower traffic, Genesco's banners were able to drive higher conversion rates and transaction sizes. Added Vaughn, "However, it wasn't enough to overcome the softer footfall, resulting in our first negative store comp in many quarters."
Addressing its banners, Vaughn said Journeys was able to deliver a positive comp increase on top of a challenging two-year stack comp in the high-teens. She said, "Sales were driven by strong full-price selling, especially within key brands of our boots."
…
The overall gains for Journeys were driven by digital, which benefited from a redesigned website, digital marketing investments as well as the expansion and upgrade of a dedicated e-commerce fulfillment center. Vaughn added, "Nonetheless, negative store comps made it difficult to leverage the fixed expense space in the store channel in spite of the robust digital growth and positive digital profit contribution."
Schuh exceeded expectations for the fourth quarter, increasing low-single-digits for the second consecutive quarter. She said the chain is benefiting from its strong omnichannel capabilities with the shift to digital "an even more pronounced trend in the U.K. market." Profitability at Schuh also improved and benefited from a turnaround program announced last year that included an exit from Germany and an increasing focus on the U.K.
Johnston and Murphy's comps improved on a sequential basis but were still negative on top of the mid-single-digit increase last year. Positive performances in apparel and outerwear could not offset the impact of softer demand for footwear.
Fourth-quarter gross margin improved 20 basis points to 46.9 percent. The increase, as a percent of sales, reflects decreased markdowns for Journeys Group and more full-price selling for Schuh partially offset by increased markdowns at Johnston & Murphy retail.
S&A expense, as a percentage of sales, was 38.5 percent, down 40 basis points. Adjusted S&A expense was flat for the fourth quarter this year. Expenses reflect lower bonus expenses and improved rent offset by increased marketing expenses.
Genesco's GAAP operating income for the quarter was $45.3 million, down from $50.6 million a year ago. Adjusted for the excluded items in both periods, operating income improved 1.4 percent to $59.3 million from $58.5 million last year.
GAAP earnings from continuing operations were $35.5 million in the quarter, compared to $29.7 million in the fourth quarter last year. Excluding non-recurring items in both periods, adjusted earnings from continuing operations improved 4.0 percent to $44.1 million, or $3.09 per share, from $42.4 million, or $2.18 per share, last year. Adjusted earnings of $3.09 were well above Wall Street's consensus estimate of $2.73.
…
For the full-year, sales were flat at $2.2 billion. Excluding the impact of lower exchange rates this year, revenue increased 1 percent. Comparable sales increased 3 percent, with stores up 1 percent and direct jumping 18 percent. Direct-to-consumer sales were 12.6 percent of total retail sales for the year compared to 10.8 percent last year.
By segment, comps in the year grew 4 percent at Journeys, rose 2 percent at Schuh and declined 2 percent at Johnston & Murphy.
GAAP earnings from continuing operations were $61.8 million in fiscal 2020, compared to $51.2 million in fiscal 2019. Excluding non-recurring items in both periods, earnings improved 12.2 percent year-over-year, to $71.8 million, or $4.58 per share.
Vaughn noted that the year marked the company's first as a footwear-focused company following the divestiture of the Lids business.
"We delivered strong results, building on the turnaround in profitability that began in fiscal 2019," said Vaughn. "This included positive consolidated comparable sales growth in every quarter, even as we faced more challenging comparisons and positive store comps for the year."
The company also attained a new growth vehicle with the acquisition of licensed footwear specialist Togast which expanded Genesco's wholesale footwear portfolio to include Levi's, Dockers, G.H. Bass & Co., ADIO and FUBU.
…
Looking ahead, however, Vaughn said the first quarter has started slowly for its U.S. footwear businesses which have experienced challenging traffic trends early in the new fiscal year due in part to unseasonably warm weather in many parts of the country." As a result, boot sales at Journeys have come in less than planned.
As a result of the slower start to the year as well as the timing of new product deliveries, Vaughn said Genesco sees "a cautious outlook for the first half." She also acknowledged "the potential for choppiness in the UK" with Brexit and said Genesco has seen store traffic affected in tourist destinations both in the U.K. and the U.S. and in airport locations due to the impact on travel from the coronavirus.
"This is clearly a fluid situation which will undoubtedly change, but our comp forecasts reflect what we know today and only what we have seen in the trend in our business thus far," said Vaughn. "We believe many of these factors are transitory, and we currently expect to pick up in our business and the momentum to build in the second half, which is the most important time of the year."
For the current year, Genesco expects total sales to increase 3 percent to 6 percent, including sales from Togast. Comparable sales are expected to be negative 1 percent to positive 2 percent. Adjusted EPS from continuing operations is expected to land in the range of $4.90 to $5.40 with an expectation that earnings for the year will be near the midpoint of the range. At the midpoint, $5.15, earnings would climb 12.4 percent.
Said Vaughn, "Despite these near-term headwinds, we are confident in the strategic course we have set for Genesco. With a very healthy balance sheet, we have the flexibility to invest for growth and new capabilities in our current businesses, pursue new growth opportunities and return cash to our shareholders."
Photos courtesy Genesco corporate