Garmin Ltd. reported revenues at its Fitness segment soared as consumers snatched up its newest Forerunner smart watches and the vivofit, the company's entry into the rapidly growing fitness band market.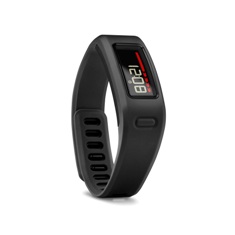 Fitness segment revenue grew by nearly $28 million, or 38 percent, to $100.3 million in the 13 weeks ended March 29 with the Forerunner 220 and 620 continuing to make strong contributions and a solid mid-quarter launch for vivofit (shown at right). Both gross and operating margins improved to 64 percent and 33 percent, respectively, as mix shifted to new products and sales growth outpaced research and development and advertising growth.
"We are excited about the strong market reception for our new products and recognize that innovation and design are key to winning and retaining customers in the rapidly growing, but crowded, fitness and wellness markets," said Cliff Pemble, Garmin's president and CEO. "We bring years of experience to the market and we are committed to being the leader for both athletes and novices."
Pemble said Garmin expects its recently introduced Edge 1000 cycling computer to also perform strongly. The high-end device combines best-in-class features of Garmin¡' legacy products with a large capacitive touch screen display, real-time competitive segment capabilities and smartphone connectivity.

At Garmin¡'s Outdoor segment, revenue grew 10 percent in the quarter with all major categories contributing to growth. Gross and operating margins within the segment remained strong at 61 percent and 28 percent, respectively.

"We continued to build on our broad portfolio of outdoor products with the introduction of the fenix 2 and the PRO series of dog collars in the quarter," said Pemble. "Fenix 2 builds off the success of its predecessor with the addition of advanced fitness training features and smartphone connectivity. The PRO series of dog collars takes proven Tri-Tronics design and offers new functionality for the sport dog market. In addition, we launched advertising and sponsorships to support the VIRB action cameras. We are determined to win market share in the category with our innovative products and future enhancements."

Total operating expenses in the quarter were $210 million, a 7 percent increase from the prior year. Research and development investment increased 10 percent driven by aviation, fitness and outdoor growth to support new product initiatives while marine and automotive/mobile declined. Advertising also increased 10 percent as Garmin launched campaigns to support new products in outdoor and marine. Selling, general and administrative expense increased by 4 percent, but declined as a percentage of sales in the quarter.

Pemble said that while results in first quarter exceeded management's expectations, it is historically the seasonally weakest quarter of the year.
"Much of the year still lies in front of us," Pemble said. "Due to these factors, we will update guidance following second quarter as has been our past practice."
Garmin Ltd. And Subsidiaries
Revenue, Gross Profit, and Operating Income by Segment (Unaudited)
Reporting Segments
Auto/
Outdoor Fitness Marine Mobile Aviation Total
13-Weeks Ended Mar 29, 2014







Net sales






$83,985 $100,288






$60,002






$242,952






$95,994






$583,221







Gross profit






$50,910






$64,085






$31,053






$113,791






$70,995






$330,834







Operating income






$23,683






$33,512






$3,810






$30,564






$28,800






$120,369







13-Weeks Ended Mar 30, 2013












Net sales






$76,165






$72,437