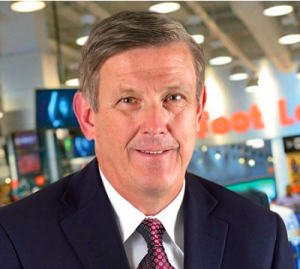 While underscoring the importance of being digitally-led, Dick Johnson, chairman, president and CEO of Foot Locker Inc., believes the retailer's more than 3,000 stores remain essential to delivering the omnichannel experience demanded by consumers.
"We're a legacy retailer and that comes with some baggage," stated Johnson at last week's FDRA 2018 Executive Summit held in Washington, D.C. "Some people think that it's negative baggage that we have over 3,000 stores around the world. We don't see it that way. We think it's very much a positive."
He said Foot Locker's core younger consumer wants to visit physical places and have "that interaction" in addition to engaging through websites and mobile devices. Johnson said of the stores, "We have to have the right stores in the right places and we have to reach the consumer in all those touchpoints, but it's important that we got them."
Johnson took particular umbrage with a recent headline from a Business Insider article, "Foot Locker is closing 110 stores as the retail apocalypse rages on." He said Foot Locker has closed 1,000 stores over the last 10 years, but the company's overall square footage has grown "because we built more exciting spaces." Those investments, he noted, included the company's partnership with Nike to create House of Hoops, now a 200-door business.
"We're trying to create excitement for the consumer," stressed Johnson. "The real headline wasn't that we're closing 100 doors. It's that we're opening 40 and they're going to be really special places for our consumer to come and engage with our brand. That's the message."
Johnson's overall presentation, however, largely focused on the "revolution" that in large part is being driven by the arrival of smartphones and the way the devices are changing how consumers interact with brands and retailers. With each of its banners having a web presence, a social presence as well as physical stores, retail "becomes a very complex model," he said. As a result, the company has had to try to "redefine how we speak to each of those individual customers between our stores and how they meet us in the digital spaces through which we operate."
The mindset change at Foot Locker is most evident in the company's decision to ditch the former mission statement: "To be the leading global retailer of athletic inspired shoes and apparel." The new one is simply, "Inspire and empower youth culture," to emphasize the importance of relationships and engagement.
He said today's "always connected" consumer is constantly turning to their smartphone to "sort out what's cool today" and they "live on" their devices throughout the day.
The buy transactions are now only one part of the shopper journey. Johnson said the discovery phase used to be heading to Foot Locker to find out "what was cool" and that you "had to know the guy who knew the guy" to find out about launch products.
"Not anymore," said Johnson, "Discovery and researching happens constantly with our consumer. They know more than we know sometimes."
Influencers have also moved well beyond the athlete in the field of play to athletes' lifestyle choices off the court, as well as a number of other "social icons" such as musicians.
Today's consumers are also looking for "instant validation" from their scores of social followers. In the past, being the first to wear the hip launch shoe was enough for "validation." Now, social media is driving validation.
Said Johnson, "I walk into stores all the time I see consumers pick up one shoe and put it on the right foot, put another on the left foot, take a selfie, post it onto Instagram, get feedback from their followers, 'Buy the one on the right;' 'Buy the one on the left.' That's how they make their buying decisions. That's how they get some of their validation. And then they move on and they start the cycle all over again."
Added Johnson, "Our consumers believe they're brands. We have to give them a stage to operate on."
A primary way Foot Locker will look to engage with today's social consumer is by leveraging data to bring a higher level of personalization.
"It's really going to be driven by customer data and insights. It's the way we'll move forward," stated Johnson.
Indeed, Johnson said one of the biggest investments Foot Locker is making is in data, which is being used to drive messaging, merchandise decisions on its website and stores, product buys and even service levels and the overall customer experience. The focus is on tapping algorithms and machine learning "so we can learn faster" and more quickly adapt toward where consumer preferences are heading.
"Everybody's talking about data, but as my CIO always reminds me, "Data is dumb,'" said Johnson. "It's the algorithms and the ability for the machines to sort through data and learn from the data we collect that's key. What we have to do is harness the power of that data to be able to better serve our customer. We have to obsess over our customer insights."
Johnson said the sneaker industry has to become closer to the experience he has purchasing tickets from airlines, where they're able to know his food and other preferences without even asking. Said Johnson, "The more we know about our customer, the more we're going to be able to personalize our representation to that customer."
The emphasis on data is part of Foot Locker's overall commitment to investing in digital. Johnson noted that being a legacy retailer means Foot Locker has some legacy systems that were "not necessary built for this digital age."
The digital investments will include many front-facing aspects such as building better apps, website upgrades and improving the connectivity between the physical store and digital touchpoints. One effort will be to improve the linking up of launch calendars across digital and mobile touchpoints. An app that will be tested later this year will enable consumers to purchase launch product on their mobile devices and have them stored "like a locker" inside a local store for pick up.
Foot Locker will also be upgrading its POS system to make it "much more customer-centric" and particularly help store associates converse and relate to shoppers. Said Johnson, "Today the consumer comes in with a device in their hand and has literally more information available at their fingertips than our associates do. By using handheld devices on the floor in all our stores and creating a better POS environment, we can be on par with the consumer."
The POS system will also help "capture a lot of the voice of our consumers" to hear what's motivating shoppers and provide Foot Locker with an "early signal" on trends.
Foot Locker's loyalty program across banners will also be shifted away from being largely discount-driven to be more about engagement. Said Johnson, "Our consumer is not really led by discounts. Our consumer is led by cool. Our consumer is led by experiences. Our consumer is led by engagement."
Some expected perks for active members may include attending a photo shoot with a celebrity or athlete, and being able to recognize and tailor experiences to best shoppers will be the primary focus.
A renewed effort is also being put around local communities, which are supported by Foot Locker's many stores and 40,000 associates worldwide. He said Foot Locker has long been known for the company's community connections since opening the first location more than 40 years ago in California, but he admitted that the arrival of social media has challenged community building.
"We used to be able to do a lot of this, but now in the world of instant social media, there's a hesitation, because if something goes wrong then the world knows about it immediately," said Johnson. "We have to be willing to take that risk."
As part of the community building effort, Foot Locker plans to invest in local content and local artists to "change the way that people think about our stores." More experiences, such as bringing in a barber chair for a special promotion, or offering sneaker cleaning on certain days in exchange for loyalty points, will help local stores stand out.
Data will be tapped to ensure marketing and product assortments are tailored to local tastes. Said Johnson, "Not every market is treated the same."
While each store will look to be connected to the local market through a three-pronged mix of products, experiences and the in-store environment, the store at the same time has to be connected to the global sneaker market. Johnson said, however, the industry remains challenged reacting to the fast pace of change in sneaker tastes.
"In the old days, it was great," said Johnson. "Things would launch in Europe and then slowly make their way to the east coast and then slowly make their way out west and settle out when they got to the west coast. Or they'd start in Japan and they'd come to the west coast and then the midwest and settle in the opposite direction. Today, if Kanye wears something on stage in Tokyo tonight, our kids got to have it immediately. They want it. So we have to figure that out."
One way Foot Locker is improving speed to market is by testing mini-hubs in key cities in order to replenish stores on a more frequent basis. The hubs, as well as the company's physical stores, also support same-day or next-day online delivery.
But Johnson said the overall industry has to "seed to scale" much quicker given the consumer's instant access to information that's driving the fast pace of trends. The industry is facing a "much more compressed time period" in how trends are developed, peak and then fade. Figuring out ways to move product quicker from China, manufacturing closer to home and innovations such as 3D printing will all likely play a role in bringing products to market quicker, he said.
"The old days of trying to guess six, seven, eight months in advance what this consumer is going to want six, seven, eight months from now are over," said Johnson.
Photos courtesy Foot Locker