By Thomas J. Ryan
Foot Locker Inc.'s Q2 comps surged 18.6 percent with the help of explosive digital growth and momentum in basketball, providing management with enough confidence in the business to reinstate its dividend. However, Foot Locker warned that the second half packs a high degree of uncertainty.
On a conference call with analysts, Dick Johnson, president and CEO, said the return of the NBA and a robust launch schedule is expected to support continued momentum in its key basketball footwear category.
In other categories, strength in running silhouettes continues to be seen in certain markets with Europe, as usual, being stronger but opportunities for Nike Max Air in North America. Foot Locker's exclusives from brands, including the 327 from New Balance, the J.Cole signature basketball sneaker from Puma, shown lead photo, and an upcoming collaboration with Converse is also expected to support growth in the second half. Finally, the stay-at-home comfort trend is expected to bode well for brands such as Ugg and Timberland as regions get colder and present "a lot of opportunities on those casual and classic styles."
However, Johnson also said the retailer is keeping a close eye on customer demand fluctuations given the uncertainty around school reopening, team sports participation, unemployment levels, and government stimulus, as well as any further government-mandated store closures.
The CEO added, "When it comes to back-to-school, we don't expect the cadence to be the same as it's ever been before." Tax-free holidays have shifted in some states, schools in many cases are still determining how and when they'll reopen and the "back-to-sports" seasons are also uncertain, he said. Johnson added, "Our team will do everything we can to manage those shifts and deliver against the consumers that shop with us both online and digital."
Looking further ahead, Johnson said holiday selling is likewise "really difficult to predict right. None of us know where COVID is going to be at that point."
On the positive side, he said that the second quarter showed that Foot Locker was able to pivot to make quick adjustments as consumers gravitated to online selling. He said, "What we proved during the second quarter is that we can amp up our direct business or digital business and service to consumers as well."
Q2's 18.6 Percent Gain Driven By Triple-Digit Online Hike
The 18.6 percent comp growth in the quarter ended August 1 came in slightly ahead of the sneaker juggernaut's pre-announcement on August 10. At the time, Foot Locker indicated that comparable-store sales would increase by approximately 18 percent for the quarter.
Net income reached $45 million, or 43 cents per share, in the quarter, down from $60 million, or 55 cents, a year ago. The latest quarter included a number of charges, including $19 million to cover the wind-down of the Runners Point banner based in Germany and an Eastbay restructuring, $18 million for costs incurred in connection with riot and civil disorder, and $1 million related to administrative costs for a previously-disclosed pension matter.
Excluding the non-recurring items, non-GAAP earnings per share improved 7.6 percent to 71 cents per share from 66 cents for the same period in 2019. On August 10, Foot Locker forecasted non-GAAP earnings before charges in the range of 66 cents to 70 cents. Prior to the pre-announcement, Wall Street had been projecting an adjusted loss of 16 cents.
Total second-quarter sales increased 17.1 percent, to $2.08 billion. Excluding the effect of foreign exchange rate fluctuations, total sales expanded 17.3 percent.
The 18.6 percent comp gain was driven by a 173 percent jump in digital sales that more than offset a 7.6 percent decline in-store sales, Lauren Peters, EVP and CFO, said on the call. As a percent of total sales, digital sales rose to 33.2 percent for the quarter, up from 14.3 percent last year.
The decline in store sales reflects stores in the quarter, on average, being open roughly 70 percent of potential operating days due to both COVID-19 mandated closures and disruptions from the protesters for racial justice. Over 90 percent of its global store fleet is now open with many stores in California remaining closed due to mandated closures.
By month, same-store sales in May were down high-single-digits, but June and July each produced high-double-digit gains.
Store traffic, impacted by the temporary store closures and social distancing measures, was down double-digits across geographies in the quarter, although more internationally than in the U.S.; however, the conversion was up more than 50 percent as consumers showed a strong intent to purchase. Average selling prices were up mid-single-digits in the quarter, while units were up double-digits.
In North America, Foot Locker, Footaction, Champs Sports, and Kids Foot Locker were all up strong double-digits. Foot Locker Canada increased high-single-digits and East Bay grew double-digits. Internationally, Asia Pacific climbed double-digits, but Europe's comps were down high-single-digits as European consumers have been more conservative coming out of the stay-at-home orders. Runners Point and Sidestep posted a collective mid-single-digit comp gain.
Basketball Drives Footwear Gains
Among categories, footwear was up "strong double-digits" while apparel gained mid-single digits. Accessories business was down double-digits due primarily to softness in bags and shoe care.
Footwear saw double-digit gains across men's, women's and kids. The highlight was men's basketball, which delivered "an impressive double-digit increase," said Peters. Men's running was up mid-single-digits while court and casual styles were down double-digits. Women's footwear was led by ongoing strength across classic basketball and court style. Kids was driven by strong demand in infants around classic basketball styles and slight gains in running.
Apparel was led by double-digit gains in women's and kids with men's up mid-single-digits. Said Peters, "With lots of time at home, comfort was top of mind and fleece sales drove apparel results this quarter."
By region, North America and Pacific saw broad gains in apparel across men's, women's and kids. Europe was down as gains in women's and kids could not offset declines in men's.
Gross margins in the quarter fell 420 basis points to 25.9 percent. Merchandise margins decreased 700 basis points due primarily to efforts to clear aging assortments and a higher mix of digital sales which carry higher freight costs. Leverage of occupancy and buyers' compensation provided 280 basis points of improvement. The quarter included $6 million of COVID-19-related rent savings following landlord negotiations.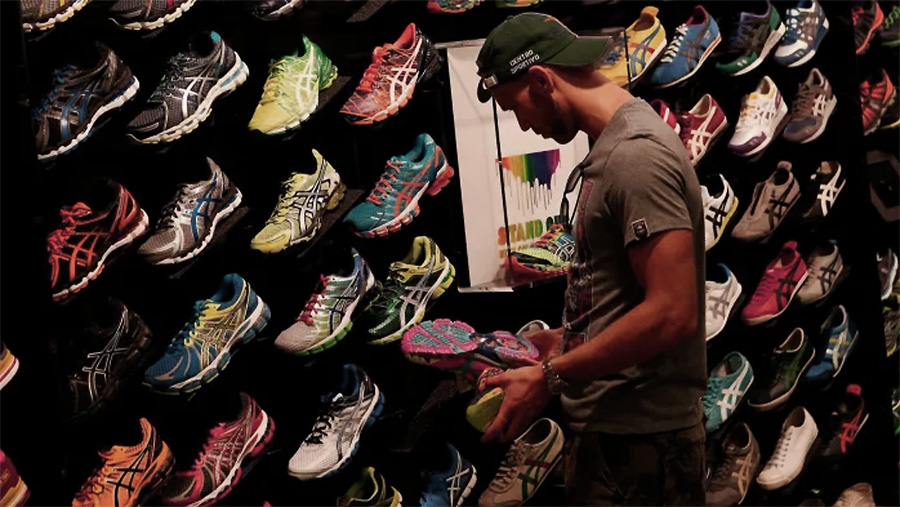 Inventories were down 2.7 percent on a reported basis and 3.7 percent on a currency-neutral basis. Peters said Foot Locker still has "plenty of compelling product" to drive sales goals in the second half.
The SG&A expense rate decreased 360 basis points to 18.6 percent of sales, driven in part by $17 million in government subsidies, reduced costs due to the fewer number of days stores were open and an ongoing focus on expense management. This was partially offset by revised incentive compensation and $6 million of expenses for personal protective equipment (PPE).
Jordan Boosted By "The Last Dance" Documentary
Diving deeper into the key footwear category's performance, Andy Gray, the newly appointed EVP and chief commercial officer, said the premium business was strong throughout the quarter despite facing a more promotional marketplace as "increased consumer appetite for the key marquee franchises showcased the health of our category."
In basketball, storytelling around key Nike icons "resonated very well in the marketplace" to offset disruption caused to the NBA's schedule. Jordan's sales were helped by a "strong pipeline" that supported brand heat as well as the ongoing impact from the release of "The Last Dance" documentary that is believed to have brought new consumers to the brand.
The J.Cole signature basketball sneaker launch also stood out. In seasonal merchandise, the stay-at-home comfort trend was supported strong performances from Nike Free, Ugg and Birkenstock. Among exclusives, Nike's Pregame Pack, a collection of Nike and Jordan Brand silhouettes, Adidas' Global City Pack and Vans' Off the Blank collection all resonated with consumers.
Looking ahead, Gray said collaborations with New Balance, Puma and Converse are expected to help build on strong recent product launches. From Nike, a boost is expected to launch off the Remix Pack, comprised of fan-favorite silhouettes including the Air Max 1, Air Max 90, Air Max Plus, Air Max 97, and two iterations of the Air Force 1 Low. Adidas will debut the "Behind The Stripes" collection featuring some of the brand's premier athletes.
"We will also continue to build new opportunities through the filter of youth culture, as well as create a robust pipeline of exciting energy within our Greenhouse incubation team, connecting it all together with exciting and engaging content and experiences,"  said Gray. "The current environment will likely come with more twists and turns to navigate through. We will remain steadfast in delivering, again, our purpose of inspiring and empowering youth culture and continuing to evolve our own offense to better serve our consumer."
Photos courtesy Foot Locker