By Eric Smith
MINNEAPOLIS—Dozens of brands in the running footwear, apparel and accessory categories descended on Fleet Feet's National Franchise conference here this week, and while the primary goal was exhibiting their latest product offerings, they also delivered a simple yet powerful message for the industry:
The Run Specialty channel is alive and well, no matter how many distressing tales of the retail apocalypse might be swirling around.
And 2018's numbers back that up. According to weekly point-of-sale data compiled by SGB sister company SSI Data, Run Specialty channel active footwear sales increased nearly 5 percent in the Calendar Year-to-Date period through June 9.
In the more recent trailing four-week period ended June 9, active footwear sales increased nearly 6 percent versus the comparable year-ago period. Growth in the fashion/casual active footwear categories slightly outpaced the performance running footwear but both segments of the business posted mid-single-digit percentage growth in the period.
"The 'turnaround' in the Run Specialty channel is in full swing based on the SSI Data and supported by recent data from Fleet Feet and the performance running brands," said James Hartford, CEO and chief market analyst at SportsOneSource LLC, which manages the SSI Data sales trend reporting platforms.
"The broader market also experienced renewed growth in the performance running footwear category this spring, exemplified by the mid-single-digit growth trend across the broader market in the trailing four-week period," Hartford added. "Run Specialty led the resurgence this year and the broader market is now following suit."
Comments from the Fleet Feet conference trade show floor reinforced what the data shows. The brands that exhibited here this week, all of whom are key suppliers to Fleet Feet's stores nationwide, said Run Specialty remains a priority even amid the noise of e-commerce taking over.
"Despite our growth in other channels, we think about Run Specialty every day," said Chris Cohen, senior director of U.S. sales for Hoka One One. "We think about our customer, and our customer is in the Run Specialty channel. It's the centerpiece of our distribution."
Cohen touted Run Specialty's "full-service environment" over the self-service channels, which helps ensure customers are put in the right product.
That sentiment was echoed by Jim Monahan, president of Irvine, CA-based 361 USA, a relatively new player in the running shoe category. He said Run Specialty has retained its standing in this space primarily because of the way footwear companies can optimize their revenue growth.
"It's still the pinnacle of the business," he said. "That's absolutely where we want to put our stake in the ground. We want to continue to support the channel. Today, we sit in about 250 doors, which is just shy of about 200 accounts. We obviously want to grow that penetration rate in Run Specialty, so there's a lot more for us to do there."
In addition to the obvious advantages that footwear companies have in Run Specialty shops, it is especially true for the accessory categories, where the input of a trained shop associate is critical for touting the benefits of products that sit in the periphery.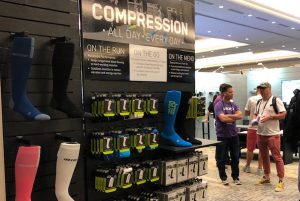 "Run Specialty is the most important channel for us," said Jeff Irvin, national sales manager, CEP-Compression Sportswear. "Our competitors are backing away from this channel, but we are doubling down."
CEP has the investments to prove it. The German-owned company, whose U.S. operation is based in Whitsett, NC, has added specialty run sales reps and is installing "compression walls" in brick-and-mortar stores.
CEP pays to add these prominent displays in Run Specialty shops, giving the company's compression socks product differentiation instead of having them sit next to socks half the price on a standard shelf and confusing customers.
"We're seeing a fantastic return on them," Irvin said.
The return is aided by Run Specialty associates' ability to explain the benefit of compression socks, Irvin said, mostly because many of those shop employees have themselves needed to don a CEP product to recover from an ultra or even an everyday training run.
In other words, he said, a trained employee can identify customers' needs for compression socks if they start complaining of shin splints or bragging about an endurance race they just signed up for. "Who better to share your story than the people who use it?" Irvin said.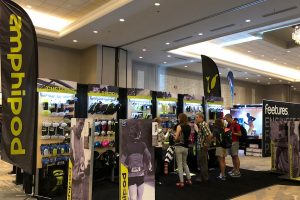 Seattle, WA-based running accessories maker Amphipod shares that view. June Angus, who co-founded the company with her husband, Keith Willows, said the Specialty Run channel is integral for Amphipod's mission of meeting runners' exacting demands for products that are light and functional.
The company, which has become a vendor partner of Fleet Feet and was exhibiting at this year's show with the goal of exposing more products to store owners, has a specific customer in mind when designing a water belt that doesn't bounce during movement or a horizontal bottle pack that rests comfortably on a runner's back.
"We love working with runners and running stores, and we feel connected to them," Angus told SGB. "We don't sell into channels that compete with Run Specialty."
Limiting products to Run Specialty and not splashing product all over e-commerce and other channels also allows a manufacturer to protect the value of the brand and protect the margins for the company's dealers.
But while many of the vendors here do, of course, sell into multiple channels—Amazon, big box and direct-to-consumer were among the more popular secondary options—Run Specialty remains the focus.
Josh Sprague, founder and CEO, Orange Mud, said he declined an offer from Costco to sell the company's popular transition wrap—which doubles as a seat cushion and changing towel—because he didn't want to "piss off" his core running audience, and also because he wasn't sure he was ready to scale up production to meet Costco's volume demands. Instead, he chose to grow organically at a more manageable pace.
He also understood that a Run Specialty salesperson can explain the features of his Castle Rock, CO-based company's products, from the wrap to a technical water pack, with ease and expertise—something big-box employees can't provide.
"They know how to merchandise and market products," Sprague told SGB. "So we don't focus on Dick's, Running Warehouse and discount stores. The discount model is successful, but the Run Specialty is where the core runners are."
Andrey Ablamunets is brand manager for Brilliant Reflective, a St. Paul, MN-based maker of reflective kits that runners, cyclists and other outdoor adventurists can adhere to their clothing or gear, helping them become more visible to vehicles at night. He said the company's retail partners are all specialty, because these shops can help a runner select the right product for their nighttime outdoor activities.
"Runners are educated, and they understand the importance of reflection," Ablamunets told SGB. "Working with Fleet Feet and other Specialty Run shops, we've been able to put our product on the shelf and have shop employees talk about it as an add-on item."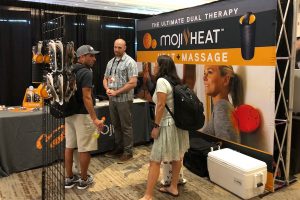 Massage roller companies also count on Run Specialty employees for their expertise, and Moji is all-in on the channel. While many non-runners may covet the healing powers of the company's MojiHeat massagers and back and neck wraps that can be heated to enhance recovery, the products are ideal for athletes who need some relief from their daily road or trail mileage.
In fact, said Moji's sales manager, Scott Schwartz, Run Specialty is the primary channel because of the company's target audience. "It is our bread-and-butter channel from a brick-and-mortar perspective," Schwartz said. "These customers are in need of our products because they care about recovery."
Though the Lake Zurich, IL-based manufacturer uses e-commerce, that's not a threat to the Run Specialty channel, Schwartz added.
A similar theme was echoed across the show floor, one that should resonate with both running brands and Run Specialty shops throughout the nation.
"We try to be wherever our customer is," Schwartz said, "but primarily that is Specialty Run."
Coming Friday: More from the show as SGB sits down with Fleet Feet CEO Joey Pointer to discuss the state of the company, the Run Specialty channel and challenges facing the industry.