The limited-edition collection commemorates the tennis icon's upcoming International Tennis Hall of Fame (ITHF) induction and her longstanding relationship with Fila.
Writer: Thomas J. Ryan
Fila is releasing a special collection for Kim Clijsters to honor the tennis legend's induction into the International Tennis Hall of Fame (ITHF). The line will be available exclusively at the International Tennis Hall of Fame, beginning on July 17.
The former world No. 1 was one of the most recognizable and well-respected players on the WTA Tour. But she may be most remembered for her comeback to tennis in 2009, when she became the first unseeded player and wildcard to win the U.S. Open. With this victory, Clijsters also became the first mother to win a Grand Slam in the Open era since former Fila sponsored athlete, Evonne Goolagong.
"Kim has been a part of the Fila family for many years and she is an outstanding ambassador for the brand," said Gene Yoon, global chairman at Fila. "As a proven champion on and off the court, Kim's legacy extends beyond the game."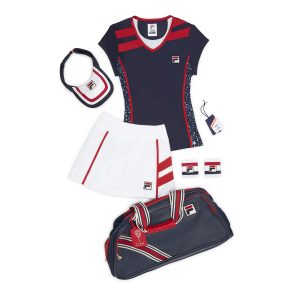 The Fila x ITHF x Kim Clijsters collection features a red, white and navy color palette to pay homage to her adopted home (USA), while also highlighting Fila's signature colors. The line includes a cap sleeve top, one of Clijsters' favorite silhouettes, as well as a matching skort. Both pieces are available in navy and white with red accents.
The star pattern on the top serves as a tribute to Clijsters' career and her time with Fila. Hundreds of small stars decorate the gear, while eleven large stars are meant to represent her years with Fila. Inside four of those eleven stars is an outline of a tennis ball, to toast her four Grand Slam titles. Additional design elements include diagonal red stripes across the upper chest and red piping at the start of the star pattern.
The red taping continues down the front of the skort while diagonal red stripes start from mid-thigh and wrap around the back of the skirt to the waistband. The ball shorts mirror the cap sleeve top, as they feature the same star print pattern. A selection of accessories including a visor, wristbands and a duffle bag round out the collection is also available.
A portion of the proceeds from this collection will help the ITHF, a non-profit organization committed to preserving tennis history and celebrating the sport's greatest legends, and Ten4Kim, a foundation founded by Clijsters to provide funding to juniors in need of financial assistance for practice, travel, and coaching.
"Fila is a part of my life to this day and I've always appreciated their loyalty and support immensely," said Clijsters. "It's so special to me that they have gone to such great lengths to celebrate my Hall of Fame induction. This outfit has meaning in every detail. It's representative of my entire career and to see it out again as I become a Hall of Famer is really moving for me. At this point in my career, I'm focused on the next generation of tennis players and to know that the proceeds of this collection will help players who are trying to build their careers is extra special. I'm grateful for Fila and the International Tennis Hall of Fame's support in this important effort."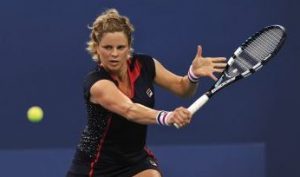 "This collection is a really special way to celebrate Kim's long-time partnership with Fila and her many accomplishments as she becomes a Hall of Famer," added ITHF CEO Todd Martin. "Fila and the International Tennis Hall of Fame have a shared commitment to working to inspire future champions in our sport, and we are very excited to be able to collaborate with Fila on a project that will contribute to youth tennis programming here at the ITHF and through Ten4Kim."
Clijsters will be inducted into the International Tennis Hall of Fame on July 22, in a grand ceremony and celebration in Newport, RI. She is the second Belgian player to be inducted, joining Justine Henin who was inducted in 2016.
Photos courtesy Fila