Farm to Feet has added hiking speedster Jennifer Pharr Davis to its Global Ambassador Tea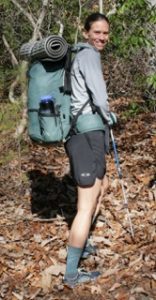 m. Davis, of Asheville, NC, will promote the brand during her upcoming book tour and speaking engagements, provide product development feedback, and will work with Farm to Feet to elevate North Carolina and the Mountains-to-Sea Trail as a hiking destination.
In 2011 Pharr Davis was recognized with National Geographic's Adventure of the Year Award following her record breaking thru-hike of the Appalachian Trail.
"Jennifer is a hiking icon and an inspiration," said David Petri, VP of marketing of Farm to Feet.  "As a fellow North Carolinian, we are excited to work with her to help promote hiking in our state and beyond."
2017 marks the 40th Anniversary of North Carolina's Mountains-to-Sea Trail.  Farm to Feet is commemorating the anniversary with a new collection of technical hiking socks that celebrate various sections of the trail.
This spring, Pharr Davis, will be conducting a number of talks to promote her new book, Families On Foot, and will be providing the keynote address at the annual Gathering of the Friends of the Mountains-to-Sea Trail, March 24-25, in Elkin, NC.
"I've been so impressed by the quality and durability of Farm to Feet's socks," said Pharr Davis.  "Novice hikers too often over look the importance of socks. A good pair of socks can make all the difference on the trail and Farm to Feet socks are amazing."
Lead photo courtesy Blue Ridge Hiking Company