During a keynote session at the virtual NRF Big Show, Doug Mack, CEO and Director, Fanatics, shown below, discussed how the agility provided by Fanatics' vertical-commerce (v-commerce) model helped the company make fast adjustments during the pandemic to deliver record sales and profits in 2020.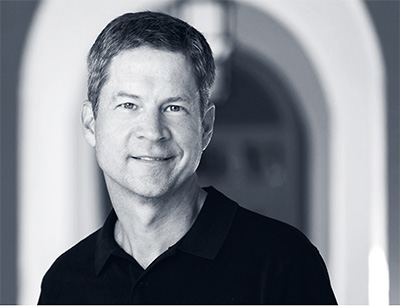 The session also featured Fox Sports veteran reporter Erin Andrews discussing the success of her women's fan gear line, WEAR by Erin Andrews, created in partnership with Fanatics. The moderator was Matthew Shay, president and CEO, National Retail Federation.
Mack began the conversation with the early steps Fanatics' took in response to the pandemic, including facing significant uncertainties when professional and college sports games were suspended in mid-March.
"As a business built around sports, what would happen when it doesn't exist?" asked Mack rhetorically. "I think it had not been since World War II that there had been disruption to the sports calendar, and we didn't know how long, or how bad, it would be."
Fanatics adopted two mindsets at the start. 
The first was operational, exploring how Fanatics would "navigate our business not knowing what the end state will be or the return."
The second was exploring how Fanatics could help. Mack said, "The tragedy was profound. 'How could we help society through this crisis?'"
Fanatics Supports Pandemic Relief Efforts
On the latter front, Fanatics' v-commerce model, which emphasizes vertical or internal manufacturing of apparel with domestic facilities, was particularly beneficial. 
Fanatics converted a plant producing baseball uniforms for MLB players to manufacture masks and gowns for frontline workers – making over one million garments distributed to hospitals and other frontline workers across 13 states. Mack said, "It helped out at the most basic level of the pandemic."
Energized by that program, Fanatics sought other ways to help and turned its attention to its many relationships.
In mid-April, Michael Rubin, founder and executive chairman of Fanatics, launched the "All In Challenge" — a virtual fundraising effort designed to raise millions of dollars to provide food for children, the elderly and frontline workers at the height of the pandemic.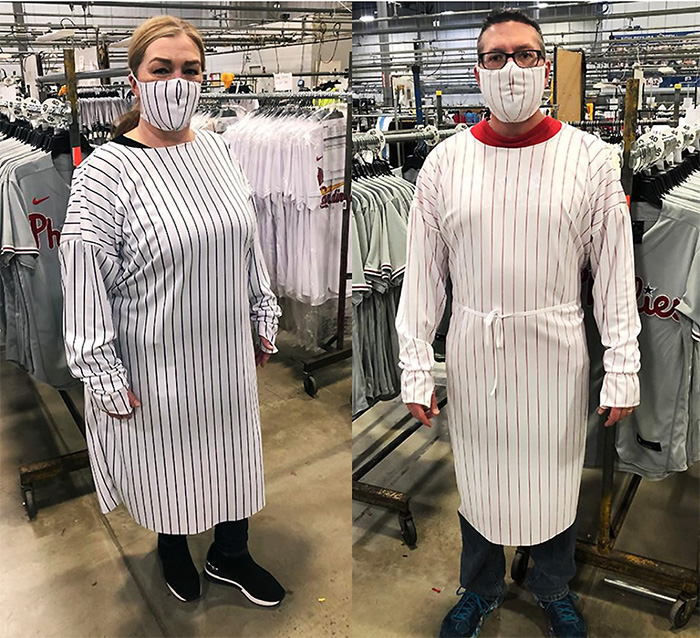 Scores of sports and entertainment industry legends donated items or time in support of the program. New England Patriots owner Robert Kraft put his Super Bowl LI championship ring up for auction, while New York Giants' legend Eli Manning auctioned off his Super Bowl XLVI MVP Corvette. Mack said the program raised over $60 million.
Operationally, Mack said Fanatic's v-commerce model makes the company "one of the most agile businesses" and that agility served the company well during the pandemic. Said Mack, "We have an agile domestic supply chain, and all the agility that we built to be successful in the unpredictable world of sport, we applied to the pandemic."
Inventory plans were adjusted internally and with vendor partners. A consumer mask-covering program launched as a sales opportunity, and because Fanatics felt compliance with mask mandates would improve if an individual could wear a mask celebrating a favorite team rather than a medical mask. Said Mack, "It was good for business and created another philanthropic way to create donations."
Marketing and promotional plans were also altered, and safety measures were instituted to support workers at fulfillment centers and its manufacturing facilities.
Mack said he was most proud of Fanatics' accomplishments this year out of the seven years he's been with the company. He said, "I think on one level, I put us in the top decile of companies who walk the talk on helping people through the pandemic. Then, because we're a digital-first vertical agile company, we set record sales and profits in our global e-commerce business."
Mack also noted that Fanatics kept its employees safe, describing that goal as "the number one priority for the company the entire year, which is a tremendous effort by all our leaders. An absolutely a harrowing year but one that we're super proud of."
Asked to elaborate on the development of the v-commerce model, Mack said it stemmed from the extreme uncertainties in selling fan gear. A retailer, or most other consumer product companies, can try to set their trends, deciding to drive sales with color or technology, and make plans around the economy or weather patterns. In contrast, fan apparel sales are heavily tied to wins or losses, surprise breakout performances, trades, and other unknowns and, in many cases, in the near-term.
Said Mack, "It struck me that the traditional retail model is challenged trying to serve the sports market. You don't know who's going to win or lose, who's going to get traded and get hurt, who's going to get drafted, etc."
Inevitably, in the past, Fanatics would have too little inventory of a winning team and too much inventory for a losing team.
Vertical Commerce's Focus On Digital And Agility
Mack said its v-commerce model embraces three significant elements.
The first is being a digital-first company focused on building customer relationships and understanding fan preferences – which significantly helps market events such as sending an e-mail pitch to Crimson Tide fans after Alabama won its seventh national championship and avoided sending offers to fans of other teams, particularly Ohio State's.

The digital-first approach also helps reach fans on social media with event marketing critical to Fanatics' driving sales. Said Mack, "I think of our company as the ESPN of commerce, where there are many events that happen a day that you need to stay updated on daily. The traditional physical retail model couldn't keep up with that pace."
The second element of vertical commerce is "being vertical," or having the rights to many leagues and quickly responding to demand. Being vertical puts Fanatics "in a position that when teams get hot and players get hot, we can produce merchandise and are not reliant on third parties to create products. It takes cycle time out."
Finally, the third element is having an "agile supply chain" that's multi-tiered, including a mix of domestic and offshore sourcing, enabling Fanatics to finish production close to demand.
Said Mack, "I think putting that all together – being a digitally-elite company, having vertical rights and having an agile supply chain – is the magical way to say no matter who wins or loses, which player gets hot, who gets injured, who gets drafted, who gets traded, we can always be there for the fans."
Mack also noted that Fanatics didn't come up with these capabilities. He cited Amazon as an elite digital company, the expansive vertical product creation capabilities of Nike and agile supply chains supporting fast-fashion players such as Zara and H&M. He added, "We're the first company that put all three pieces together against the market, where being agile is most important."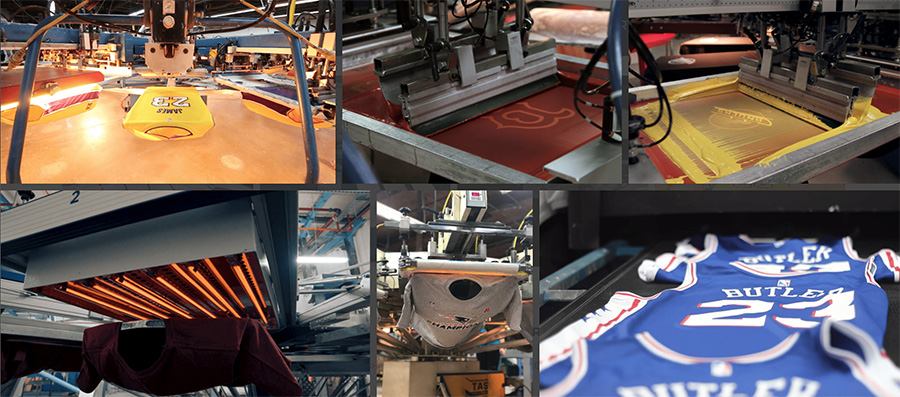 About half of Fanatics' mix is a vertical product or manufactured internally. Brand partners manufacture the other half, and part of the v-commerce model provides partners with data and collaborates with them to boost their turnaround capabilities. He cited Fanatics' strong relationship with Nike producing performance products for players and Fanatics supporting a wide range of fan apparel under several Nike-partner sports leagues. Mack said, "We've been innovative in our v-commerce model to also make sure that there are choices and differentiation of products."
Fanatics also helped sports league and team partners pivot during the pandemic to focus on commerce with games canceled or attendance restricted. Fanatics was able to sign major deals, including one with Paris Saint-Germain, and formed its first partnerships with several universities, including the University of Oregon and Notre Dame.
WEAR By Erin Andrews Seeks To Bring Fashion To Women's Fan Apparel
Andrews, shown below right, discussed last year's successful launch of her WEAR by Erin Andrews women's NFL apparel line in partnership with Fanatics. She said the idea behind the line was to offer fashionable fan apparel that women could wear in their daily lives and not look like they were "attending a tailgate."
She met Michael Rubin at Fanatics' Super Bowl LI party in 2017 and set a meeting at his office. Rubin told her that individuals with a similar dream of creating fashion-forward fan apparel for women had pitched him. Andrews believes her success reflects her credibility working on the NHL sidelines for the last eight hers, her connections and her support from the NFL and Fanatics.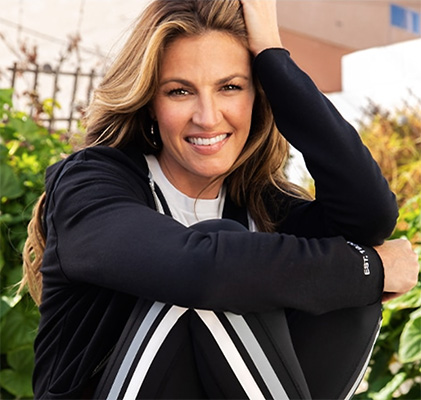 Mack said women's remains an under-tapped opportunity for Fanatics. He estimated half of college sports fans are women. Half of the shoppers across Fanatic's sites are women, but the mix of products geared for women is significantly less. In many cases, female consumers buy for their spouse, parents, or children rather than for themselves.
Mack added that Fanatics works with major partners such as Nike on women's assortments and partners with traditional fashion brands like DKNY and Dooney and Bourke, but continues to look to elevate women's offerings. He added, "When someone like Erin comes along, it's such a no brainer because she is authentic. She is a real sports fan. She's not slapping her name on a product."
Asked what may change coming out of the pandemic, both Andrews and Mack were bullish that fans are eager to return to live events. Andrews said the widely-watched virtual NFL Draft showed the passion of fans and players. She said of attending live sports, "I can't wait until that returns."
Mack believes the U.S. will undergo an "experience boom" in the second half of 2021 as home-fatigued Americans seek out sporting events, concerts and other social events.
He suspects online will become a more significant part of consumers' lives post-pandemic as people have become more conditioned to digital experiences, including shopping and consuming online content and virtual conferences. Mack observed, "If you're a company which is rooted in traditional and physical, you're going to have to commit to a breakout strategy to become great at digital."
Health and hygiene will continue to receive more attention with lessons learned from the pandemic, believes Mack. He also believes online delivery will likely see a significant upgrade from following the capacity issues, shipping surcharges and delivery bottlenecks faced this past holiday. He said Amazon continues to raise the bar on delivery. Mack added, "There's going to need to be a reckoning of either better service for the money or new disruptive entrants to come in to allow more of us to feel like Amazon for our customers."
Photos courtesy Fanatics