Rocky Brands raised its guidance for sales growth in the current year to a range of 21-to-24 percent over 2021, up from its prior outlook of 16-to-19 percent growth, as first-quarter results came in well ahead of expectations with strength across brands and channels.
"The new year has gotten off to a good start as demand for our portfolio of leading brands continues to be strong," said Jason Brooks, Rocky Brands' chairman, president and CEO, on an analyst call. "We experienced solid growth across our wholesale and retail segments and throughout our diverse mix of distribution channels, including Western, work, farm & ranch, outdoor, and family retail. The combination of healthy inventory positions and additional fulfillment capacity allows us to better capitalize on the market opportunities we are creating through our product and marketing strategies and focus on operational excellence."
He added, "Unfortunately, the current cost environment and the tight labor market have required us to spend more temporarily to bring our new distribution facility in Reno up to speed. While that limited our ability to flow more of our revenue outperformance to the bottom line, we are making good progress gaining greater efficiencies and expect we'll be able to translate more of our top-line growth into enhanced profitability as the year proceeds."
In the quarter ended March 31, sales increased 90.5 percent to $167.0 million, easily ahead of Wall Street's consensus estimate of $138 million.
First-quarter 2022 net sales include $64.0 million in Boston Group net sales compared with $6.5 million in the same period last year. The Boston Group is defined as The Original Muck Boot Company, Xtratuf, Servus, Neos, and Ranger brands acquired from Honeywell International on March 15, 2021. Sales gained 32 percent on a proforma basis.
Wholesale sales surged 126.2 percent to $134.0 million, retail sales increased 19.3 percent to $28.6 million, and contract manufacturing segment sales, which include contract military sales and private label programs, were $4.4 million in the first quarter of 2022 and 2021.
Gross margins in the quarter eroded to 37.6 percent from 40.1 percent a year ago. The decrease was mainly attributable to the increase in inbound freight costs coupled with the delayed impact of price increases and a lower mix of retail segment sales, which carry higher gross margins than the wholesale and contract manufacturing segments.
Operating expenses shrunk to 29.7 percent of sales from 32.6 percent. Excluding $1 million in acquisition-related amortization and integration expenses in the first quarter of 2022 and $5.2 million in acquisition-related expenses in the first quarter of 2021, operating expenses were 29.1 percent of sales against 26.7 percent in the year-ago period. The increase in operating expenses was driven primarily by the expenses associated with the acquired brands and higher logistics and fulfillment costs including temporary spending associated with the opening of the new distribution facility in Reno, NV.
Operating income jumped 100.5 percent to $13.2 million while adjusted operating income advanced 17.7 percent to $14.2 million.
On a reported basis, net income increased 63.4 percent to $7.3 million, or 99 cents per share, from $4.5 million, or 61 cents, in the first quarter of 2021. Adjusted net income declined 6.8 percent to $8.2 million, or $1.10, from $8.7 million, or $1.19, but came in easily ahead of Wall Street's consensus estimate of 98 cents.

Elaborating on brand performances within the wholesale segment, Brooks said Durango continues to experience robust demand, finishing the quarter with mid-double-digit growth in both key and field accounts, driven by strong sell-throughs.
"Durango's strategy of diversifying the line into new offerings, particularly in work and core Western has been very beneficial as our farm & ranch and true Western retail partners have posted large year over year increases," said Brooks. "Not only has demand remained incredibly strong, but we've been able to capture the demand with strong inventory and improving logistics capabilities leading to increased shelf space again this quarter."
Georgia generated "solid gains" over 2021 as demand was once again strong. New opportunities and expansion of current programs continue to drive Georgia's business as the brand takes advantage of inventory shortages in the marketplace. Brooks said, "For example, Georgia experienced tremendous growth of its popular Loger collection, growing strong double-digits in part because we were able to fill an inventory void created by peers reliant on Asian production. We produce this line of boots in our own factory in the Dominican Republic and therefore are able to control inventory flow much more precisely and capitalize on the opportunities."
The Rocky brand, which spans work, outdoor, Western, commercial military, and duty footwear, also had a "very solid quarter," with strong growth in outdoor and Western. Flat sales were seen in work due to the timing of key orders in the year-ago period that wasn't anniversaried. Brooks said, "Whether it be hunting product or rugged outdoor footwear for general outdoor activities, we saw ongoing strength as consumers continued the trend of getting outdoors and being active. We are encouraged by the resiliency of the demand we saw this quarter. Unlike previous years where Q1 outdoor sales are boosted by off-price sales of discontinued or overstock products from the past fall hunting season, this was not the case in Q1 of 2022. The overall outlook for Rocky work, outdoor and Western for the balance of 2022 remains solid."
Rocky's commercial, military and duty divisions exceeded expectations with the arrival of "much-needed inventory" boosting commercial military sales. The segment is benefiting from the drawdown of the pandemic restrictions in the military and numerous municipalities that are allowing military members and public servants to train and work more often than in the last 12 months.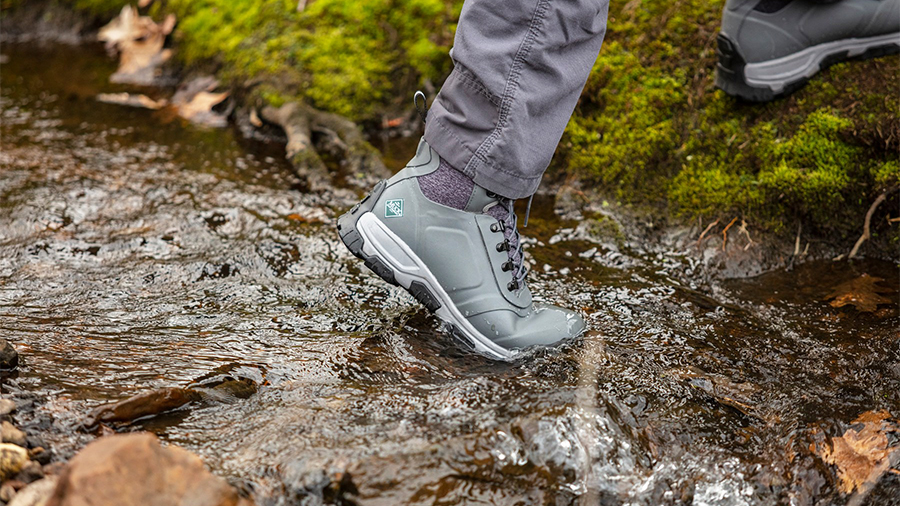 Among its recently-acquired brands, Muck and Xtratuf "both posted sizable gains" in the first quarter, according to Brooks.
"For Muck, core styles remain in high demand and sold through very well at farm & ranch and outdoor channels while most new Spring 2022 product is just now arrived, creating a nice tailwind for Q2," said Brooks. "Muck certainly has a good backlog, and we are working to return to normal retail inventory positions. Additionally, we are beginning to see orders increase with most of our retail partners as they look ahead to fall and winter, which are the key seasons for the brand."
Xtratuf continues to gain momentum, especially with the brand's key outdoor and fishing retail partners. Said Brooks, "We are experiencing growth on two fronts, both on a door productivity basis as accounts expand into new styles as well as expansion of doors from our existing accounts. This expansion positions Xtratuf well for a strong 2022 as our current backlog will only strengthen as we continue to launch new Xtratuf products this year."
In its retail segment, traffic and conversion of its owned e-commerce sites was "up nicely" year-over-year even as the company pulled back on expensive performance marketing. Double-digit e-commerce growth was seen for both Rocky and Georgia.
Fulfillment expansion activities restrained shipments of all direct-to-consumer orders in a timely manner, especially those being processed from its Reno facility which was not fully operational until early April. Said Brooks, "We are excited to have all inventory now in our distribution and fulfillment system and look forward to taking advantage of our enhanced capabilities to better capture the direct opportunity for all our brands."
The Lehigh B2B retail business had a "very strong start" to 2022, driven by significant growth in both new and existing accounts.
Inventories at March 31 increased to $289.2 million compared to $125.1 million on the same date a year ago. The increase was driven by overall cost increases and strong sales growth combined with additional inventory as a result of increased transit times and distribution and fulfillment challenges experienced in the second half of 2021. Thomas Robertson, CFO, said, "While inventory at the end of March was higher than we would have liked, it has come down over the past month. The company plans to realign inventory levels with the sales growth and inventory purchasing strategies by the end of 2022
Photos courtesy Rocky Brands