At the J.P. Morgan Global Technology, Media and Communications Conference, Barry McCarthy, Peloton Interactive's president and CEO, discussed the many challenges facing Peloton, including costs and supply chain, but also about the "customer love" that encouraged him to take the job and tackle the turnaround opportunity.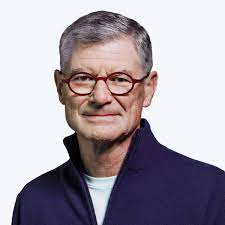 "What I found compelling about Peloton was the user experience," said the former Netflix and Spotify executive, shown right. "So, in my career, my observation is the hardest thing to find is product-market fit, and the company had that in spades. The net promoter score for its bike and its tread is off the charts. And, try as they might to screw that up, once you have it, it's hard to lose."
McCarthy, who replaced Co-Founder John Foley as CEO in February, said the second reason he was attracted to the role was that he saw the main challenges of cost controls.
"I thought there were opportunities to right-size that and then lean into the customer's love and reinvigorate growth coming out of COVID," said McCarthy. "Once you could normalize against post-COVID numbers, I think it's a reasonable expectation to imagine that revenues would grow on a year-over-year basis on a normalized basis more than 20 percent and that the company can get back to positive cash flow in FY23. That's certainly my goal for the business. And if we're able to accomplish those two objectives, I think we will largely get fixed what's broken. And then it's about capitalizing on the customer love and broadening the product portfolio, the different channels to market and international growth to drive future success."
McCarthy initially discussed three focus areas—stabilizing cash flow, optimizing talent and returning to growth. His goal to become cash flow positive by FY23 came as Peloton burned through nearly $750 million in cash in its fiscal third quarter ended March 31.
McCarthy admitted that the $750 million in negative free cash flow is a "shockingly big number" and "certainly unsustainable." On the positive side, however, he added, "we paid for a lot of inventory that we had already received, and eventually that headwind becomes a tailwind."
McCarthy said the key is establishing more-effective inventory management spearheaded by Andrew Rendich, who was hired in March as chief supply chain officer. Rendich was most recently COO at Grove Collaborative and had worked with McCarthy at Netflix.
"He's already taking important steps to manage that piece more effectively," said McCarthy. "I think we have more visibility into what's happening there than we had previously and can better manage outcomes than previously, which gives me considerably more confidence in what's happening in that side of the business than I had when I walked in the doo. So it had been a big source of working capital usage in our current calendar year, FY22, and became the source of working capital in FY23. And it's an important contributor to moving the business from consuming cash to generating cash in the back half of the year. If we're going to be able to accomplish it, it will be because we have gotten our hands around inventory and are working our way through the supply that we currently have."
McCarthy said Peloton is undergoing a challenging process of adjusting to slower demand as the economy has opened up after facing surging demand in the early stages of the pandemic.
"We're mostly managing a hangover, but we stopped drinking," said McCarthy. "So there was the expectation that COVID was the 'new normal,' and they were selling everything they could land in the country. And they ordered more, and the world changed to less, but it takes a while for less to find its way into the supply chain. So, the good news is that inventory has a long life. It's not like it has diminished value because it's sitting on the balance sheet. We spend a lot of money to store bikes and treads. The good news is that once we sell them out of inventory, all those storage costs become a source of savings and operating leverage. The path to the other side is clear. It just takes time to get there. We'll get there."
Photos courtesy Peloton/Barry McCarthy