Delta Apparel, Inc.'s profits grew over 129.5 percent in the fiscal 2022 second quarter ended April 2 as sales expanded 21.2 percent and gross margins improved 270 basis points. Strong performances were delivered across its Delta and Salt Life business segments.
"This performance is being driven by strong customer demand, driving unit growth in the highest single-digit range, increased value-adding services, such as screen printing and retail packaging and higher direct-to-consumer sales," said Bob Humphreys, chairman and CEO, on a conference call with analysts. "As we continue to invest in manufacturing capacity and print equipment, we are also able to increase output, positioning ourselves for ongoing growth in future quarters."
In the quarter, sales reached $131.7 million against $108.6 million a year ago. Sales were slightly above the updated guidance provided on April 12 calling for sales of approximately $130 million, representing a 20 percent increase. Sales were up  26 percent from its pre-pandemic fiscal 2019 second-quarter sales.
Net sales in the Delta Group segment grew 22.4 percent to $115.3 million, while sales at Salt Life advanced 13.9 percent to $16.4 million.
Gross margins improved 270 basis points to 25.5 percent, ahead of expectations and largely driven by increased selling prices and production efficiencies.
SG&A expenses grew 15.2 percent but were reduced as a percent of sales to 15.0 percent from 15.7 percent a year ago due to sales leverage. The increase in SG&A expenses of $2.6 million compared to the prior year's second quarter was driven by higher variable selling costs.
Operating income surged 88.2 percent to $14.3 million, or 10.9 percent of sales, from $7.6 million, or 7.0 percent, a year ago. Net income was $10.1 million, or $1.44, against $4.4 million, or 62 cents, a year ago, driven by higher operating profits and a lower tax rate.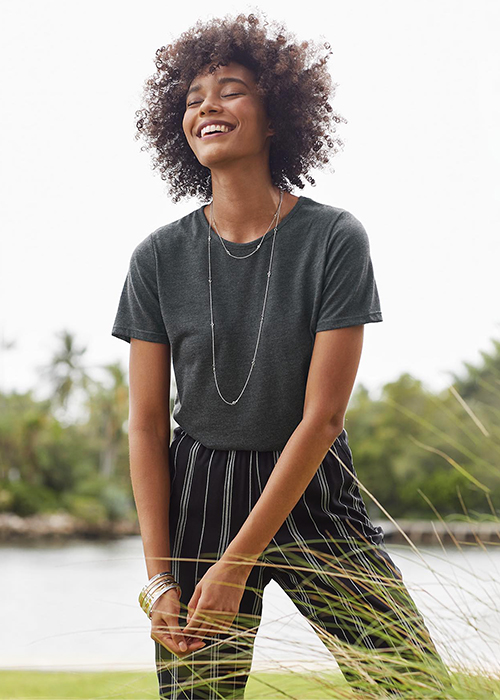 Delta Group Sales Jump 22 Percent
Humphreys said the 22 percent sales growth in the Delta Group segment over the prior year was primarily driven by unit sales growth, increased value-added services and its ability to update pricing in the marketplace to offset higher input costs.
This growth was driven by broad-based demand for activewear apparel, particularly in its retail licensing and brand direct sales channels with 24 percent growth from the prior year. DTG2Go continued to grow year-over-year with a 12 percent increase in sales compared to the prior year.
Gross margins in the Delta Group segment were 21.6 percent for the March 2022 quarter, an improvement from the prior year's March quarter gross margins of 19.5 percent. Gross margins were positively impacted by increased selling prices to offset increasing input costs in addition to continued production efficiencies.
"Within the activewear business, we support our customers from product development to shipment of their branded products with many products being sold, fully decorated and ready for the retail shelf," said Humphreys.
Price increases were passed through to offset inflationary pressures, while investments in manufacturing capacity have helped make up for supply constraints. Said Humphreys, "We are well-positioned at this point in the year and continue to produce more garments per week than in our previous history."
Within the Delta Group segment, the digital print business, DTG2Go's sales growth year was the result of higher unit sales and higher average selling prices.
During the quarter, Delta disclosed a new partnership with Fanatics tied to DTG2Go's demand for a digital-first solution. The digital print technology has been installed in three of DTG2Go's facilities for custom orders produced, packaged and shipped to the consumer within 24 hours of order placement. The technology is currently being installed in a fourth facility.
"Our continued investment in digital print machinery and equipment in addition to the proprietary technology that allows us to provide an improved customer experience and manage inventory planning has driven higher unit growth and allowed us to meet the growing demand for our customers," said Humphreys. "We additionally continued to leverage our vertically integrated supply chain in our own demand model with the usage of the Delta Direct blanks, which creates efficient operations with lower working capital needs for the business."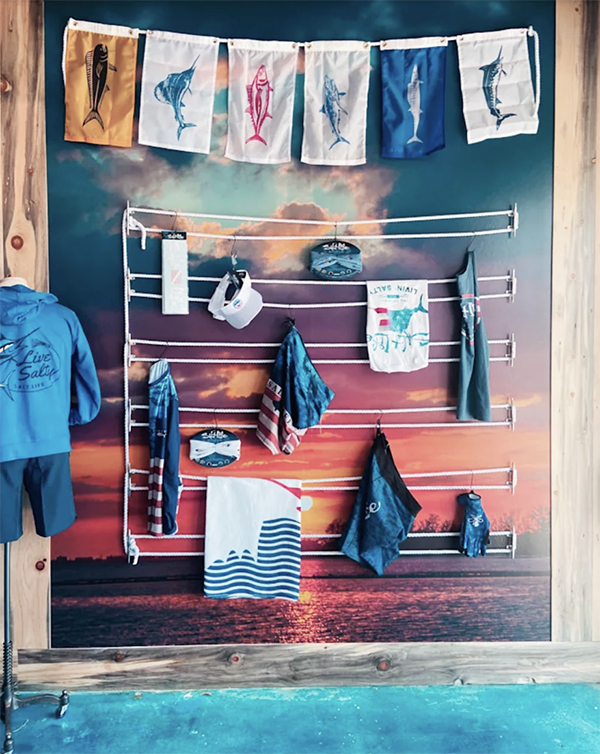 Salt Life's Sales Climb 14 Percent
Salt Life's performance was fueled by a healthy combination of retail growth and strong wholesale channel demand. Salt Life increased the number of retail stores to 18 across six states and the surf brand is on track to achieve its target of at least 20 retail stores opened by the end of fiscal 2022. New store openings include locations in Sarasota and Fort Lauderdale, FL; Foley, AL; and Hilton Head, SC. Said Humphreys, "Our recent Salt Life retail location openings have met our internal initial sales expectations which validate the strength of the Salt Life brand and our go-to-market strategy."
Salt Life has seen strong wholesale demand along with e-commerce growth.
Salt Life's gross margins improved to 52.4 percent compared to 44.7 percent in the prior-year second quarter, resulting from a favorable mix of sales, including increased Salt Life branded retail store sales.
"While we see strong sales performance, we are also actively managing inflationary pressures across all areas of our business," said Humphreys. "As you can see from our bottom-line results, we have been successful in staying ahead of these rising costs, and this will be an area of focus throughout the second half of fiscal 2022."
Net inventory as of March 2022 was $197.7 million, reflecting an increase of $14.6 million from December 2021 and $49.2 million from March 2021. The improved inventory levels reflect increased production during the past year as the company reached record manufacturing output. The increased inventory value is also a reflection of increasing input costs resulting from raw material, transportation and labor costs.
Looking to the second half of the year, Humphreys said Delta's five focus go-to-market strategies—Delta Direct, Retail Direct, Global Brands, and DTG2Go in the Delta segment complemented by the Salt Life segment—are "enjoying strong demand across all the channels we serve."
He further cited the continued benefits of Delta's vertical supply chain. Said Humphreys, "We continue to see the results of our investments through both increased manufacturing capacity and consumer demand. Throughout the entire company, we have been able to manage the current economic environment through price increases, production efficiencies and cost controls that have led to strong line results."
Delta continues to expect double-digit revenue growth and record earnings for the full year. Said Humphreys, "After our strong first-half fiscal 2022 results, we feel that we are well-positioned to reach our full-year objectives."
Photos courtesy Delta Apparel