By Eric Smith
The coronavirus has presented a unique opportunity for Dorel Sports, a subsidiary of Montreal, Quebec-based Dorel Industries Inc. and the owner/operator of such bike brands as Cannondale, Schwinn, GT and Mongoose.
As consumers look for new ways to exercise that adhere to social distancing guidelines amid the relaxing of stay-at-home orders, interest in cycling has naturally surged. The arrival of warm spring temperatures hasn't hurt either.
"There has been a silver lining in this pandemic cloud," Dorel President and CEO Martin Schwartz told analysts on Dorel's first-quarter earnings call. "Families who have been cooped up at home are now getting out to escape the lockdown and enjoy the improving weather. The desire for physical and mental health wellness, which has never been greater are all factors in the significant increase in bike demand, which is stronger than pre-virus.
…
Overall, the first quarter was a mixed bag for Dorel Sports. The period marked the fourth consecutive quarter of revenue growth, at $188.2 million, a 2 percent increase compared to the year-ago quarter.
Sales improvements were at Dorel's Cycling Sports Group (CSG) and Pacific Cycle (PCG) divisions, partially offset by weakness at Brazilian manufacturer Caloi. CSG is the parent company of Cannondale and GT while PCG is the parent company of Schwinn and Mongoose.
PCG saw strong retail point-of-sale (POS) with growth accelerating particularly in the last two weeks of March as consumer demand for bikes spiked amid the pandemic lockdowns, and ahead of the Easter holiday period.
But the division notched an operating loss of $611,000 due to the impact of COVID-19, although it also recorded the fourth consecutive quarter of revenue growth as April bicycle sales increased. On an adjusted basis, the loss in the segment came to $528,000 against the same $4.5 million a year ago. The operating loss compared to earnings of $4.6 million a year ago. (Figures are in U.S. dollars.)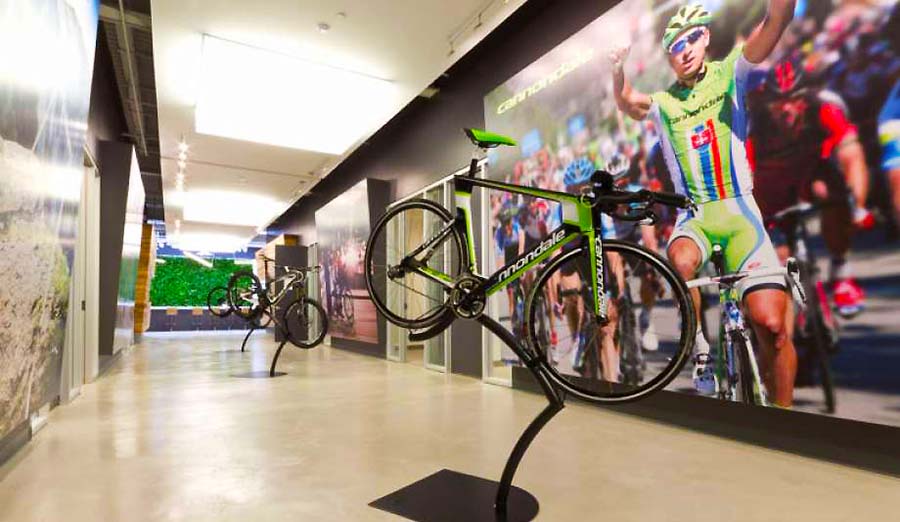 Companywide, Dorel Industries (OTCPK: DIIBF) reported a first-quarter non-GAAP EPS loss 42 cents, missing analysts' estimates by 27 cents. GAAP EPS of -$1.78 missed by $1.63. And Dorel's revenue of $580.8 million, down 7.2 percent year-over-year, missed estimates by $26.2 million.
Schwartz sees opportunities galore for Dorel Sports' bike brands, especially as retail partners reopen their doors following a heavy emphasis on e-commerce sales and curbside service.
"In-store POS levels on bikes parts and accessories and even ride-ons have been very strong," he said. "E-commerce sales have also seen growth. At CSG, the impact varies by region. Some of the larger sporting goods outlets remained shut, although e-commerce sales have been filling the board. By the end of April, many of the CSG dealers that have been shuttered in Northern Europe has reopened while most in the southern countries remain close. Europe did well prior to the closures with e-bike and road category sales up strong double-digits thanks to several new model launches including e-urban bikes."
What's more, cities are even closing off streets to vehicle traffic to allow cyclists and pedestrians to use the roads as pathways. And some commuters are foregoing the subways and buses, opting instead for human-powered, two-wheeled modes of transportation.
"Media have been reporting that the bike industry has experienced a surge in recent weeks as people are itching to get to some fresh air and exercise, while others are using bicycles as a mode of transportation to avoid public transit," Schwartz said. "Many cities around the world are closing additional traffic lanes to give cyclists and pedestrians more space, and some cities temporarily or permanently expanded their cycling infrastructure. This all bodes well for the biking industry. The second-quarter outlook for Dorel Sports is for sales to remain strong at mass retailers and online, both experiencing solid increases."
…
As for Dorel Sports' Q2 outlook, the company expects sales to remain strong where consumers can access bikes, including mass retailers and e-commerce, two channels experiencing an exponential increase.
Through April, PCG customer POS show a significant increase versus the prior year. And Dorel said CSG's North American business is expected to deliver sales growth while European revenues are expected to decline due to ongoing lockdowns across Southern Europe. One issue, however, is that Dorel's supply chain was impacted by the shutdown in Asia.
"While demand is high, Q2 sales will be dependent on inventory availability due to the earlier factory lockdowns in Asia," Schwartz said. "Short-term supply is tenuous although we are doing what we can to mitigate the issue. Despite this and continued store closures affecting distribution, a return to profitability is expected during the second quarter."
Photos courtesy Dorel Sports