By Thomas J. Ryan
<span style="color: #999999;">While reporting Q2 earnings that missed estimates, Dorel industries' officials described the U.S. tariffs on Chinese-made goods as the "most significant risk" to second-half results while indicating they're causing "chaos" in the marketplace.
The Montréal-based company owns Dorel Sports, the parent of Cannondale, Schwinn, GT, Mongoose, Caloi, and IronHorse. The company also operates in the home and juvenile space.
On a conference call with analysts, Dorel President  and CEO, Martin Schwartz, noted that all three of the company's businesses produced top-line growth in the second quarter but the tariffs imposed on China-sourced goods and their impact on retail price points "have created uncertainty on customers' buying decisions as well as supply chain and inventory planning processes."
He added, "These chaotic market conditions have resulted in margin pressure, particularly at Dorel Home and in the mass channel of Dorel Sports."
Elaborating, Jeffrey Schwartz, Dorel's EVP and CFO, said the problem is the uncertainty the situation is creating. "Nobody knows what the impact," he said.
He noted that when the first set of tariffs came in at 10 percent, the company raised prices and saw "very limited effect" on consumer demand. With tariffs on some of Dorel's goods now reaching 25 percent, retailers and brands are wondering if consumers will pay up for the premium bike or settle for one that was in their original price range.
Said Schwartz, "My theory would be if someone was going to go buy a piece of furniture or bike for $150, they're still going to buy a bike for $150. They're just going to buy less of a product because the price increases have gone up. So that's going to affect the mix."
As a result, he said retailers are struggling to understand it they have the right mix of inventory price-point wise and whether they've raised prices in the right areas.
"These are all unknowns. And this is where we keep coming back to the chaos. In some cases, some of our customers have made buying decisions or changes in decisions because they're not sure where everything's going to land. And those things could be delayed, they could be getting out of certain models, they can be betting on other models that might or might not sell. So it's just really difficult. I mean our customers are probably having as much or more difficulty figuring out what their plans are as we are. So we need to let everything settle. It seems like you get a few months of quiet and then there's a tariff announcement. So it makes it difficult." —Jeffrey Schwartz, EVP and CFO, Dorel Industries
In the quarter ended June 30, Dorel's overall revenue rose 7.5 percent to $670.0 million. Reported net income was $2.8 million or 9 cents a share, compared to a reported net loss of $14.8 million or 46 cents per share, last year. Adjusted net income was $6.3 million, or 19 cents per share, compared to $12.7 million or 39 cents, a year ago, and short of analyst's consensus estimate of 33 cents.
Among its segments, Dorel Sports' sales grew 7.4 percent in the quarter, to $241.0 million. The gains were led by improving sales to the Independent Bicycle Dealers (IBD) channel and at Caloi, its Latin America business.
The Dorel Sports' segment posted an operating profit of $10.1 million against a loss of $3.3 million a year ago. The year-ago period included non-recurring charges. On an adjusted basis, operating earnings rose 26.9 percent from $7.96 million a year ago.
"Sales and earnings were much stronger with excellent results of Cycling Sports Group and Caloi," said Martin Schwartz.
<span style="color: #999999;">Cycling Sports Group (CSG), which markets premium brand bikes to the IBD channel, posted high single-digit organic growth, its fifth consecutive quarter of growth due to several new launches. Continued success was seen in Europe, driven by the e-bike category including the new Tesoro Neo X and Synapse Neo. The U.S. independent bike dealers (IBD) channel saw solid growth thanks to new Cannondale launches. Introductions of the model year 20 line-up were earlier than prior years.
Martin Schwartz said Cannondale introduced four major new platforms, including the digitally-connected Treadwell, the Topstone carbon road bike, and a completely redesigned SuperSix EVO, the lightweight road bike built for speed. Cannondale also launched its new app featuring a live dashboard to view speed, distance, calories burned and carbon emission saved. The app even notifies riders when it is time for a tuneup at the bike shop.
Martin Schwartz said, "Media reaction has been excellent with numerous positive articles, including the cover of Cycling Weekly, featuring the SuperSix EVO; BikeRadar, naming the SuperSix as the Race Bike of the Year; and the Synapse NEO winning Bicycling's Editor's Choice."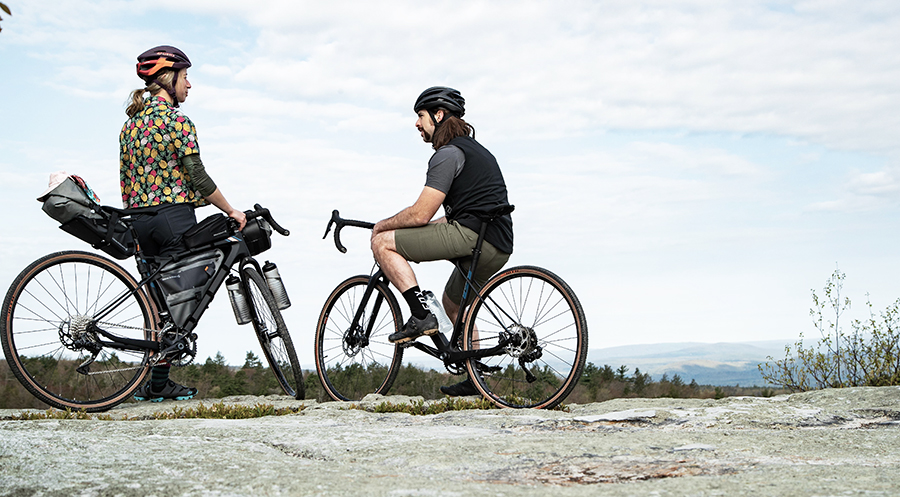 Among other CSG brands, the newly redesigned GT Grade, shown above, launched in May, is an updated version of the world's first full-carbon gravel bike. Added Schwartz, "It too has generated strong media coverage with dozens of articles."
Caloi, based in Brazil, was solid with low double-digit organic growth in the quarter on the back of success in sales to Brazil's bike-sharing program and a better mix due to Cannondale's growth.
Pacific Cycle, which serves the mass channel, reversed the first-quarter sales decline with double-digit revenue growth due to a strong sales recovery at retail, both at brick and mortar and online.
CSG recorded significant growth in adjusted operating profit with its multiple successful new product launches. Partially offsetting this increase was lower adjusted operating profit at Pacific Cycle, principally due to the negative impacts of U.S. tariffs on its China-based supply.
In its other segments, sales at Dorel Juvenile grew 1.9 percent, to $221.5 million. Operating profit was $2.4 million compared to an operating loss of $22.4 million last year. Excluding impairment loss on intangible assets, restructuring and other costs, adjusted operating profit was $6.6 million compared to $3.6 million in 2018.
Dorel Home revenue was a record for the second quarter, increasing 14.4 percent, to $207.4 million. Operating profit, however, decreased 16.8 percent, to $14.1 million. The impact of new U.S. tariffs that negatively affected gross margins in the first quarter, continued into the second quarter with higher warehousing costs on higher inventory levels, less profitable pricing and product mix, as well as elevated promotional costs to drive revenue growth.
Looking ahead, first-half organic revenue growth is expected to continue into the second half with year-over-year increases in all three segments.
Led by strong revenue and earnings at CSG, Dorel Sports is expected to deliver further sales and adjusted operating profit growth for the segment in the second half. Improving gross margins, coupled with higher sales, is expected to result in higher second-half adjusted operating profits for Dorel Home. Dorel Juvenile's steady progress is anticipated to continue through the year and should deliver improved adjusted operating profit versus the prior year.
"The most significant risk going forward remains the impact of U.S. tariffs on Chinese-made goods. This could have an impact on consumer demand, on our retail customers' purchasing behavior and on the economy overall as strengthening U.S. dollar remains a risk for Dorel Juvenile and Dorel Sports, but we are confident that our management teams will navigate through these issues." —Martin Schwartz, President  and CEO, Dorel Industries
Inventory management will be a key focus through the balance of the year with a target reduction of at least $50 million by year-end.
Photo courtesy CSG