By Thomas J. Ryan
At Stifel's 2019 Cross Sector Insight Conference on Tuesday in Boston, Crocs Inc's officials elaborated on the company's decision to significantly reduce its exposure to sourcing from China but spent most of the time discussing its growth resurgence in recent quarters, driven in large part by a focus on digital.
Andrew Rees, Crocs' president and CEO, said the bounce back in sales overall reflects efforts to refine the brand's product and marketing strategies and overall elevate the brand in the consumer's mind.
"I would say that's been very successful," said Rees on elevating the brand. "We were very clear in terms of where we're focused. We're focused on clogs and sandals. We're very clear on our marketing strategy. We're using 'Come As You Are' as a major campaign. We have five global celebrities that represent each of our five global markets. And we invested all of our money in social and digital marketing, and that's been really, really effective. And then we support that with collaborations, and you've seen a significant number of collaborations from us over the last few years and you'll see more in the future."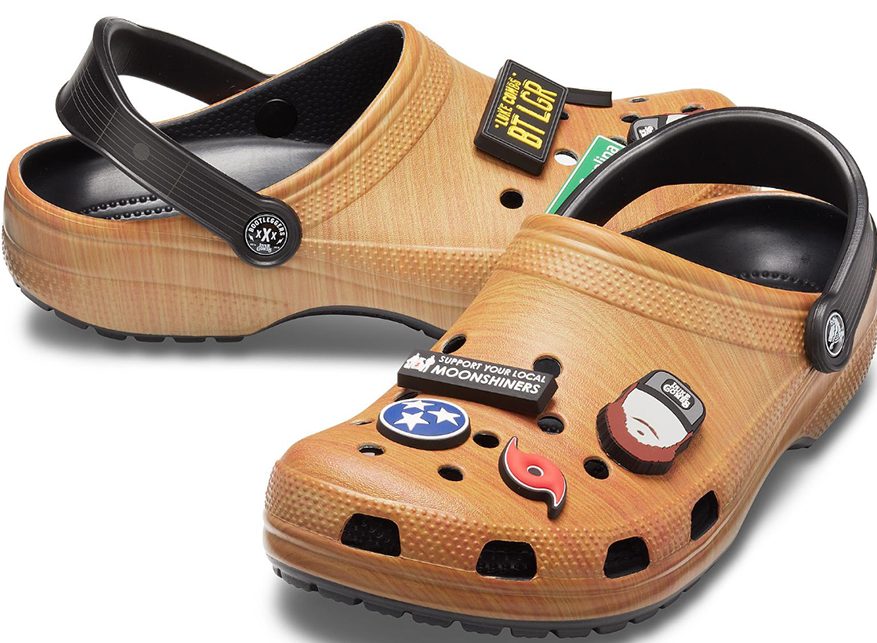 The first collaborations were with the luxury brand Balenciaga in 2017. Recent ones have included two collaborations at the close of the year with rapper Post Malone with the first selling out in 10 minutes and the second in eight minutes. Last week saw a collaboration with country singer Luke Combs, the shoe is shown right, and one will soon arrive with Vera Bradley, the fashion luggage and handbag design company.
Said Rees of the collaborations, 'This creates incredible marketing buzz and interestingly a secondary market on a lot of these products. And so that's been effective in terms of elevating the brand in the minds of consumers, which is the most important thing that you have to do."
A second reason behind the return to growth is the shift to significantly focus on digital channels.
Said Rees, "The consumer is shifting very dramatically to purchasing digitally. And I think we've been very front-foot forward in that not only in terms of our own websites and how we go to market directly with consumers, but probably even more importantly how we treat global marketplaces like Amazon, Tmall, etc., and how we work with them to reach a very broad range of consumers."
On online marketplaces, Rees said Crocs made a decision "a long time ago" to take an offensive approach to online marketplaces in seeking to "figure out how we can play effectively in that environment versus trying to manage that environment down."
The brand works on both a first party (1P) basis selling directly to online marketplace owners such as Amazon as well as on a third party (3P) basis in selling product directly to consumers via an online marketplace. For some, both 1P and 3P methods are used. Said Rees, "This is critically important, and the mix differs by countries, depending on what we think the right model is for that particular country." 
Priorities around using online marketplaces include making sure the brand is showing up in an appropriate way from a pricing and marketing communication perspective. But the most important aspect when working with online marketplaces is control of inventory. Said Rees, "If you can control your inventory, then your pricing will be where you want it to be."
The digital approach is also reflected with nearly all advertising dollars focused on social and digital marketing. Crocs does minimal out-of-home marketing and no television advertising. Said Rees of the digital advertising focus. "By putting all your marketing money to those vehicles, they're very scalable all over the world. Even though sometimes the platforms might be different, the same fundamental principle works. "
Crocs' officials also elaborated on a decision announced in a press release prior to the presentation on the company's plans to reduce the brand's exposure to China sourcing.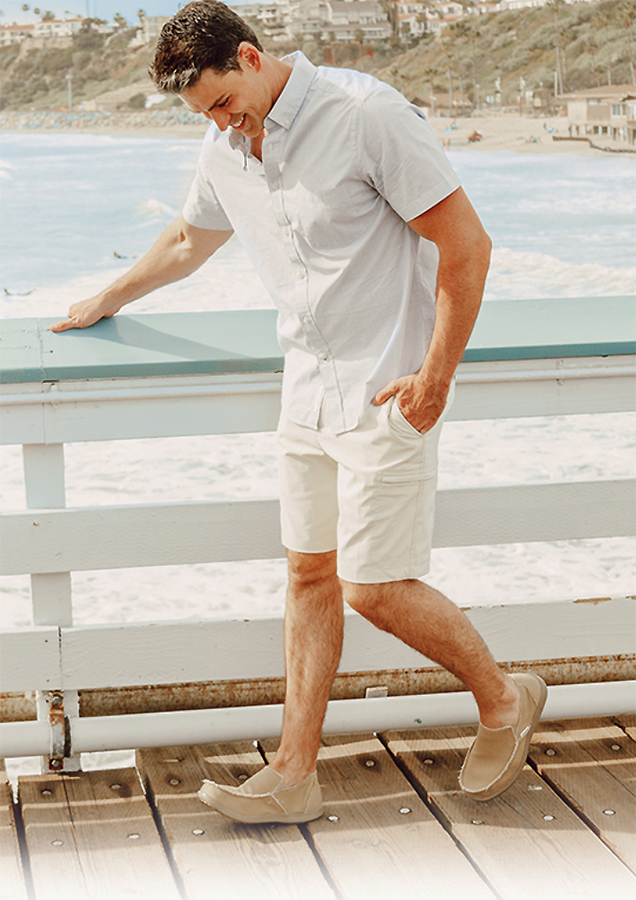 Anne Mehlman, EVP and CFO, noted that the company earlier this year indicated that about 20 percent of U.S. products were sourced from China but that has risen to 30 percent currently as the company faced a shortage of classic clog product due to healthy demand in the marketplace. Assuming a 25 percent tariff takes effect on August 1, 2019, Crocs estimates the 2019 impact at approximately $5 million. But Crocs, in the release, indicated that the company set a goal to reduce the amount of U.S. products sourced from China to below 10 percent by 2020.
Rees said Crocs expects to be in a comfortable position with classic clogs inventory by the early part of the third quarter. He added that Crocs had already shifted much of its production out of China in recent years as the cost of production in China has become more costly than regions such as Vietnam and Indonesia. The biggest region for production for Crocs currently is Vietnam. Many of the factory owners in Vietnam and other parts of Asia are the same Crocs worked with in China.
The company also has local production in Eastern Europe to help support Europe and Mexico for the U.S. as well as similar arrangements supporting local needs in Latin America. He said, "We have a fairly diversified footprint."
Other insights from the discussion included:
Crocs attracting Explorers.

Rees described Crocs as a "democratic brand," appealing to men, women and kids; "broadly balanced across all genders;" and offering some affluential and aspirational appeal. Crocs attracts two customer segments— Feel Goods and Explorers. Feel Goods, the brand's core consumer in the U.S and certain other markets, tend to be female, suburban, range in age from 35-to-45, and have a family with kids. Explorers tend to be younger, 25-to-30, urban, better balanced between men and women, and buy more for the lifestyle/fashion perspective. The Explorers customer is "highly prevalent" in Asia and packs a "longer lifetime value" for the brand. Rees added, "We've targeted the Explorer customer, and we have seen our Explorer mix on a global basis rise quite significantly, and that's been one of the big changes over the last five years."
Operating margin expansion. Crocs reiterated its interim goal of a low double-digit operating margin on an adjusted basis for the year. Including non-recurring charges associated with a new distribution center and SG&A cost reduction initiatives, Crocs had an operating margin of 8.5 percent in the first quarter. In 2020, 100 basis points of improvement in adjusted gross margin is expected to come from the move this year into a new distribution facility in Dayton, OH from Ontario, CA. The new facility will enable Crocs to reach 70 percent to 80 percent of its customers within three days at a normal postage rate. Cost savings are also expected to come from more automation at the new facility and lower labor rates in the area. Crocs also took out $70 million to $80 million from its cost base as part of restructuring efforts in recent years, including covering the closing of 175 stores. Greater operating leverage is expected going forward. Said Mehlman, "SG&A is in pretty good shape which means that as we grow revenue. We can easily leverage off that SG&A base."
Pricing power. Increasing demand for Crocs has helped the company over the past two years increase the price of the classic clog from $30 to $35 and now to $40.
Photos courtesy Crocs