By Thomas J. Ryan
At Goldman Sachs' Annual Retailing Conference Wednesday morning, Ed Stack, chairman and CEO, said "some pull forward" helped drive the retailer's whopping 20.7 percent comp gain in the second quarter. However, strong demand for many categories that have benefited from lifestyle changes amid the COVID-19 pandemic are expected to continue into 2021.
"We're fortunate we're in a great lane for what's going on right now," said Stack at the conference.
The outdoor category, he suspects, "is going to continue to be really robust going forward," pointing to strength since COVID-19 emerged across bikes, camping as well as kayaks and canoes. He said, "People want to be outside, social distancing."
Stack also said people understand that one way to fight off the pandemic and any potential resurgence is by being healthier and that's encouraging many to be more active. He added, "It was very well-chronicled that if you had underlying conditions, you were more at risk for a real difficult time with the virus."
The urge to be fit is supporting categories such as bikes as well as a wide range of fitness categories from treadmills to dumbbells.
Opportunity Seen In Home Gyms
Dick's is also looking to build on the fitness opportunity by testing a service that helps people set up home gyms, whether via a treadmill, bike, weight-set benches, or stretching equipment. Stack said, "We don't think people are going to go back to the gym anytime soon…People are wanting to work out at home, they're concerned about going to the gym."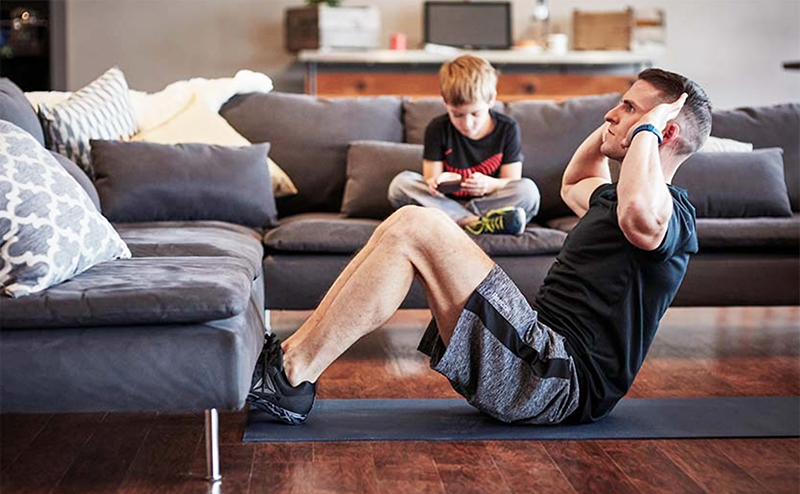 The service has been tested at two stores with "pretty good" results and Stacks suspects it will likely roll out to "100 stores very shortly."
The one weaker category has been team sports with many schools postponing or canceling their sports seasons. However, continuing strength in golf, another activity that's amenable to safe social distancing, has been helping offset the "drag" from team sports sales. Stack said, "The golf business has been great right now."
Momentum in golf is expected to continue with the attention recently brought by the PGA Tour that will be followed by the US Open in September and Masters in November expected to continue to bring in re-activated, or new participants.
"There are so many people now who've taken up the game of golf," said Stack. "So many kids who have taken up the game of golf who want to go out and do something sports-related or competitive. The golf business has just been out of this world right now."
Planned investments in golf include adding more TrackMan golf simulators, particularly at Golf Galaxy locations. Dick's will also look to build on a particularly-strong custom-fitted business in golf.
Footwear "has been a little bit difficult through the back-to-school season" given that schools have delayed openings or are opening up virtually. But Stack added that the footwear business "prior to that was really very good as people are getting out to run and walk and as get past the back-to-school season, that business will come back and be very good also."
Comps had slowed from 21 percent in the second quarter to a gain of 11 percent in the first three weeks of the third quarter due in part to softness across key back-to-school categories such as footwear and backpacks. However, Dick's officials said on its Q2 conference call that August represents the most-challenging month for back-to-school comparisons for the retailer.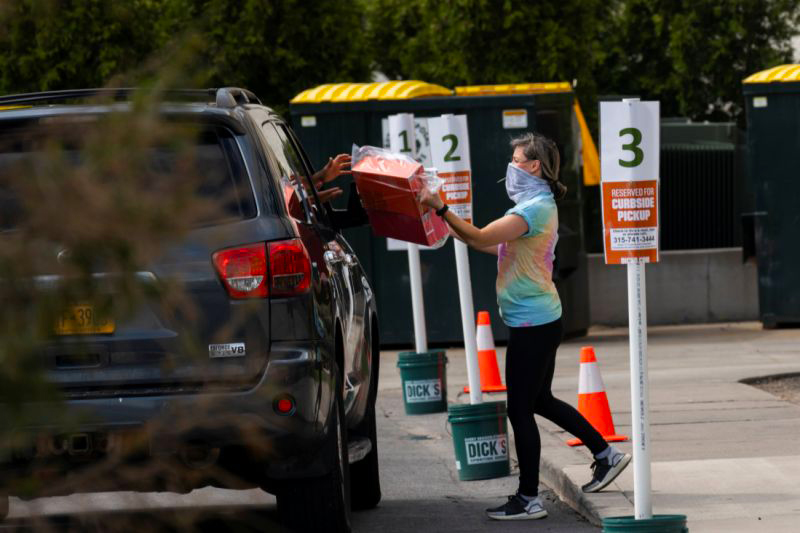 Athleisure Seen Benefiting From WFH
The overall athleisure category had been a steady grower prior to the pandemic and the work-from-home trend has given another boost to the trend, including helping drive sales for its Calia and DSG private-label brands. Lauren Hobart, president, said at the conference, "The lifestyle that people are adopting today, it's just a natural fit with the product that we sell."
Total inventory decreased 12.2 percent at the end of the second quarter and lean inventory levels will continue to cap some gains in the near term.
Stack cited fitness, bike and outdoor among the "still constrained" categories with golf "probably in the best shape." As mentioned on its second-quarter conference call, he sees inventory finding better balance by the start of the fourth quarter.
The CEO added, "We've got the flow of inventory coming in and it goes out as fast as it goes in so it's driving significant comps. But it probably is the end of October, beginning of November, before we're feeling that the presentation in the store is what we would like it to be. But the sales are still going to be there because it's just going to go out as fast as it comes in. We've been pretty aggressive in our orders in those categories coming into the balance of the third quarter into the fourth quarter and into the first quarter of next year."
Asked about team sports, Stack noted that the retailer "kind of tongue-in-cheek" on its second-quarter earnings call indicated the company was "banking comps for team sports into next year right now." Dick's officials expect to see significant demand as kids will be without access to sports for a long period.
"They'll have gone well over a year, maybe a year and a half, in some cases two years," said Stack. "They'll definitely need new cleats, new basketball shoes, baseball bats, gloves…we think that there's a big opportunity in the back-half of next year."
Currently, team sports sales "go up and down right now" with some areas seeing sports return only to face postponements as COVID-19 cases spike in an area of the country. Said Stack, "We're still not sure yet what will happen, but we still think it will be a drag on this quarter."
The acceleration to double-digit growth this year builds on a pick-up in sales in 2019 after the chain's sales had been impacted by the exit of Sports Authority and a number of other competitors. Efforts to establish premium full-service footwear departments, elevate its athletic apparel presentation and reengineer aspects of its team sports business, particularly baseball, have paid off.
Market Share Opportunities
Asked about potential market share gains coming out of the pandemic's fallout, Lee Belitsky, EVP and CFO, said there's "little pieces we can pick up along the way from the department stores as they close." He noted that department stores carry an assortment of athletic apparel along with a "much smaller" offering of athletic footwear. Some opportunities to gain shares may come from pressures from stores inside malls facing traffic challenges. Dick's operates many stores in strip centers and its stores at enclosed malls have entrances outside for access and to support curbside pickup.
Among regional competitors, Belitsky noted that Modell's in the northeast is liquidating and Dick's stands "to pick up a relatively small amount of business from them as well."
However, Belitsky added that the sizeable market share gains seen in recent years aren't expected in part because the overall sporting goods channel is benefiting from COVID-19 behavior changes.
"Some of the big chunks that we got in the past, like when Sports Authority closed, are going to be harder to come by because the remaining sporting goods players, right now, are being favorably affected by the pandemic, as difficult as it is to say that," said Belitsky. "As we are, the others are doing pretty well. I wouldn't expect those players to have financial difficulties in the next year or two based upon how the trends are going."
Differentiation Supports Pricing Power
Asked whether pricing power would be stronger or weaker in the future, Stack suspected it would be "relatively the same" with some consolidation continuing. He credited Dick's merchant team for helping differentiate the retailer's mix, including the items it carries versus competitors as well as the development of private labels. Stack said, "We don't really think there's going to be any diminished pricing power for us, and maybe it'll be even a little bit better going forward."
Vendor Reaction To PL Growth  
Asked about the reaction by key partner brands as Dick's expands private-label offerings, Stack said, "Kind of the same reaction that they get from us when they continue to accelerate their direct-to-consumer business. I think we all know there's a quid pro quo out there. That they're going to accelerate direct-to-consumer, we're going to have to push our private brands and there's not a tremendous amount of pushback. I think we all know what the rules of the games are."
He also noted that some of the retailer's private brands, such as DSG, are lower-priced and don't compete directly with the premier athletic partner brands. Dick's private-label fitness brand, Ethos, is the number one vendor in that category. Stack added, 'So in that case, it doesn't have any effect whatsoever on anybody that we do business with. So we're in pretty good shape from a private brand standpoint. We will continue to accelerate that going forward." 
Discount Stores Support Clearance
Asked about the opening in June of two new discount-focused store concepts that now includes five Dick's Sporting Goods Warehouse locations and three Overtime by Dick's Sporting Goods locations, Stack said the idea behind the stores was how to better optimize liquidation efforts. He said, "Every retailer is going to make mistakes in what they buy."
A test of a few stores led to "much higher value" liquidating the inventory and also allowed its full-line stores to remove clearance quickly reallocate space for fresh merchandise. The discount stores played a role in helping drive margins higher in the first and second quarter. Stack added, "We're not really sure what we're going to be doing and how big this will be going forward. But we think it's a great way for us to clear up inventory, realize a higher value and make room for new fresh merchandise in the traditional stores."
Promotional Pressures Not Expected For Back Half
Dick's merchandise margin rate expanded 325 basis points in the second quarter due to fewer promotions, as well as better than anticipated sales and margin on merchandise nearing end-of-life. Said Belitsky, "We really didn't have to promote much at all. Most of the products were in relatively short supply and the brands did a nice job being correct on their fashion choices as well, as we did in our private brands. Because of that, we were able to sell at basically full retail for a good part of the quarter."
Going forward, Dick's isn't planning to use extensive promotions to drive holiday sales with expectations that strong underlying demand will continue. Belitsky said, "As we get closer to Christmas, we're going to have to read the marketplace and see what's happening. But as we sit here today, we're certainly not planning to lead that."
Photos courtesy Dick's Sporting Goods