At Morgan Stanley's Virtual Global Consumer & Retail Conference on Wednesday morning, Lauren Hobart, president at Dick's Sporting Goods, expressed confidence that strength in core categories, access to new customers and a potential rebound in team sports will contribute to its ongoing sales momentum in 2021.
The challenge for Dick's will be difficult comparisons. Last week, Dick's reported same-store sales in the third quarter jumped 23.2 percent, the best quarterly store comp in the retailer's history as a public company. Demand across golf, outdoor activities, home fitness, and active lifestyle continued from the second quarter when comps climbed 20.7 percent. Comps had dropped 29.5 percent in the first quarter amid store closures due to COVID-19.
At the conference, Hobart noted that coming into the pandemic, Dick's saw itself "really firing on all cylinders" due to strong underlying trends in core categories and the strength in most of those categories haS only accelerated during the pandemic. Same-store sales climbed 5 percent in the third quarter and 6 percent in the fourth quarter of last year.
Indeed, she believes three of Dick's four priority categories — athletic apparel, athletic footwear and golf – all have "permanent upsides" post-pandemic. The shift toward work from home, the increasing appeal of athleisure and people embracing running and walking as activities during the pandemic help to support prospects for athletic apparel and athletic footwear. Hobart added, "Those businesses we actually think have legs well beyond a temporary boom in demand this past year."
Golf is seen as having a "tremendous runway" as the sport has seen a surge in new entrants, including younger participants and women. Hobart said, "Golf is a core category for us but it started spiking unbelievably with a ton of new people coming into the category."
Dick's fourth core category, team sports, has been "a huge headwind" this year with games canceled or restricted but will likely see a strong recovery should team sports confidently return. Said Hobart, "If it does, it's going to come back with a vengeance, in a good way." She noted, for example, that a kid playing baseball will likely have to buy new cleats and a bat because both will likely be too small after a year without play.
Said Hobart, "And so we think they have a tremendous upside in our core categories and new consumers in our four categories."
At the same time, the retailer saw a surge in ancillary categories such as fitness, bikes and outdoor. Hobart indicated there's "still some upside there" with those categories facing inventory shortages for periods of the current year.
Lee Belitsky, Dick's CFO, noted, however, that those ancillary categories are a "much, much smaller part of the overall business." He said Dick's feels "very good" about the fitness business for the first half of 2021, but outdoor categories such as bikes and kayaks will "probably slow down pretty meaningfully" should kids return to playing team sports and participating in other pre-COVID group activities.
Still, he reiterated Hobart's point that Dick's core categories appear set to build on momentum seen prior to the pandemic.
"The big businesses for us, particularly athletic apparel and athletic footwear, had been in a several-year trend toward this trend of strength," said Belitsky. He added that beyond the new players, golf is benefiting from new innovation from range finders to shoes and golf clubs as well as increased play leading to increased sales of consumable-type items such as golf balls. Said Belitsky, "We expect to have significant strength in golf in 2021, certainly versus 2019, just based upon the number of players that are out there now."
Another factor expected to support 2021's growth prospects is around two million new customers that have shopped Dick's during the pandemic with many using curbside pickup or purchasing online. Hobart said its new customers skew younger and more female than its traditional customer. The new customers are also "slightly more urban," which, she believes, may signal people "leaving the city and perhaps engaging in a Dick's Sporting Goods location for the first time."
She added, "A huge focus for us now is how to keep those new customers returning, and we have a whole strategy against that between marketing and personalized invitations. So, we feel really, really good."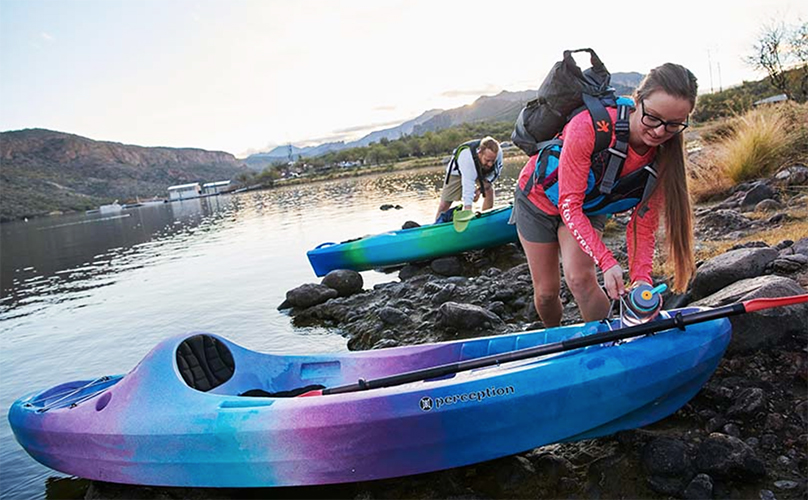 Private Label Far Outpacing National Brands Growth
Private label, or what Dick's calls vertical brands, represented 14 percent of its mix in 2019 and is expected to continue to see significant expansion over the next several years. Offerings include Calia, which is now Dick's second-largest women's brand, as well as DSG, an expansive range that has become the chain's largest private brand one year after launch. The retailer also has a number of private-label golf brands and Fitness Gear, which is Dick's single largest fitness brand.
Belitsky said private brands have been "significantly outperforming" national brands this year with third-quarter comps up over 30 percent versus the 23 percent overall comp gain. Belitsky said one of the reasons for the outperformance is because Dick's has more control of the supply chain for its owned brands and has been able to more quickly restock lines, particularly hard lines, during the pandemic. The CFO further said Dick's has "great products in our soft lines in golf right now that have been very strong for us this year" with more innovation expected to drive growth in 2021.
Merchandise margin rates also run 600 to 800 basis points higher on private labels than its comparative national brands and are helping boost Dick's margins.
Hobart noted that Dick's private-label investments aren't a contentious issue with key vendor partners. She said, "Our partners understand. They put their products in other retailers. We sell other people's products, including our own. I think it just keeps everyone on their toes. Competition is always a good thing for everybody to perform at their best and, so, it's not a major point of contention. I think they fully understand our strategy here."
Margin Drivers
Besides growth in private-label, margins have benefited from Dick's move to reduce its exposure to the hunt category, which carries a margin 1,600 basis points below the retailer's overall average. Hunt items are gradually being replaced by higher-margin categories such as athletic apparel and footwear.
Margins have also improved as comps have turned positive beginning in the second quarter of 2019 and past investments, largely supporting digital initiatives, are better leveraged.
Belitsky also said Dick's is getting more allocated products from key vendors such as Nike that are "less susceptible to promotions." Moreover, the overall promotional environment has lessened during the pandemic due to strong demand and promotional pressures are expected to lessen going forward with reduced competition for products with other stores.
Belitsky cited reports that Nike plans to stop selling to Dillard's and Belk, the liquidation of Stein Mart, store closures announced by Macy's and other department stores, as factors in reduced promotional pressures. He said many of the chains "were leaders in promotion" and focused on opening-price point branded products that Dick's also sold alongside its premium offerings. Said Belitsky, "I think that the brick & mortar competition is thinning a bit in the key athletic apparel and footwear space."
Belitsky also said Dick's has become "more granular" about how it runs promotions, particularly online, but also in-store, including employing fewer site-wide or store-wide promotions and shifting toward more targeted promotions.
"We've been very non-promotional this year, but we believe going into next year we can be a lot more targeted on the promotions which will result in a lower promotional level versus 2019," said Belitsky.
Finally, Dick's officials said another overall margin boost is significantly improved profitability with e-commerce in part as fixed costs in fulfillment and other areas have been leveraged better as online has grown to account for 16 percent of sales in 2019. Online sales have been elevated during the pandemic and are expected to reach "well north of 20 percent" of sales in 2021.
Also helping online profitability is shifting its shipping providers from UPS to FedEx in the middle of 2019 that reduced the cost per package to ship and the strongly received introduction in March of curbside pickup, which removes shipping costs. Store employees were given handheld devices that improved the speed of picking and packing online orders from in-store inventory.
Emerging Growth Opportunities
Asked about emerging growth opportunities over the next five years, Hobart said Dick's plans to continue to push investments further in technology with a focus on marketing by using data to enhance personalization with consumers. She noted that Dick's has "the premier database in youth sports" as well as over 20 million active Scorecard users in its loyalty program that helps personalize marketing. More fine-tuning in targeting individuals is planned in the years ahead.
She cited golf becoming a bigger opportunity with new entrants to the sport amid the pandemic. Said Hobart, "We strongly believe that the tailwinds in golf are here to stay, and we are going to elevate our golf experience both across Dick's and Golf Galaxy, meaningfully, in the short term."
Among newer concepts, Hobart highlighted Public Lands, a premium outdoor-themed concept Dick's plans to test with two locations scheduled to launch in 2021. The test was announced on Dick's third-quarter conference call last week.
Hobart said Dick's believes the outdoor consumer is "very underserved right now and there are significant opportunities to serve this athlete better." She said the retailer is having discussions with several outdoor brands that the flagship Dick's chain does not currently carry about supporting the Public Lands concept.
Ed Stack, Dick's CEO, said on the quarterly call that only about 20 percent of the new concept's mix is expected to be similar to Dick's outdoor offerings. Said Hobart, "We're going to have a much more elevated assortment with more technical product but that will also be available to the urban explorer for whom it's a lifestyle."
Hobart, who is set to succeed Stack as CEO early next year, also said that Dick's plans to test a concept called Ecosystem Of The Future (EOF) featuring a greater range of experiential elements. She noted that some Dick's locations already feature batting cages and golf simulators but EOF will feature a climbing wall and a playing field outdoors for teams to practice. In colder areas, the playing field will convert to an ice rink in the winter months. An in-store health and wellness section is also planned for the concept.
Said Hobart, "We continue to test and learn. We have an incredibly entrepreneurial culture. Having been a founder-led company all these years, we still feel very much like a small company in our ability to be very nimble and try things. And, if they fail, we've learned something. I do think that the EOF will tell us different things about what kind of experiences people want in the stores, and it's going to be a huge learning for us."
Other insights from the presentation:
Dick's narrowed its vendor mix to invest more in either strategic partners or transactional partners a few years ago and the move overall has led to an increased emphasis on top brands. However, Dick's remains open to new brands. The increased focus on the baseball category in recent years, for instance, has opened access to newer brands serving that sport, according to Hobart. In running, Brooks has become a bigger partner and has been "thriving" for Dick's while Hoka One One is an addition in recent years. In outdoor, Patagonia has long sold to Dick's but the depth of product carried has expanded as Patagonia has become "more comfortable" with the partnership.
Curbside pick-up usage was expected to decline as stores reopened but usage has continued to grow and Hobart expects to continue to see growth in usage in 2021. She said satisfaction rates around the service is "extremely high." Most orders promise to be ready in an hour but are typically ready in 15 minutes.
Dick's still expects to open new stores although not at the rate of a few years ago. The chain in early 2017 announced it would slow its expansion and has been opening 10 to 20 annually, down from as high as 59 in 2017. About 100 stores every year come up for renewal and renegotiations for lower rent or relocations are being explored. Hobart said stores have become more valuable with omnichannel behaviors by consumers. Said Hobart, "We always have loved the stores but in an omnichannel world, we have over 800 points of distribution. They have proven to be incredibly adept at both serving athletes and picking, packing and shipping products."
Key investment areas in recent years were technology; the omnichannel experience; "attack categories" such as golf, baseball, athletic apparel and footwear; and upgrading in-store service. Hobart said Dick's sees its employees as the retailer's "biggest asset" and efforts to build a culture of recognition and accountability by rewarding "the extra 1%" given by employees at stores and support centers have paid off. Hobart said, "It's changed the culture in a really positive way and it's helped us prioritize what's important."
Hourly-wage rates have expanded significantly for Dick's in 2018 and 2019 and are being boosted this year by a 15 percent premium "hero pay" amid the pandemic. Dick's hasn't made a decision on whether "hero pay" will continue in 2021 but Belitsky noted that the retailer regardless expects "pretty meaningful inflation" in 2021.
Dick's continues to have discussions about establishing an online "marketplace for sport" but the focus currently is on supporting the core growth and profitability of Dick's online business. Said Belitsky, "It's a possibility that we'll get into that in the not too distant future. I wouldn't expect it to be in 2021."
Photos courtesy Dicks Sporting Goods