By Thomas J. Ryan
At its first "Here for Her Summit" in New York City, Dick's Sporting Goods brought out three Olympians, the actress Katie Holmes, WNBA Commissioner Cathy Engelbert, and others to celebrate and extend its commitment to supporting women's sports.
"In many ways, this is a great time for women in sports," said Lauren Hobart, president of Dick's and The Dick's Foundation, at the start of the event. She noted that just in the last month, the San Francisco Giants appointed Alyssa Nakken as the first woman to become a full-time coach in Major League Baseball. On Sunday, the San Francisco 49ers Coach, Katie Sowers, became the first female coach in Super Bowl history. Also in January, the WNBA struck a landmark labor deal to narrow the equity gap between women and men in professional basketball.
Said Hobart, "These are all incredibly defining moments in sports, but there's still so much work to do for girls to play sports."
Hobart pointed to research showing that by the age of 14 girls are dropping out of sports at two times the rate of boys. Girls, in general, participate at all ages at lower rates in sports than boys. Also, only 27 percent of coaches, who often encourage kids to embrace sports, are female. She said Dick's team has become "very concerned" on hearing these statistics while also seeing them as a sign that "we have much more work to do."
As a result, Dick's has partnered with the Women's Sports Foundation to develop research to better understand why kids play sports and why do they drop out. The research will be released in March.
The retailer also announced a number of commitments focused on women's sports that build on its Sports Matter Program launched five years ago. The overall program aims to increase awareness of underfunded youth athletics nationwide and to provide support through equipment, uniforms and monetary donations. Since 2014, Dick's has pledged more than $100 million to support youth sports teams and leagues in need.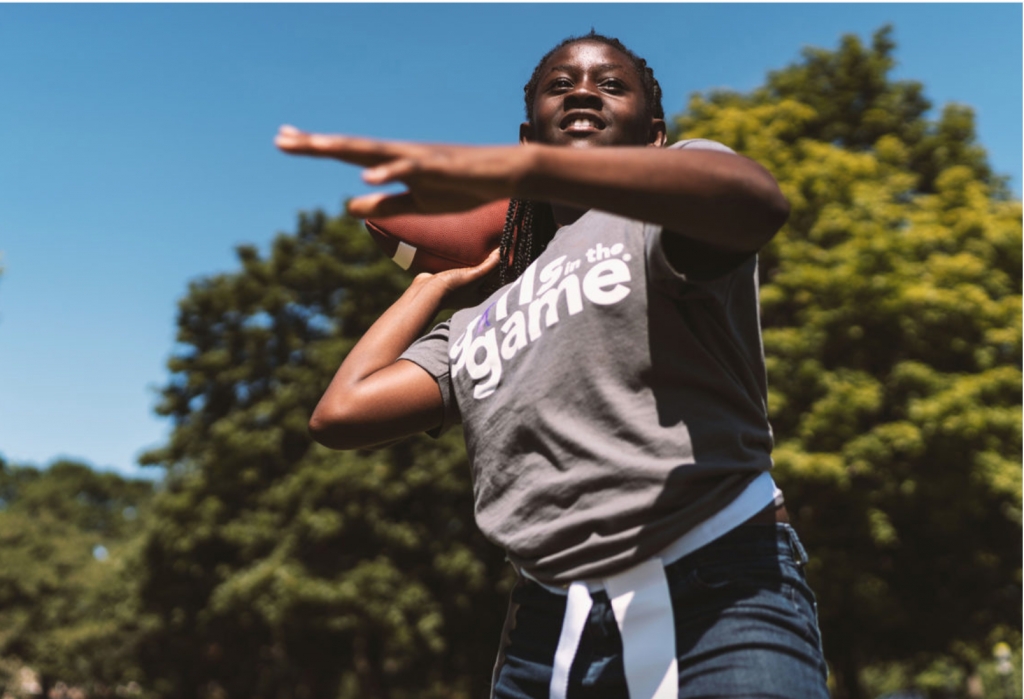 "At Dicks Sporting Goods, we believe at our core that sports make people better, that 'Sports Matter,'" said Hobart. "And that the lessons that kids get when they play sports last them a lifetime, whether it be the values of how to win and how to lose, how to play on a team and just all that togetherness and commitment that they feel when they do play sports, keeping them safe and keeping them on the right path."
As part of its 2020 Women's Initiative, Dick's, through its foundation, announced a three-year, $5 million Sports Matter grant to the U.S. Soccer Foundation's United for Girls initiative aimed at increasing opportunities for girls and young women to benefit from soccer. As the presenting partner of United for Girls, the Dick's Foundation's grant will be used to create safe places to play, fund coaching and training opportunities and support soccer programs in underserved communities across the country with the goal of engaging 100,000 girls by 2023.
The retailer also announced that it inked a deal to become the Official Sporting Goods Retailer of USA Softball. In addition to the multi-year partnership, Dick's becomes the official merchandise vendor for the Stand Beside Her tour, which serves as the exhibition and training tour for the 2020 U.S. Women's National Team ahead of the competition this summer in Tokyo.
Finally, in its stores across the U.S., Dick's announced a renewed commitment to working with its vendor partners, particularly in footwear and apparel, and with its own private brands to deliver expanded assortments for girls and women across several key sports including basketball, soccer, softball, and dance.
"There are definitely gaps," Hobart told SGB Executive in meeting the product needs of women athletes. She pointed to the challenges finding footwear made with a women's last as just one shortfall. She added, "There are gaps in basketball. There are gaps in other sports and there are even gaps in apparel. So, we are actively advocating with our merchandise partners to actually design products for the woman's body."
A national ad campaign supporting women's sports is also being planned. At the event, one ad being developed was shown that focuses on the origination of the sports bra, which Hobart described as often a girl's "first piece of sports equipment." The ad told the story of how the sports bra was developed in 1977 by three women joggers who sewed two jockstraps together. Two of the inventors, Lisa Lindahl and Polly Smith, attended the event.
Said Hobart, "It's about the power of three women who got together and decided, 'This is enough!' If we can be more comfortable and have more support, we can achieve our dreams better."
The event consisted of two panels that explored the challenges and opportunities girls experience accessing sports and the impact sports and fitness have had on their lives.
The first panel consisted of professional soccer player Sydney Leroux, legendary softball pitcher Jennie Finch and associate VP of programs for the U.S. Soccer Foundation, Sarah Pickens. The second featured track and field Olympic Gold Medalist and CEO of Laureus USA Benita Fitzgerald Mosley, best-selling author and journalist Elaine Welteroth, as well as Holmes and Engelbert. Acclaimed sports journalist Christine Brennan led both panels.

On the positive side, Pickens noted that she often chats with her mom about the opportunities she was given versus those available to women before Title IX, which is nearing its 50th anniversary. For instance, statistics show that 1-in-27 girls participated in sports prior to Title IX's enactment and now the ratio is about 2-in-5. She said, "The progress has been unbelievable. But, as mentioned, there's so much more work that needs to be done."
She likewise pointed to findings that girls don't participate in sports at the rate of boys, drop out earlier and don't start playing sports as early as boys. She added that the problems are double in severity in underserved communities her group is trying to support versus girls from more affluent communities.
Some of the barriers to playing sports include a lack of female coaches and role models overall.
Finch, who helped lead Team USA to the gold medal at the 2004 Summer Olympics and the silver medal at the 2008 Summer Olympics, noted that her sports idols growing up were Magic Johnson of the Los Angeles Lakers and Orel Hershiser of the Los Angeles Dodgers. As she got older, she struggled to find women sports heroes until softball became an Olympic sport in 1996 and Lisa Fernandez, Lori Harrigan, Leah O'Brien-Amico and Dot Richardson became her heroes. She said, "They truly paved the way for us in our sport, and I remember going out and getting their autographs in 1996, watching them play and then remember leaving that ballpark and saying, 'That's what I want to do. I want to play USA softball.'"
The popularity around the women's national soccer team is seen as an opportunity to capitalize on. Pickens said, "The phenomenal success of the women's national team equals phenomenal positive impact in girls wanting to play soccer, thinking they can play soccer, and really believing that they can be athletes."
Women's softball is also returning as an Olympic sport this year. Coverage is expected to gain a boost with softball already widely popular in Japan.
Another barrier causing girls to drop out of sports is that some feel self-conscious about their appearance at a young age.
"We have a team motto that's 'Look good, feel good, play good,'" said Leroux, who currently plays for the Orlando Pride in the National Women's Soccer League (NWSL) and participated on Americans' winning squad at the 2012 London Olympics and 2015 Women's World Cup. "As women, it's okay to wear make-up. We like wearing make-up when we play. And some don't, and I think that's okay. So, feeling comfortable and feeling comfortable in your uniform is so important. And, I think, do whatever you need to do to make yourself feel confident and comfortable."
Finch admits she was "known for my femininity a little bit" and stood out for wearing a bow in her hair, makeup and pink fingernails. She wound up partnering with her sponsor, Mizuno, to come out with a glove in a "fierce pink" color that she believes both reflected her feminine and "tomboy" traits.
Said Finch, "One thing that I truly love about sports is the diversity and the all-inclusion. It's not one shape, one size, one look. You compete. It's about your talent, your skill level. And so for me, I was just kind of thinking like, 'Okay, girls, why can't have pink on my glove?' I want girls to know they can have a bow in their hair and this pink isn't a feminine girly, soft pink, this is a fierce pink! This is a pink that will strike you out! And we can embrace that, as well. And I think that's one of the greatest gifts of sports is the all-inclusion."
Elaine Welteroth, the former Teen Vogue editor who was the youngest editor-in-chief in Condé Nast's 107-year-old history, lamented that girls start losing their confidence at age 9. She pointed to the challenges girls face overcoming stereotypes such as "you can either be strong or beautiful or either be fashionable or care about what's happening in the world."
But a large part of both panels explored the benefits of sports, particularly in youth development, and how it pays off in many ways later in life.
Welteroth, who competed as a gymnast and hurdler in her youth, talked about the "mind over matter" focus required to excel at sports that teaches a person to visualize clearing whatever hurdles they face in life. She said, "I really think youth sports are a training ground for greatness in every area of your life."
Holmes said sports has "played a huge role in my life." She noted that her father played at the University of Marquette under the famed coach, Al McGuire, and her brother, sisters and cousins all played growing up. She said, "I was literally watching a game every night."
Her team won the 8th-grade basketball championship but much of her lessons from sports came from watching her sisters compete that instilled a belief that girls "can do anything." She also points to the confidence that playing sports and fitness provides and helped her in taking on director roles. Said Holmes, "Working out makes you feel empowered and then you apply that to other elements in your life and it's like, 'I'm going to get that meeting, I'm going to get that job, I'm going to have my voice heard – because, you know, I lifted today.'"
Fitzgerald Mosley, who in 1984 became the first African American woman and just the second American woman to win Olympic gold in the 100-meter hurdles, sees playing sports as analogous to workplace culture. For instance, she sees track & field as both an individual sport since she was running alone in competition but also as a team sport because she was supporting the overall track team's collective performance. She thinks workplaces work similarly. She said, "Most of the time in our workplaces we really have individual responsibilities that belong to a collective."
Finch gravitated towards sports because she had broad shoulders and only two boys were taller than her at her school. But she found playing helped her realize "how strong I really am." She's encouraged to see the many female star athletes across sports that will make it easier for her daughter to aspire to embrace sports. Said Finch, "Ultimately it's the life lessons that I was able to learn, the sisterhood, the accountability, the teamwork, the discipline and, I think most of all, self-esteem and self-confidence in seeing hard work pay off and flourish. And that's what it's all about for the next generation."
The event also explored the challenges around low pay that may prevent girls from aspiring to become professional athletes. An encouraging development is the updated WNBA contract, which triples salaries so top players are now making over a million annually and the average player earns six figures for the first time in the league's 23-year history.
Having a family is also a challenge for many professional athletes, including supporting childcare. Leroux noted that she pays more for babysitters and nannies than she makes the entire year under her professional soccer contract. The issue is expected to gain more attention as U.S. soccer star Alex Morgan recently announced plans to participate in the 2020 Olympics just four months after her due date.
Engelbert, who was the first female CEO at Deloitte before becoming the WNBA's commissioner, discussed some progress being made in transitioning professional players after their sports career as well as providing opportunities for current players to earn money in the off-season. Opportunities are opening up in broadcasting, coaching and refereeing – including with men's teams. But driving viewership of women's sports remains a major goal.
Engelbert noted that while today's generation may be able to find many more female star athletes across sports to aspire to, less than 1 percent of all corporate sponsorship dollars go the women's sports globally and less than 4 percent of all media coverage of sports covers women's sports. Yet, Engelbert noted that 80 percent of purchase decisions in U.S. households are made or influenced by women. Boosted by excitement over the Women's World Cup, research from Nielsen Sports from October 2018 found 84 percent of general sports fans in eight key markets around the world, including the U.S., have an interest in watching women's sports. She said, "We don't see the media coverage, we don't have big media deals."
The league just launched the WNBA Changemakers platform in a partnership with Nike, AT&T and Deloitte with a goal of expanding WNBA visibility, representation and viewership. Engelbert is also hoping that the U.S. women's national team that's heading for Tokyo for their seventh consecutive gold medal will gain some buzz similar to the U.S. women's soccer team. Engelbert said, "This is one of the greatest dynasties in sports and nobody's talking about it."
Lead photo courtesy Dicks, subsequent photos courtesy Women's Sports Foundation