By Thomas J. Ryan
<span style="color: #969696;">Delta Apparel Inc. said COVID-19's spread led to a sales decline in its second quarter ended March 28 and warned sales would be "dramatically lower" in the third quarter. On a conference call, the activewear company further said it furloughed 300 U.S. workers as part of steps to preserve liquidity. On a positive note, officials noted that the virus hadn't impacted 25 percent of its business.
Delta Apparel makes a wide range of activewear and lifestyle apparel under the primary brands of Salt Life, Coast, Soffe and Delta."As we navigate through this unique situation, our top priorities are focused on the health and safety of our employees, our customers and the communities we serve," said Bob Humphreys, the company's chairman and CEO, on its investor call. "That said, we know we will prevail through this difficult period and return to growth."
The call represents the industry's first since the pandemic's spread across the country in March.
On the call, Humphreys noted that the company's stores, which are primarily Salt Life locations, closed in mid-March in compliance with guidelines from authorities, but all eight of its U.S. distribution centers and its seven digital print facilities have been, and continue to be, staffed and operational. Cutting, sewing, and printing manufacturing facilities located in the U.S. and in Mexico have also been running at full capacity since the start of the pandemic.
…
Facilities in El Salvador and Honduras have been temporarily closed since mid-March due to the government-mandated country shut down. Currently, El Salvador is scheduled to reopen in early May. No details are available when Honduras will reopen, but the country is allowing production in small work groups, and that's enabling the facility to make face masks for health care workers as well as Americans on the frontlines battling the coronavirus.
"We operate the majority of our business based on at-once odors and therefore have a good inventory position located in our U.S. based distribution centers to service our customers while the manufacturing in some countries is closed," said Humphreys. "We are committed to servicing our customers through same-day shipping, picking to the piece level, retail-ready packing, and EDI support while at the same time managing our inventory levels."
Humphries said Delta's Apparel's diversification across countries and distribution channels, as well as its" unique business capabilities," including digital-print capacities, will help the company manage through the pandemic. He said, "We are leveraging our clear competitive advantages in this disruptive period to gain greater business traction with existing customers and attract new customers to Delta Apparel. Unlike many apparel companies, we are not disproportionately exposed to any specific customer or sales channels, such as brick & mortar department stores, mass merchants or wholesale distributors."
He noted that 17 percent of sales are sold through e-commerce channels, including its own branded sites and its DTG2Go on-demand direct-to-garment printing business, shown below. That's in addition to sales of its brands through the e-commerce sites of retail partners.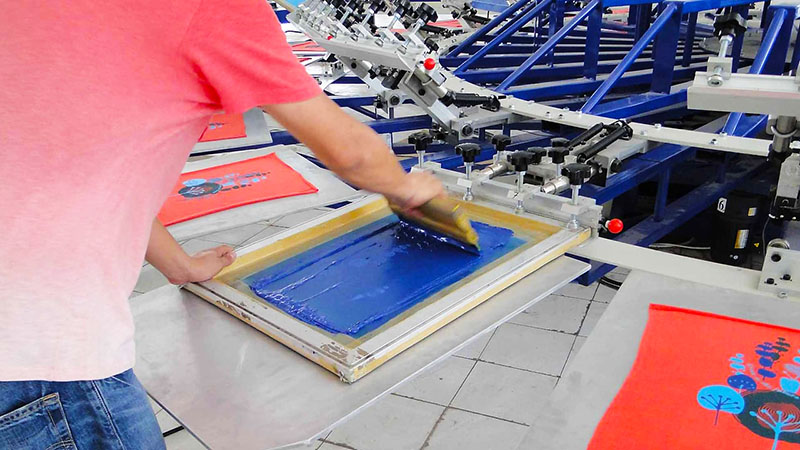 "We have a unique business model with proprietary technology in DTG2Go, whose advantages have become even more clear to the marketplace in this time of supply chain disruption, combined with consumer restrictions on traditional shopping habits," said Humphries.
Also, including its Soffe military business that represents over 5 percent of revenue and has seen "consistent performance" throughout the crisis, Delta Apparel estimates that COVID-19 has not impacted approximately 25 percent of its business.
…
Online sales have also accelerated amid the pandemic. Sales on saltlife.com were up about 20 percent during the March quarter and are running up about 50 percent so far in April. Said Humphreys, "The continued revenue stream supports the underlying business, and consumer demand until brick & mortar retail reopens for Salt Life." Soffe.com also sees an "upswing," along with improved sales at third-party websites.
Soffe.com is also seeing an "upswing," along with improved sales at third-party websites.
DTG2Go saw a slowdown in demand in early-to-mid March when the coronavirus was first felt across the country, but the business has experienced a "significant increase" in sales during the beginning of the last week of March, and that momentum has accelerated further in April.
Humphreys said, "With the supply chain disruptions that are occurring, customers see the strong competitive advantage we have with our large geographic network of production facilities, half of which are integrated within our distribution facilities. The current run rate of average orders received in early April is more than double that of March. And that rivals the daily ordered rate that we saw during the 2019 holiday period."
Humphreys still cautioned that DTG2Go is facing some limitations in production output due to adjustments in facilities to comply with six-foot social-distance guidelines and curfews implemented by local governments.
In releasing preliminary results, Delta Apparel said sales in the second quarter fell 5.9 percent to $96.7 million. Said Deb Merrill, VP and CFO, on the call, "Sales in each business unit were impacted as the spring selling season was just beginning when the pandemic shutdowns across the U.S. took place."
…
Before the March impact of COVID-19, the company was on pace to achieve sales growth of approximately 9 percent for the quarter, driven by organic growth across various sales channels.
The company still sees second-quarter EPS coming in within a range of 16 to 18 cents per share, up about 30 percent compared to 13 cents in the prior-year period. As expected, gross margins improved again to offset the sales shortfall. The margin gains were due to past investments to improve internal process efficiencies and leverage its vertical manufacturing platform. Gross margins also improved on a sequential basis.
The gross margin improvement came despite $2 million in costs associated with employment curtailment related to temporarily closing manufacturing facilities in Honduras and El Salvador that Merrill said is expected to have a negative 200 basis point impact on margins in the second quarter.
Merrell noted that the face masks are being made at its sole facility in Fayetteville, NC, in addition to Honduras. The masks are sold to the U.S. Department of Health and Human Services (HHS), with some being made available to the public. Said Merrell, "The production allows us to keep more workers actively employed and provides an additional revenue stream."
Looking ahead, Merrell added, "We believe the advantages we have within Delta will allow us to prevail with these difficult times. We all know that the next couple of months will be extremely difficult as decisions are made regarding the timing and actions to reopen the countries we operate in."
The CFO detailed steps Delta is taking to strengthen its financial position, including temporarily furloughing approximately 300 employees in the U.S. The workers are receiving an unpaid leave of absence, but are maintaining their employee benefits, including medical insurance.
Delta Apparel also immediately paused capital projects not critical in the short term to the business, suspended its share repurchase program, reduced fixed assets, and is reducing spending across all aspects of business in non-critical areas. Merrell said Delta Apparel would "continue to evaluate further opportunities to reduce our costs until sales begin in normalize."
As it relates to the CARES Act stimulus legislation, Delta is taking advantage of payroll tax deferrals and credits that are available to a company of Delta's size.
…
As of its March quarter, Delta had approximately $30 million in availability under its credit facility and had reached an agreement in principle with lenders to secure additional flexibility under the line for the remainder of the fiscal year. Said Merrell, "We're currently in compliance in all aspects of our current loan agreement and expect to execute the amendments in the coming weeks. Our lenders have been very supportive of Delta Apparel over the years and have expressed willingness to continue on that path."
At the same time, Delta Apparel is looking at other available financing options "that may be prudent," including the Main Street Lending Program as part of the CARES Act.
Merrell said COVID-19 would continue to impact Delta Apparel's results in the near-term, with sales expected to be "dramatically lower" year-over-year in the current third quarter. Merrell added, "None of us knows when the U.S. will begin to reopen and what the impact will be at retail. A great deal of uncertainty remains regarding the level of recovery and steepness of the recovery curve."
Humphreys concluded, "Our fully integrated and diversified business model is allowing us to not only to continue to operate and generate profitable sales but has also created an opportunity for Delta Apparel to expand our reach with existing customers and garner new customers. We are in a solid financial position to weather this current storm, and I am confident we will emerge from this pandemic stronger and ready to profitably grow our business."
Delta Apparel didn't take analyst questions on the call. Full second-quarter results will be published on April 17.
Photo courtesy Delta Apparel/Salt Life