Crocs Inc. reported sales jumped 64 percent in the first quarter and said it now expects sales for 2021 to climb about 45 percent for the year. The comfy shoe brand has benefited from the comfort footwear trend in the stay-at-home economy, but it's also increasingly worn as a fashion statement.
The latest sign of its increasing fashion clout was at this year's Oscars, where Questlove, the musical director, wore gold Crocs clogs, above and below. Only four years ago, Balenciaga stunned fashion insiders sending Crocs down the runway in Paris, and the brand has since rolled out a steady stream of collaborations with celebrities including Justin Bieber, Bad Bunny, Post Malone, designers, and high-end retailers that often quickly sell out.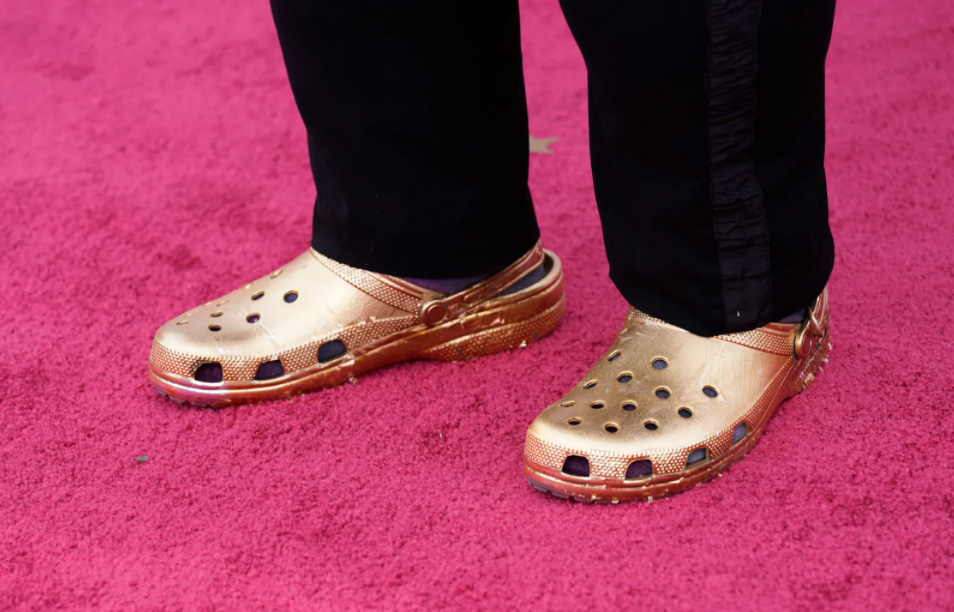 On its first-quarter conference call with analysts, Andrew Rees, CEO, said Crocs ranked at its highest level ever in Piper Sander's spring "Taking Stock With Teens" survey. He said, "The strength of our brand remains unabated."
First-Quarter Sales Climb 64 Percent
In the first quarter ended March 31, revenues reached $460.1 million, an increase of 63.6 percent on a reported basis and 60.5 percent on a constant-currency basis. Crocs previously forecasted sales in the quarter to expand between 40 percent and 50 percent. Wall Street's consensus estimate had been $416.0 million.
Crocs sold 25.9 million pairs of shoes, increasing 51.5 percent over last year's first quarter. Average selling prices increased almost 8 percent to $17.64, with the increase attributable to increases in direct-to-consumer (DTC) revenue and fewer promotions and discounts. Crocs also raised prices in select markets.
Gross margins improved 730 basis points to 55.0 percent. Adjusted gross margins gained 720 basis points to 55.2 percent. The gains were largely driven by fewer promotions and discounts, channel mix and supply chain efficiencies. Currency changes favorably impacted margins by approximately 100 basis points.
SG&A expenses increased 13.3 percent to $128.5 million but decreased as a percent of sales to 27.9 percent from 40.3 percent a year ago. Adjusted SG&A improved to 27.9 percent of revenues versus 38.7 percent for the same period last year.
Income from operations grew nearly six-fold to $124.7 million from $20.8 million a year ago, while operating margins expanded to 27.1 percent from 7.4 percent.
Adjusted income from operations rose 376.9 percent to $125.7 million, and the adjusted operating margin was 27.3 percent compared to 9.4 percent for the same period last year. Results were well above Crocs' forecast, calling for an adjusted operating margin between 17 percent and 18 percent.
Net earnings jumped nearly nine-fold to $98.4 million, or $1.47, up from earnings of $11.1 million, or 16 cents, a year ago. Adjusted earnings improved to $99.5 million, or $1.49, from $15.2 million, or 22 cents, a year ago. Wall Street's consensus estimate had called for earnings of 88 cents.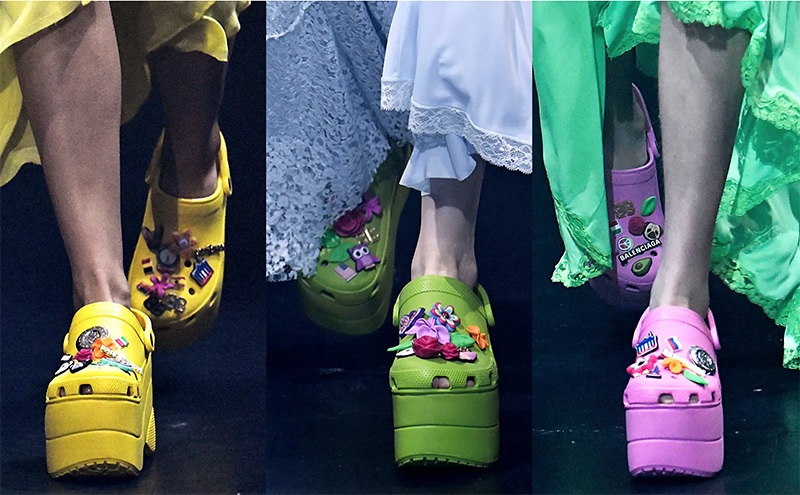 DTC Revenues Climb 93 Percent
From a channel perspective, global DTC revenues, which include revenue from e-commerce and company-owned retail stores, increased 93.3 percent to $170.1 million, with e-commerce and retail delivering an "extraordinary performance," said Rees.
The quarter marked Crocs' 16th consecutive quarter of double-digit e-commerce growth. Digital, which combines e-commerce and e-tail revenues reported in its wholesale segment, grew 75 percent to represent 32 percent of sales compared to 30 percent last year. Said Rees, "Digital remains our top priority, and our digital presence remains a competitive advantage relative to other footwear brands."
Wholesale revenues climbed 50.1 percent to $290.0 million, fueled by growth in all segments. E-tail and its Top 20 brick & mortar accounts experienced "exceptional sell-through," said Rees. Distributors had the highest growth as inventories were replenished in anticipation of strong 2021 growth.
Rees said Crocs began terminating select North American wholesale relationships in the quarter as part of a strategy to focus more on wholesale partners "aligned with our brand strategy and desired positioning in the marketplace." He inferred the similar moves being made by Nike, Adidas and others to streamline wholesale distribution. The CEO added, "Looking forward, we'll remain focused on our strategically important accounts comprised of leading e-tailers, sporting goods, family footwear, and specialty retailers."
Americas Growth Expands 88 Percent In Q1
By region, revenues in the Americas increased 87.5 percent on a constant-currency basis to $276.4 million. DTC grew 131.3 percent with the help of strong traffic and conversion. Last year's store closures contributed to triple-digit growth in both company-owned stores and e-commerce. Wholesale growth was 59.4 percent as strong sell-through more than offset logistics challenges.
In the Asia Pacific region, revenues grew 20.1 percent on a constant-currency basis to $82.6 million. DTC increased 20.6 percent while wholesale grew 28.6 percent. Digital revenues grew 60.1 percent, and penetration increased significantly from 24.4 percent to 30.9 percent. Balanced growth was seen across most key countries. India was a standout with triple-digit growth. Distributors also returned to growth, albeit at a slower rate.
EMEA revenues jumped 41.0 percent on a constant-currency basis to $101.1 million as growing brand heat offset global logistics disruption. DTC revenues increased 49.2 percent, with e-commerce strength driven by higher traffic and average selling prices partially offset by a retail decline to COVID-19 closures. Wholesale revenues grew 52.7 percent, fueled by strength in e-tail and distributors. EMEA overall continues to benefit from a focus on digital commerce, which represented 41.8 percent of EMEA revenue in the quarter versus 38.2 percent last year.
Clogs Sales Surge 87 Percent
From a category standpoint, sales of clogs climbed 87 percent to represent 76 percent of total footwear sales from 65 percent last year. Standout styles include the Out of This World Slide and Marvel prints, shown below.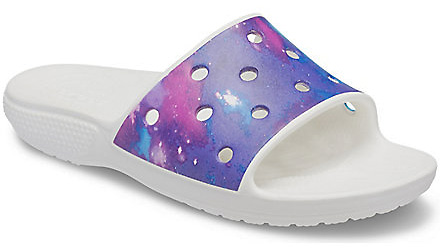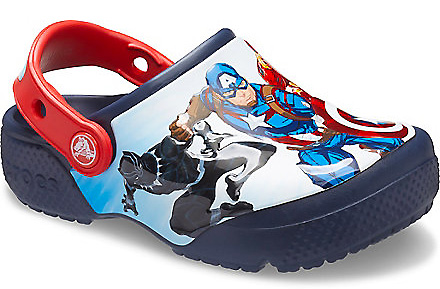 Sandal revenues increased 17 percent to represent 17 percent of footwear sales, down from 24 percent a year ago. Rees said Crocs is encouraged by the initial results of sandals featuring personalization. Clogs growth is expected to outpace sandals in 2021, but sandals are expected to expand at a faster rate long-term. Jibbitz, shown below right, sales "continue to be outstanding," more than doubling for the quarter as the global personalization trend continues.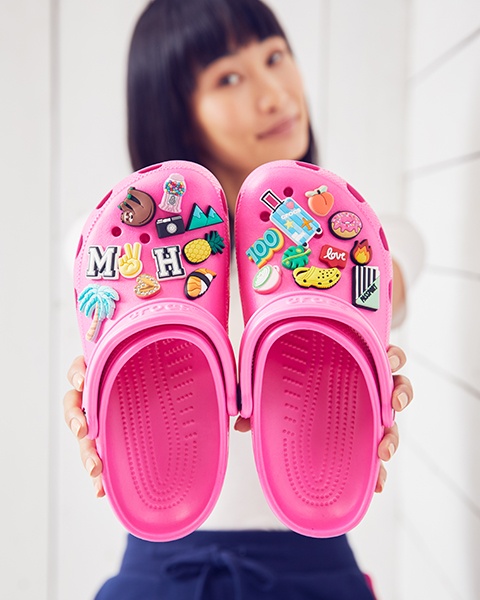 Logistics Challenges Causing Some Delays
Inventories were essentially flat at $196.5 million as of March 31 versus $195.8 million a year ago. Year-ago inventories were elevated to store closures due to pandemic closures. Compared to 2019, inventories are up about 50 percent.
Rees said retailers are "probably not in stock to the degree they would like to be, quite frankly," but inventories are at adequate levels to support robust growth in the near term. The blockage of the Suez Canal and significant bottlenecks in West Coast ports has led to shipment delays, and the company is being "as proactive as possible" to support its strong growth trajectory. A new EMEA distribution center opened in the Netherlands, and the transition is running smoothly. The expansion of its U.S. distribution center network is also proceeding as planned.
For the second quarter, revenue growth is projected to be between 60 percent and 70 percent year-over-year. The non-GAAP operating margin is projected to be between 21 percent and 23 percent. In the 2020 second quarter, the adjusted operating margin grew 800 basis points to 22.3 percent.
Non-GAAP adjustments in the quarter are expected to consist of $3 million related to distribution center investments that will impact gross margin.
For the full year, updated guidance now calls for:
Revenue growth to be between 40 percent and 50 percent, up from previous guidance between 20 percent and 25 percent;

Non-GAAP operating margin to be between 22 percent and 24 percent, up from guidance between 18 percent and 19 percent previously;

GAAP tax rate and the non-GAAP effective tax rate of approximately 20 percent. Previously, the expected tax rate was expected to be 25 percent on a GAAP basis and between 16 percent to 18 percent on a non-GAAP basis;

Non-GAAP adjustments of approximately $12 million to $15 million related to distribution center investments, the same as under previous guidance;

Capital expenditures of $100 million to $130 million for supply chain investments, the same as under previous guidance.
Photos courtesy Crocs, Getty