Cork, the buoyant, little brown substance obtained from the outer layer of the bark of the cork oak. Do you know where it comes from and how it is harvested? Watch the short film here or click on the image below.
Portuguese Studio Digitalab, won the Rising Star Award at this year's Stockholm Furniture Fair for turning Cork into Thread. Architects Brimet Silva and Ana Fonseca, Founders, have developed a method of turning cork into a thin thread that can be used to manufacture everything from textiles to lighting to furniture and accessories.
Called CO-RK, the thread is sustainable, non-fibrous, and an alternative to plastic. As we discussed in Today last week, this is the direction Creatives are thinking when it comes to alternatives to plastics.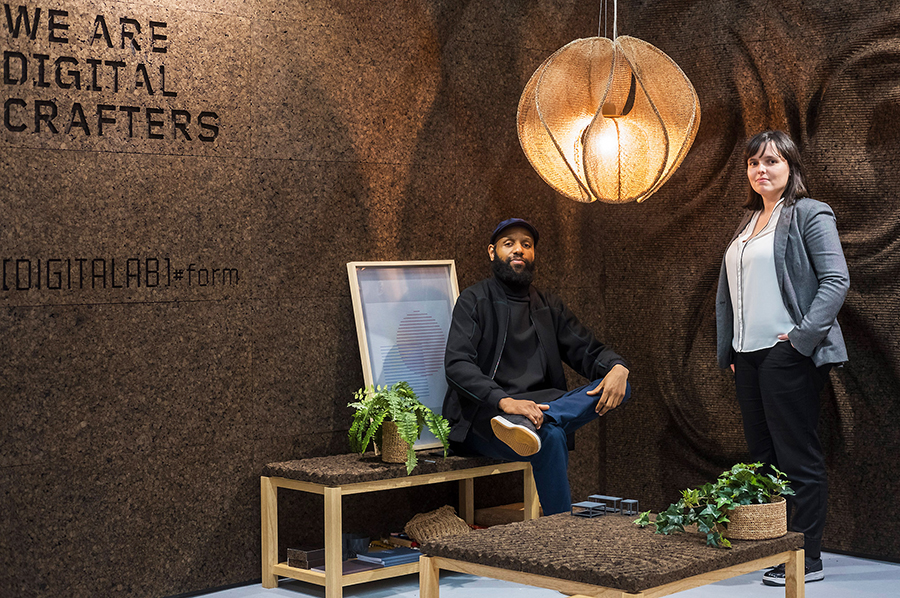 Silva and Fonseca, pictured above, created the product for Gencork, an offshoot of 50-year-old Portuguese company Sofalca, which manufactures cork pellets using the branches of cork trees. This process is more sustainable than the typical manufacture of cork, which comes from tree bark.
The thread is formed by
injecting water vapor through the cork pellets which causes the pellets to expand while the water bonds to the resin in the cork;

the mixture is then pressed and combined with a base layer of cotton fabric to produce a thin sheet that can be cut to a millimeter thick; and

the resulting threads are then washed to increase flexibility and elasticity.

The material is washable, light and yet keeps all the original physical properties of cork.
"This super-material, cork, offers a huge range of advantages because, in addition to being an excellent thermal and acoustic insulator and as well as anti-vibration, it's also a carbon dioxide sink, playing a key role in protecting the environment. It is a high-tech and low-tech approach where craftsman practices are mixed in with technological processes … We are exploring higher densities that are strong enough to apply to seating and space dividers, among other applications," said Silva.
Photos courtesy Studio Digitalab