By Eugene Buchanan
Want an up close and personal look at how the COVID-19 pandemic has affected a small outdoor gear manufacturer? Consider the case of Bending Branches and AquaBound, a longtime, venerable maker of canoe and kayak paddles, which has weathered the storm — negotiating its many currents and winds — and stroked through to the other side.
The Shutdown
On March 23, said Marketing Director Andrew Stern, the company's factory in Osceola, WI, was shut down by the state of Wisconsin, and all 38 employees were furloughed. Things stayed that way for five weeks, with the factory close-down affecting everything from the ability to fulfill retail orders to receiving raw goods from suppliers.
The Reopening
"On May 1 we reopened with a skeleton crew and began building paddles again and shipping orders while abiding by state laws," said Stern. "The entire marketing crew was hired back and converted into sales/service agents to help with the demand." All this wearing of different hats proved beneficial as it prepared the company to meet the sales surge ahead.
The Surge
Sales demand came fast and furious. Over the month of May, said Stern, demand from both dealers and consumers skyrocketed as states and territories started slowly opening up, and paddling became "the hot social distancing activity." Then the reality of the lost two months began to hit home, forcing the company to re-align budgets. "In late May we canceled almost all non-essential marketing spending and all travel for the remainder of the 2020 paddling season," Stern said.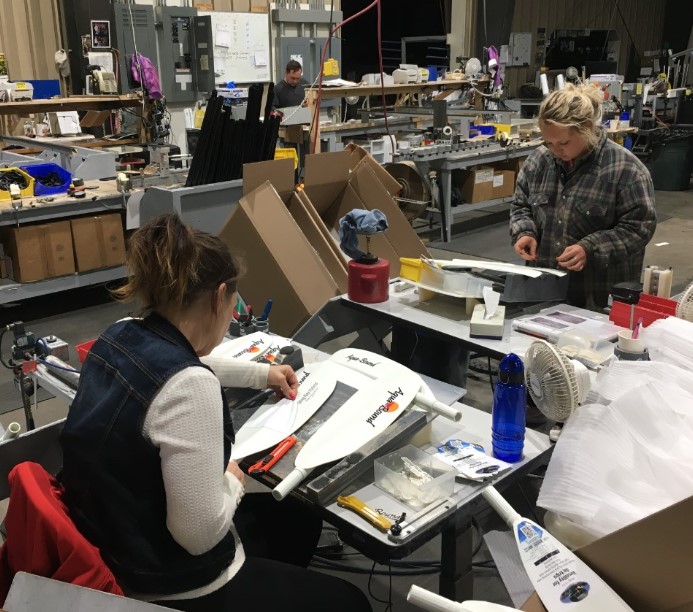 Production Progress
To keep up with demand, the company went back to the well. As well as bringing its employees back from furlough, in June it hired an additional 24 people in production to meet the current demand. "We now have two full crews working in production, working nights and weekends," said Stern, adding that June was the company's best month in history. "Orders came in at a rate of two to three times our capacity."
COVID Precautions
At the same time, the company also made sure it was following all the proper protocols for the pandemic. "In late June we introduced our formal COVID prevention safety policy with daily temperature checks, required masks/gaiters and other important measures," Stern said. "It was a lot of extra work, but it had to be done for us to fulfill orders."
Mid-Summer Demand
Demand continued to be strong all July and the company continued to hire help in production. Incoming sale volume, said Stern, continued to clock in at up to two times that of capacity. "That's when we began to run into major supply chain issues," said Stern, adding demand continued at a rate that overwhelmed their production capacity with suppliers consistently running out of necessary components. "We began experiencing backlogs in our delivery due to the supply chain."
Late Summer Shortage
As the sun begins to finally wane so, too, does the company's capacity to produce. "By mid-August," said Stern, "most of our seasonal, part-time help either went back to school or permanent full-time employment. We're experiencing another massive labor shortage as we head into fall." He said the company is looking to rehire 8-to-12 employees over the fall.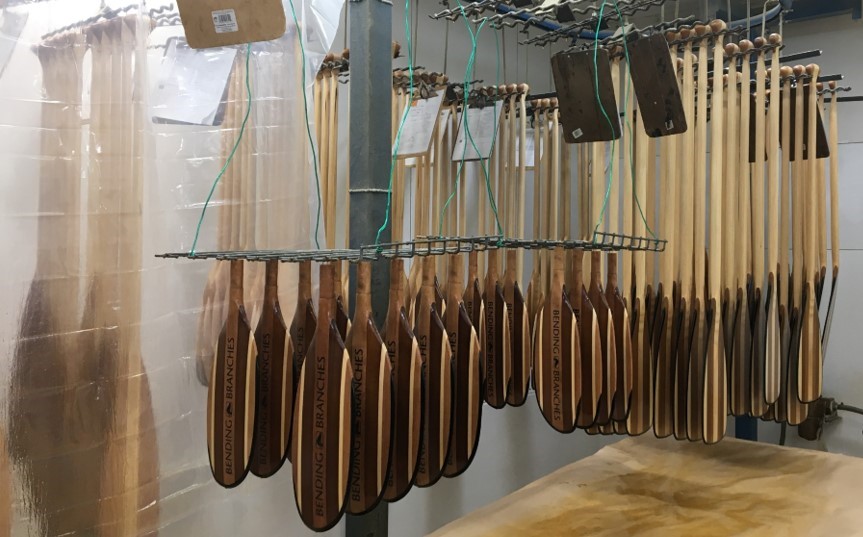 Pandemic Problems
Despite a successful year, and adapting to a tumultuous season, the company is still dealing with several issues caused by the pandemic. Foremost among them, said Stern, is supply chain issues, affecting its ability to produce paddles. "We're also still dealing with a labor shortage, as well as dealer impatience," he said. Other concerns, he added, include consumer RAs (people requesting warranty claims on old paddles), as well as forecast unpredictability.
Moving Ahead
Now the name of the game is gearing up for 2021, which is proving difficult. "We are forecasting 2021 to be above 2019 and slightly below 2020," Stern said. He expects that this fall and winter "enthusiast" consumers will buy higher-end gear as manufacturers start to catch-up. "Smart dealers will take this offseason to stock up on bread-and-butter models while staying as liquid and agile as possible, committing to reliable brands that can deliver," he said. "I think consumer demand will be very hot in 2021 — somewhere between where it was in 2019 and 2020 — but spaced out over a much longer period of time. It should be much more manageable for the industry."
Photo courtesy Bending Branches and AquaBound