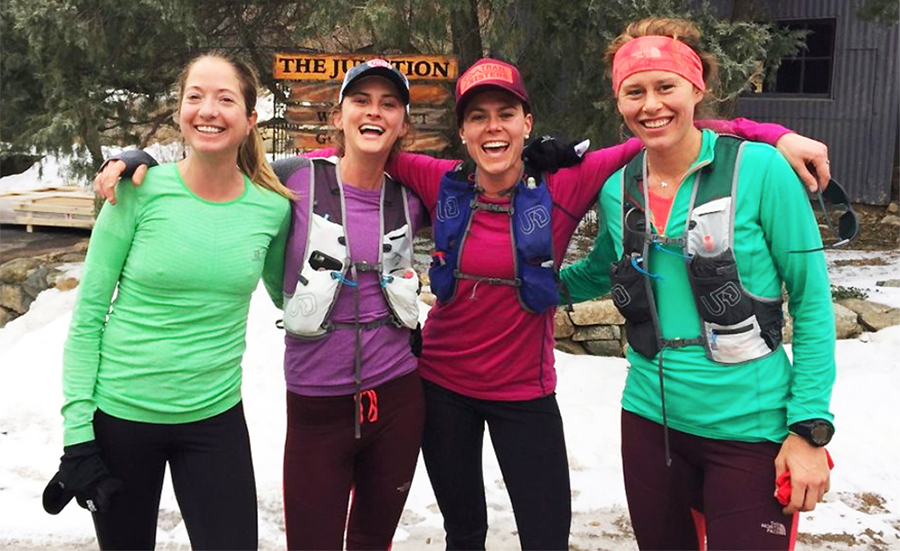 By Teresa Hartford
Trail Sisters Founder, Gina Lucrezi, pictured third from left, noticed the lack of female voice, encouragement and representation within the sport of trail running. Her response was to create a media platform to encourage and educate women about the outdoors. "If participation numbers are to grow, we need to welcome women with opportunity and promote camaraderie. They need to understand the outdoors are a place for them, too."
Trail Sisters started in April 2015. The organization has quickly evolved from a digital platform to a growing community championed by women who are ambassadors to the outdoors and for women's opportunity in sport. You can find Trail Sisters groups across the U.S., Canada and Europe.
Through Trail Sister's online journal, social media, Facebook community groups, podcasts, speaking engagements, and community events, Gina is a powerhouse for women and for the women's trail running community.
SGB Today sat down with Gina from her office here in Boulder, CO. to learn what Trail Sisters means to the global trail running community.

Why did you start Trail Sisters? My undergraduate degree is in TV and Film. I have a Master's in Sports Management with a focus on Marketing. I had been working for ten years with brands like Inov-8 and Trail Runner magazine in marketing and promoting trail running. I had contract jobs working with various running brands as an athlete manager as well as marketing and promoting activities within the trail running space. I also competed at a high level as a trail runner for a long time. 
I've seen every aspect of the running arena. I realized we were missing the target specifically for women in the sport. With my background working in marketing, promotions, pr, advertising, and being a runner at a high level, instead of complaining about women not having a voice and lack of representation, why not do something about it.
On April 11, 2016, I started the Trail Sisters website and the online Journal, and it's grown quickly ever since.
Are you on a mission? Yes. I am passionate about certain things and have never been a stranger to hard work. I believe that when you want something badly enough, it's attainable when you put in the time and energy. I want to leave the sport in a better place than where I found it. I am on the warpath to make a change for both men and women in the sport, and I don't see why we can't make those advances so that the sport is welcoming to everyone.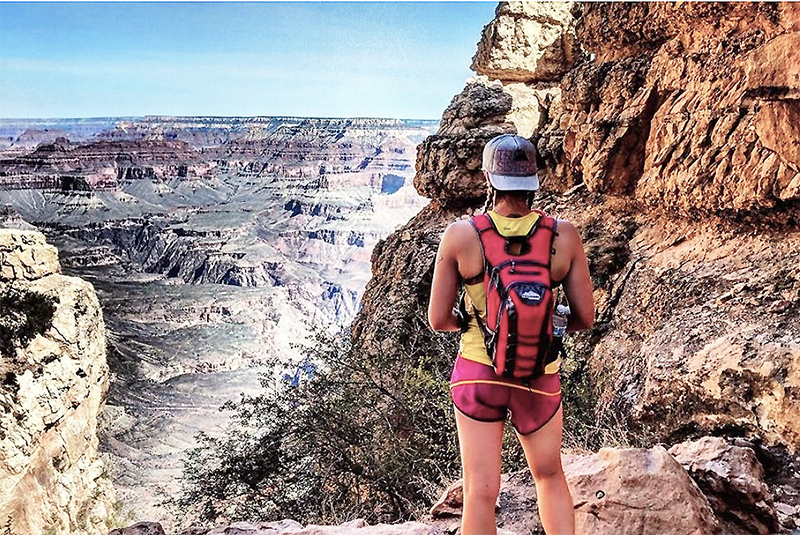 What are the three weakest areas that you see in women's trail running today? We've come a long way since Title IX and from when I started working in the business ten years ago; however, there are still many trail races that do not provide equal prize money to men and women competitors depending on where they place in a race. Even women who are sponsored athletes are not even close to being equal to men in that area.
Women do not share the same opportunities in the sport as men. Today, there are more men than women competing in trail running, and so we bank on that instead of trying to even it out with more stories inspired by or about women. I think if we did that, we would see the participation rate grow.
The amount of media coverage is also lacking. The women that are put on magazine covers are the elite runners. But where are the mid- and back-packers who are also doing amazing things? We need relateable runners. That keeps women away from the sport, too.
On the flip side, women can be caddy and not supportive of women. I agree with that 100-percent. I conduct running retreats for women. On the last day, I give a workshop on confidence because that's an essential piece in trail running. One of the topics we cover is women supporting women and the lack thereof. 
There was a time when there weren't many spots in the corporate and the athletic world for women. We had to fight for the few that were open. In the 1950s, for example, there were not many women working outside the home. 
Competitiveness is prevalent today. I think that stems back to a time when women did not have a voice. I am trying to change that with our organization of camaraderie and support of women. I hope that when people come to the site, they see it's about women being there for each other. That there is power in numbers. 
 I don't know how to fix the competitiveness between women. All I can do is inspire them to be on the same page with each other.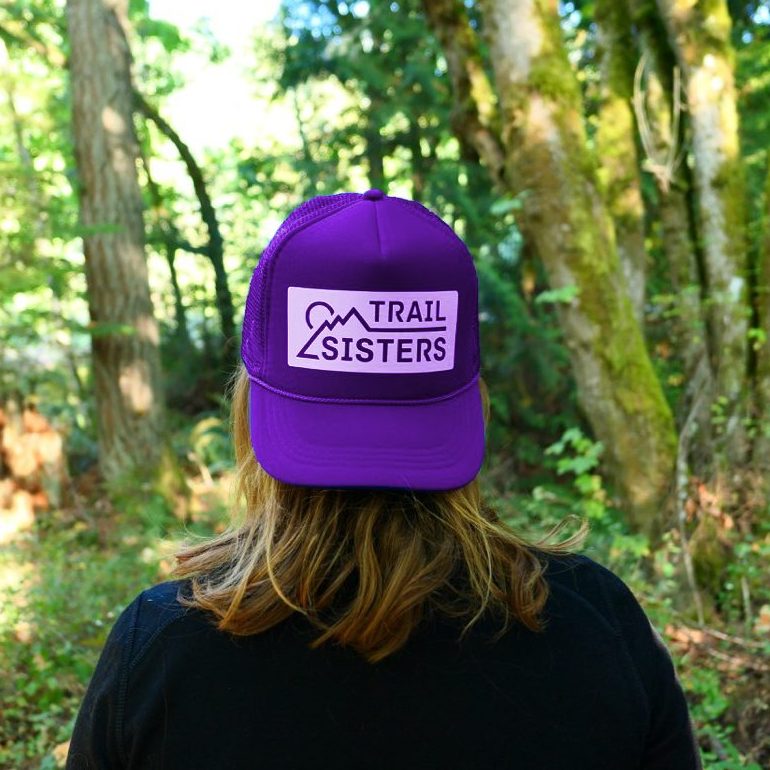 Trail Sisters has grown quickly. Yes, very quickly.
In the three-and-a-half years we've been up and running, we've published over 500 articles on the site, we're just shy of 200 contributors and we have over 20,000 users per month on the site. While the majority of the content is female-driven, we do have male readers, which is great. It shows us that even though women write the content, the articles are useful for everyone. 
It's exciting to have more female voices contributing to the site in print, through photos, videos, and social because we express ourselves differently. I'll never have a male writer contribute to the site. That's not because it's a he versus she thing. I want to provide a platform dedicated to a women's voice where we learn through Education, Inspiration and Empowerment—the pillars of our mission statement.
Is there a lack of resources for women runners in today's running world? Yes, there is still a lack, but were on the upswing because of the opportunities the Internet and social media present. In the U.S., women have a far greater voice than in other areas of the world where there are far fewer opportunities, but that doesn't mean that that's where we leave it. There's work to be done.
Why does running connect women on an emotional and community level? Running connects both men and women.
Running is a sport that anyone can do. You only need a pair of shoes. And, because there's no considerable barrier to entrée, running presents an opportunity for more people to take up the sport.
What's incredible about running is that it's time away from everything else, whether you're on the trail or running on the pavement. Interruptions do not surround you. Running provides time away. It's an escape, if you so choose, to have a personal connection with yourself or like-minded runners versus a virtual reality of a relationship.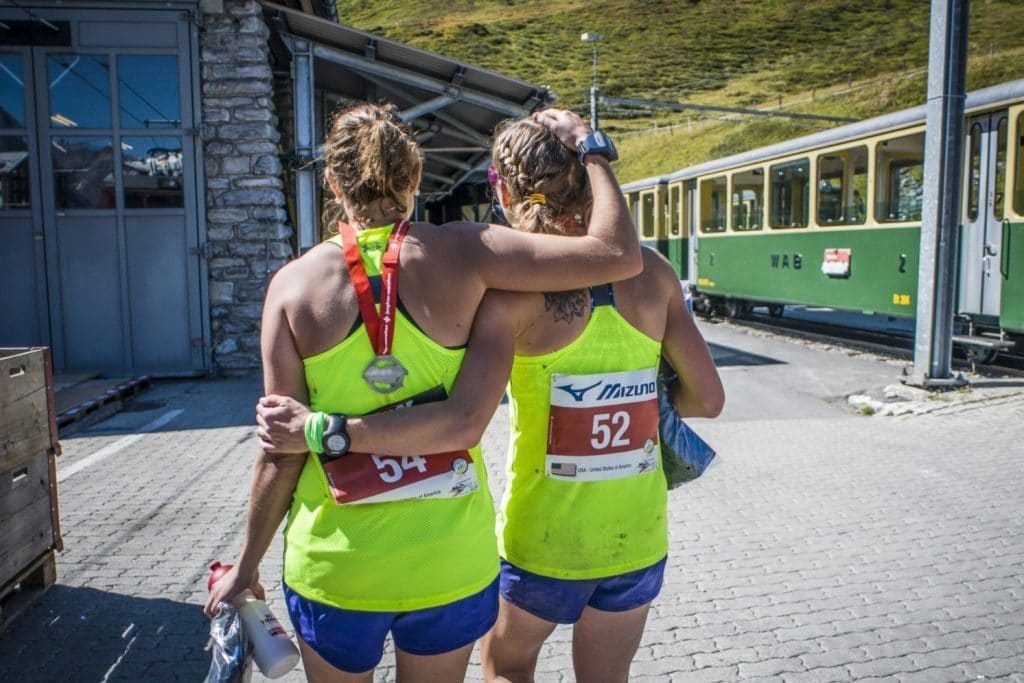 If a woman has never been trail running and wants to pick up the sport, what encouragement would you offer? You never jump into it. You work your way into it. Having someone there with you is important. They help soothe worries and doubts and bring you the confidence you seek quickly.
If someone asks me, 'how do I do it'? I advise them to find a local Trail Sisters group. We have over 85 groups in the U.S., a few in Canada and Europe. But whether it's a Trail Sisters group or another group, if you find people to run with, they must break down the intimidation factor and create a pace that's comfortable for all. 
I'm a huge fan of the "no-drop run." You wait at specific points for everyone to collect together, so you're not seeing people when you start and then when you finish at the parking lot. It takes the fear of getting lost out of the equation.
It's essential to find the right group to run with that matches your goals and personality. The majority of the runners who join Trail Sisters are beginners and who have never trail run before because of some obstacle in front of them. The appeal of a local group is knowing that it's no drop and being able to learn all the pieces of trail running and finding the inspiration in it to continue.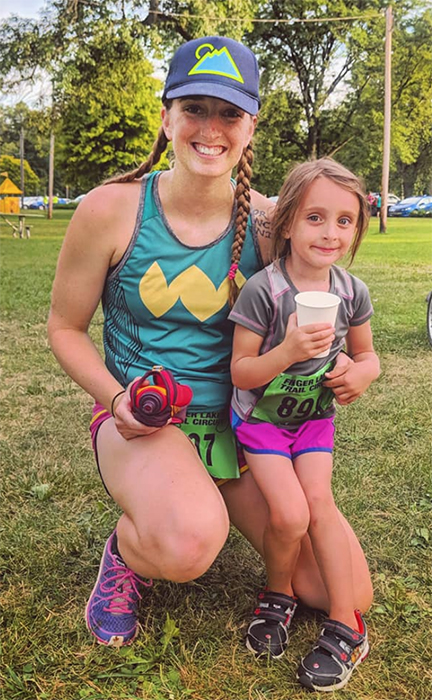 What stories have you covered that still resonate? They all resonate. Trail Sisters started with seven contributors as an online journal. We all pushed our content on social to grow interest. The site quickly became a crowd-sourced platform, and its success ties to that. 
We are a voice for every woman. It's not just a professional journalist writing something; it's not just a first-time blogger. Trail Sisters share voices across the spectrum, talking about different topics. The benefit to that is that we are going to be able to connect with runners and be a resource, and that gives women the confidence and encouragement to give trail running a try because they know they are not alone as a runner. 
If you want to find inspiration and you can't find a group to join, you can find inspiration on the Trail Sisters site reading the articles that post every day written by women for women just like you.
If you weren't a runner, what would you be doing to help empower women? I would continue to empower women with the breadth of content on the site or go into politics to help all. 
It's important to me that everyone feels that they are included and welcome in anything they choose to do in life and that we are all respected equally. 
There's no membership or membership fee to join Trail Sisters. If you're out there on the trail empowering others, you're a Trail Sister. We are a multi-faceted community that's morphed into something I never planned. It's organically changing and where it will be in ten years is exciting. 
Photos courtesy Trail Sisters