By Thomas J. Ryan
Thirty-five years after taking over the family business from his father, Ed Stack has written his first book, "It's How We Play The Game: Build a Business. Take a Stand. Make a Difference."
The book details the highs and lows as Stack built the business from two stores to nearly 800. Mentors, key employees and business partners are acknowledged as well as lessons learned from more than a few stumbles over the years, including a near bankruptcy after expanding too quickly. Advice includes why he always looks for "left tackles" when hiring.
Personal details are also offered, including a rocky upbringing and plenty of bickering with his father. Forty pages are dedicated to Stack's move to no longer sell assault-style rifles in his stores that caused a backlash in the hunting community and led to about 65 Dick's employees to immediately quit.
Here, Stack talks about what motivated the book, lessons from his journey in the sporting goods industry, the retailer's commitment to youth sports, and his controversial move that has made him a leader in the gun control movement.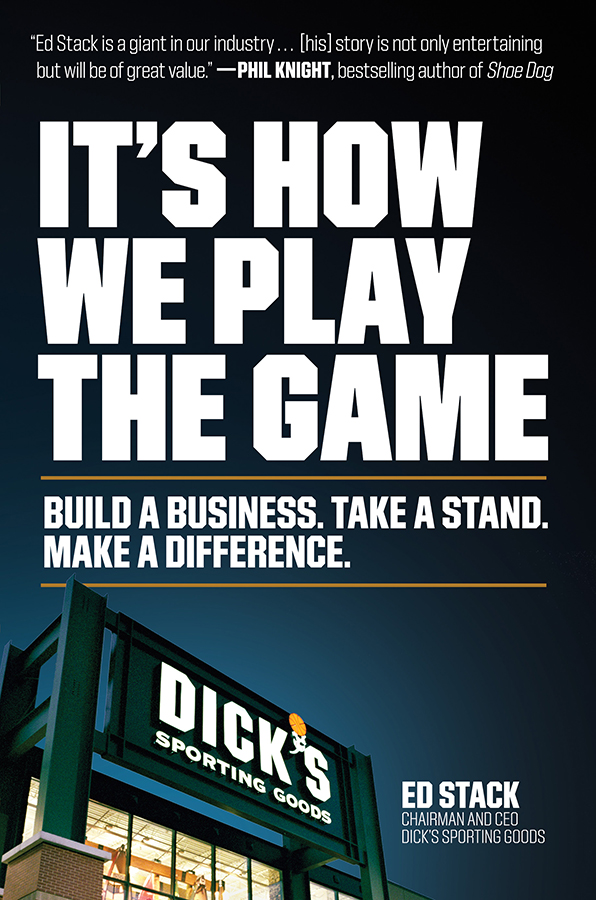 Why did you write a book, and why now? I wrote the book, jacket cover shown right, for two reasons. First, I thought it could be useful for entrepreneurs to show them that business doesn't always move in a straight line. As a company, we have experienced a lot of growth going from a two-store family business to an 800-store public company, and we have had several twists and turns along the way. There were good days, bad days and very bad days. I wanted to share our story to potentially help other leaders and young people starting in business.
Second, this book spotlights two issues that are important to me, Dick's and the country – youth sports and gun reform. Studies show a sharp decline in youth sports participation in-line with nationwide school budget cuts. There are fewer teams and fewer opportunities for student-athletes. We know that sports play an essential role in teaching children fundamental values like a strong work ethic, teamwork and good sportsmanship, so we started an organization called Sports Matter (sportsmatter.org) to support youth sports. The book also chronicles the history and evolution of our firearms policy and what prompted our most recent efforts in the space.
The book details your complicated relationship with your father, Dick. Was that something you had to overcome, or did it help drive your success? I started working with my Dad at a young age, but I didn't want to work for my Dad, so there were challenges. We disagreed on many things, especially when I became more involved with running the business. He was tough on me, and I'm confident that had he not been tough, I would not be the person I am today, and the company would not be as successful as it is.
What drove the decision to take over your Dad's business? Frankly, before I went to college, and even for a time afterward, I was not interested in running the family business, but my Dad needed double bypass surgery at 47-years-old and he never fully recovered. I was the oldest kid, so I had to go to work at the store to support my family (the first DSG's store is shown below). Maybe because I was older or because I was there on my terms or because I finally found a passion for being a merchant, I quickly fell in love with the business, and I'm still in love with it today.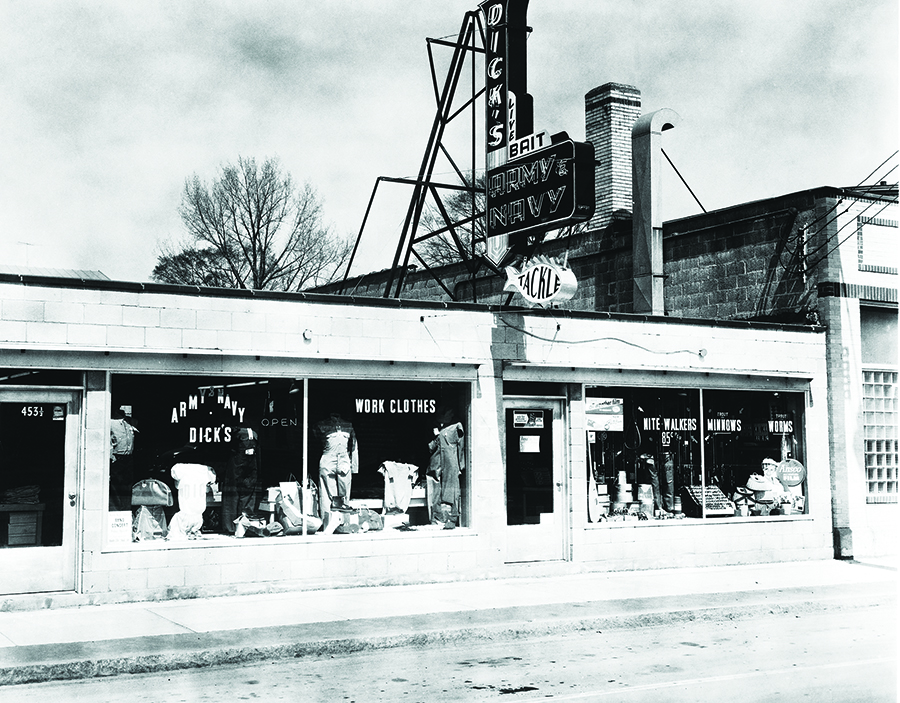 Then what drove the decision to scale the business? At a certain point, I formally took over the company in terms of ownership and began to feel that we needed to scale the business to be successful. I put together an advisory board because I knew that there were things I did not know. We began to grow.
We succeeded because we built an incredible team that was committed to our success. We stayed close to our customers and partners – and even closer to the competition – so we could learn, iterate and grow. Dick's thrives because of the hard work and dedication of our team, who care deeply about the work we do every day.
What are some of the biggest business lessons you've learned from the earlier days as you took the business from two stores to more than 800? First, we don't take our success for granted. In retail, there is a lot of competition – and it's changing every day. You not only need to know about the store down the street but also the new online company that just started. Once successful, too many outfits fail to take their smaller competition seriously, right to the moment that the little guy grows big enough to do serious harm. We've always kept that in mind and acted accordingly.
Second, you can grow too quickly. We did, and we almost went out of business. You have to make sure you have the right systems and processes in place to manage your growth. We learned valuable lessons during that time in our company's history, and we're still reaping the benefits of the changes we made since then.
A big part of the book talks about the challenges facing youth sports. How is Dick's addressing them? Community involvement is built into our corporate DNA. It started with my Dad's commitment to improving the Little League program in Binghamton, NY – the home of our first store. Through his efforts, the number of positions available to the kids living in Binghamton who wanted to play Little League went from 60 to 240, with another 200 spots on a system of farm teams. His only stipulation was that none of the teams he created could buy their uniforms or gear from Dick's. It was about giving back, not profit, and it was important to my Dad that no one would ever be able to suggest otherwise.
This attitude has been a foundational component of Dick's culture ever since. We've helped millions of kids get on the field of play each year through equipment donations, sponsorships and grants to local community and school sports organizations though our Sports Matter program.
Sports Matter was born out of a belief that youth sports are about more than just a game – they are about giving kids positive outlets for their passion and energy, teaching them how to build lasting friendships and supporting one another, and giving them the opportunity to find role models and leaders. Studies have shown that physically active kids are less likely to engage in risky behaviors like drugs, alcohol, or violence and that their test scores are significantly higher overall. Unfortunately, with budget shortfalls in school districts around the country, youth sports programs are often the first to go.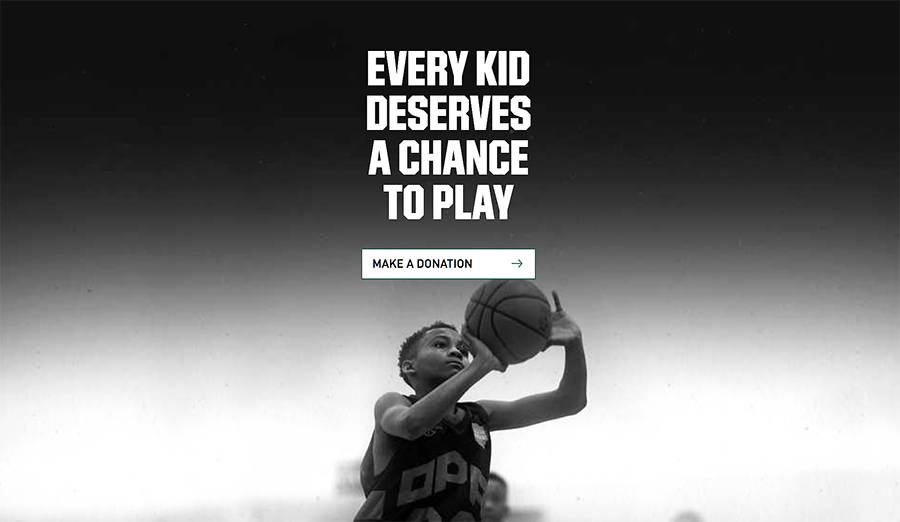 No one seemed to be talking about this problem – let alone addressing it. So, looking at the values of leadership – which I learned from watching my Dad when he saw the same problem on a smaller scale in Binghamton – we set out to lead and solve the problem the best we could.
Through our Sports Matter initiative, we first aim to raise awareness about the youth sports funding crisis through films like We Could Be King and partnerships with athletes and celebrities who can talk about the importance youth sports had been to them.
What other youth sports initiatives is Dick's supporting? We also work to fund as many needy programs around the country as possible, partnering with the crowdfunding organization DonorsChoose.org – which allows programs and coaches to direct how funds raised are spent. Since 2015, The Dick's Foundation and DonorsChoose, have helped more than 550,000 student-athletes across all 50 states stay involved in sports.
Apart from the partnership with Donors Choose, we've created an in-house community grant program aimed at helping high-poverty schools, leagues and sports programs with everything from buying equipment to field repairs to subsidizing player participation fees. Since 2014, Dick's and the Dick's Foundation have committed over $100 million and have supported more than one million young athletes.
Many sporting goods chains have left the marketplace in recent years. What's been the key to Dick's durability and longevity? And what gives you confidence in the sporting goods retail model? It's a fascinating time to be in retail. With Amazon and many brands going direct-to-consumer, the industry is in a state of serious upheaval. Everyone today walks around with a store in their pocket – a whole range of competing stores, actually – and we all sell similar products. That means that only innovative retailers will survive by providing the very best service and experience for customers.
Our challenge at Dick's is to work out the logistics of both e-commerce and brick& mortar retail. Our e-commerce infrastructure, which we began building in the 1990s, needs to make our selection easy to access and purchase with delivery that is fast and cheap. Our retail stores need to differentiate us from the other guys and provide an exceptional customer experience. Our HitTrax batting cages at Dick's stores are a great example of that.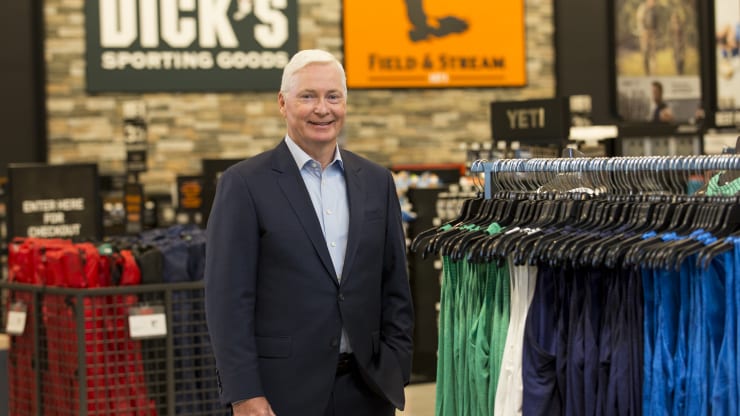 With all that has changed, one thing remains the same; I still get out to visit our stores as often as I can. I learn something valuable on every trip. I believe that you can't run a retail operation remotely. You have to spend time meeting with customers and listening to your sales staff. That's where you find out what's working and what isn't, what sells, and what doesn't. That's where you get ideas for how to improve. That's where your business thrives or dies. Besides, you have to keep close to your customers and associates if you're to have authenticity with either.
So, to me – and especially with our business – brick & mortar stores will always be very important. I think that will still be true over time, though the landscape will look different than it does today.
You recently told HBR.org you "always tried to fly below the radar from a PR standpoint," but you are outspoken on gun control. Why the change, and what advice do you have for industry leaders who also would like to speak out? The role of corporations in today's society has been getting a lot of attention recently. In political circles, in corporate hallways and even around the dinner table, people are trying to determine where the lines are. What is the responsibility of a business? To whom should they answer? Should they take a stand?
I don't have all the answers, but since my Dad founded the company in 1948, we have always believed that a company has a responsibility to the community it serves. The company could not do well if the community did not do well. That deeply held value played into our decision after the 2018 school shooting in Parkland, FL. 
What's your message to the hunting enthusiasts who are angry with the position Dick's has taken? Many have asked why we came to our decision after the Parkland, FL shooting. I grew up around guns, and I believe in the second amendment. Many gun owners don't agree with me, and that's okay, but I know that the gun laws in this country are not serving us well. These tragedies will, unfortunately, continue because we cannot get legislation passed to fix them.
When I met with the Parkland families impacted by the shooting, I promised them that I would continue the conversation about the importance of common-sense gun reform, and I have every intention of keeping that promise. I have implored Congress to find a solution to this problem—to come together with the intent to fix it.
Photos courtesy Dicks Sporting Goods