By Eric Smith
Chico Bukovansky has endured a host of acquisitions, both strategic and financial, in his 25-year career with Hood River, OR-based outdoor brand Dakine Equipment, so he fully understands what makes a good owner.
For example, a parent company that's operationally excellent is far superior to one that brings good ideas to the table but can't execute them. And emphasizing core strengths will always trump expanding into new categories.
Based on these criteria alone, Bukovansky told SGB in a recent interview, Dakine's most recent ownership transition was nothing less than ideal for the company, its employees and the ski, surf, cycle and travel products they sell to customers around the globe.
Late last year, Marquee Brands LLC announced it had acquired the Dakine brand and all related intellectual property for an undisclosed amount. In conjunction with the acquisition, Marquee entered into a long-term license agreement with JR286, which acquired the operating assets of Dakine and became Marquee Brands' long-term operating partner for the brand.
Bukovansky, Dakine Equipment's vice president of sales, was thrilled the company wound up with JR286, an entity that could help the brand retain its identity while also exposing it to new growth opportunities.
"These guys run a real business," he said. "We're partnering with somebody that's a leader in the field of accessories globally. They understand how to produce a lot and not miss a beat when it comes to sourcing, packaging and delivering to retail on time. They understand the entire top-to-bottom process. We're a big player in their portfolio now, so it's awesome to have all their resources."
Not only is Dakine celebrating a new owner, but it's also turning 40 this year. With these two milestones occurring simultaneously, SGB wanted to check in on what's happening with the brand. We spoke with Bukovansky about what the deal means for Dakine, any changes that might be coming, what the response to new ownership has been and what's driving growth right now.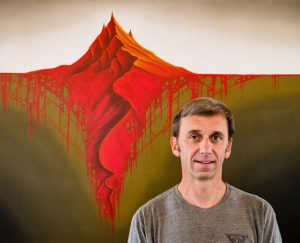 What assets and capabilities does JR286 bring to Dakine? The strengths of JR286 are material sourcing, quality control and a strong presence and production in Asia. They have 50 employees spread over Asia, whereas we only have two, so as we ramp up into their system, we're going to have more boots on the ground there. They're a product-focused company that's all about the details. They don't miss a beat when it comes to getting the best pricing, sourcing the best materials and achieving the best quality, and though we have a really strong global distribution network already, we're looking at how their network can help us grow.
Does that mean getting into more doors or getting more product in the doors you're already in? We have zero incentive to ramp up our channels, which was a concern of mine since they're in big-box distribution and we're not. But they told us, "It's your call and we're just here to support you." Their financial goals are very realistic—much more so than other owners that rolled in and said, "Here's where we need to be in five years." When I started with the company, we were $4 million in sales, so I know that we can grow, but it's not as easy as people sitting on the outside are saying. JR just wants us to do more with the categories and the distribution we're in. They want us to be better partners with our current retailers and not just go chase more doors. If we do a better job in existing doors, we'll get more growth, no problem.
The firm that advised Dakine on the deal told me Marquee sees the brand as a "billion-dollar opportunity" and that 10x growth is possible. What are your thoughts on that ambitious goal? For sure—well, at least someday. I'm not going to put a timeline on it and say, "We'll achieve that in five years," but there's no ceiling on the brand, especially with the categories we're in. We're barely scratching the surface on outerwear, and even our bag business and our glove business have large growth opportunities globally. JR has some investments in Europe and they can really help us there. China is another untapped market for us, and they also have some strengths over there. By combining our knowledge with their knowledge, we could achieve 10x growth in international markets in a few years, because when you look at the global market and see where we are with some of our larger categories, we're barely on the radar. But 10x in North America in the short term would be a challenge.
As Dakine celebrates its 40th anniversary and also begins this new chapter, how important is keeping your brand identity, and is that something the new owners assured you would happen? That's the only reason I'm still here. They have shown a strong commitment to the brand, the people and the values upon which Dakine has been built. I tell them that every day, "If that changes, we all walk." They're committed long-term to our space, and they're committed to keeping us in Oregon because they value the connectivity of our office. Location is a top priority for them, and they want to keep the team happy, which they've demonstrated in all their actions. In other transitions, we basically had to draw the line in the sand and say, "We're going to quit if you move the office."
What has the response been from your dealers? They trust us. We've been here throughout all past transitions, so the voices they're talking to are consistent. Many of our larger accounts have done business with JR, so the feedback has been amazingly positive because they have a great reputation in the industry. Dealers will ask if we're going to move our warehouse and if there is going to be any disruption, and some of those things might happen, but then again, we've had five warehouse moves in eight years. JR owns their warehouses, so we'll have more control over distribution—those are the things our dealers were worried about, not so much what the brand's doing. This licensing model with JRand Marquee is different for us, and someday they might want to do something that will require a hard discussion—about a category, for example—and we'll have to ask, "Is it right for the brand?" But right now, all indications are they'll listen to us and won't go outside our comfort zone.
What's driving growth for Dakine right now and where are you seeing the most upside for the brand? Three things are cranking for us, and two of the three are doing really well because there's been good snow across the country this season. We're heavily invested in snow gloves, and our glove business is driving a lot of growth this year. A lot of that has been due to good weather, but we also have good placement and the resorts are seeing really strong numbers. Vail, Alterra and really everybody is winning right now, so that's a really nice category.
Our outerwear business is finally starting to hit its stride. We've had really good sell-through this season in our key markets. Last year we placed it in a number of key locations, and that's been doing quite well. We retooled our entire lifestyle pack and bag line this year, probably the biggest retool in 20 years. We've streamlined it, going from 43 SKUs to 23, so we've made it easier for our partners. It's really going to clean up the presentations on the wall and become an easier story to tell—to both the retailer and the consumer. And travel seems to just keep growing. Airplane tickets are cheap, and as people watch the weather, they go skiing and they need board bags and ski bags and boot bags from us. We feel like we're a leader in that category. In addition, our mountain bike category has really expanded and matured across categories, so that's driving our spring growth. Right now, it's a fun ride.
Photos courtesy Dakine Equipment