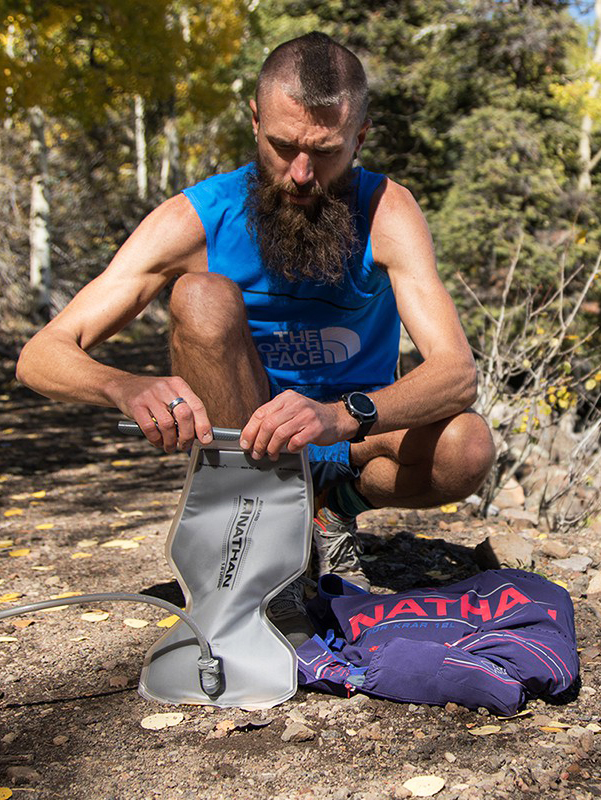 Nathan has a mission statement that represents the company's direction and focus. "If you Run, you are a Runner. No matter where you Run or why. No matter how far, No matter how fast. If you Run, Nathan Runs with you."
The designers at Nathan holistically approach the creative process. Moreover, anytime the company wants to introduce a new product, expand into a new category, approach a new concept, the product must hit a few marks before the designers begin to consider the process.
The primary considerations are always performance-based. 'Does the product function for the runner? Does the product function for a specific runner?' Those are the broad-based questions. Then the designers start to think down the levels – 'When worn, will the product function + perform in the outdoors'? 'What fabrics should be considered? Where could the chafing points be? Where is stretch needed the most? Where should the seams be strategically placed'?
Make no mistake. This is not a sewing project. We're talking advanced, innovative patternmaking to create an advanced-level product that must perform at peak for every athlete, every body type, all weather conditions and not fail.
The designers at Nathan take their job very seriously to make sure that the products they create fit every individual like a custom piece. We sat down with the brands lead apparel and product designers respectively, Katie Voigt and Anna Olinger, pictured below, to dive into the many different levels within the products they create and why they love what they do.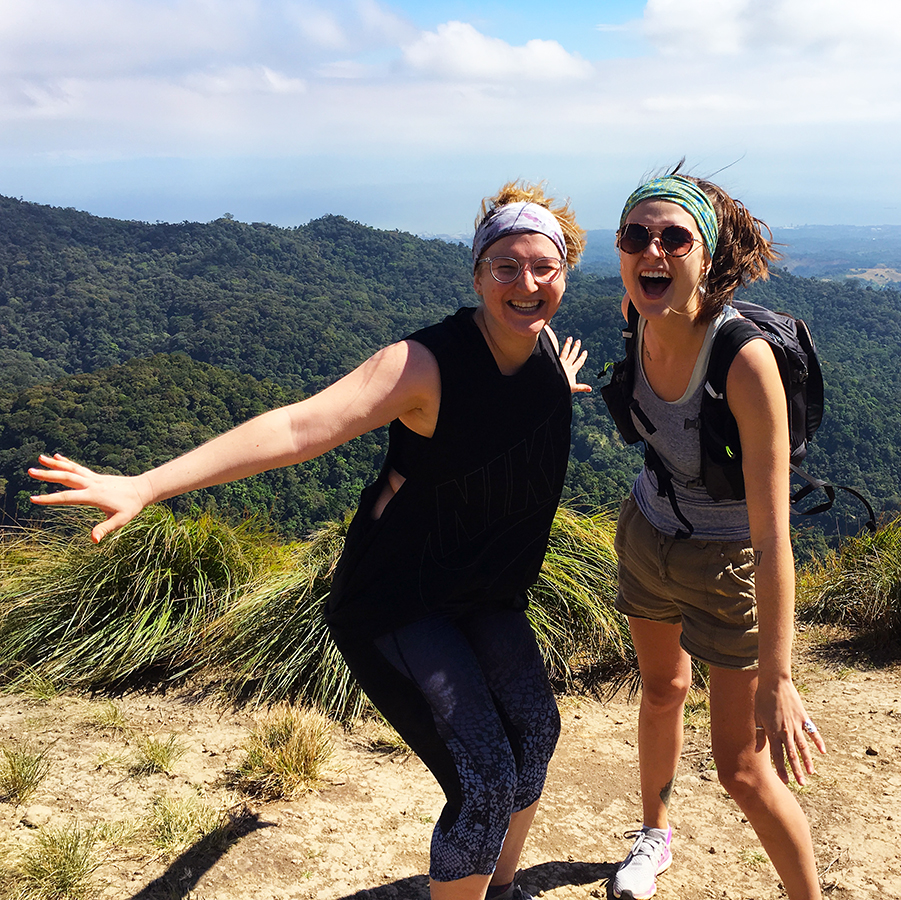 Katie, you've spoken with us about the importance of Nathan products working in tandem. Why is it so important? Because so many of our ultra-athletes use our products that way.
Whether you are looking at our hand-helds, our belts or our vests, we ask the question "Do you have easy access to your nutrition, to your hydration, does it wick moisture and as a whole, can you perform at the highest quality of athletics without the product that you just added to your body? Is the product enhancing your workout and not deter you from your physical best?
We test our products extensively for feedback on VO2 max. What impact do our products have on the different locations on the body, and what effect do the products have on the athlete? We also focus our attention on where the most efficient parts of the body are to put hydration access points for ease of use so a runner can stay hydrated to keep their body moving efficiently.
Anna, did you want to elaborate on that further? Our job is to customize the product for every runner. Our products are technically-driven and must work with and physically perform for every runner at every level to enhance their run.
Is there a different thought process that you have when you create a garment for the elite athlete versus the everyday runner who may want to run only a 5K a couple of times a year? The key is the crossover. The everyday athlete is not so specifically run-focused. We tier our products this way, but we also create an overlap.
We are not marathon runners.  We are crossover athletes.  We try to create a product that will be able to interact with the different needs of all runners. For us, when we are designing product, we make sure that the product performs at its highest level but can also carry over into other settings.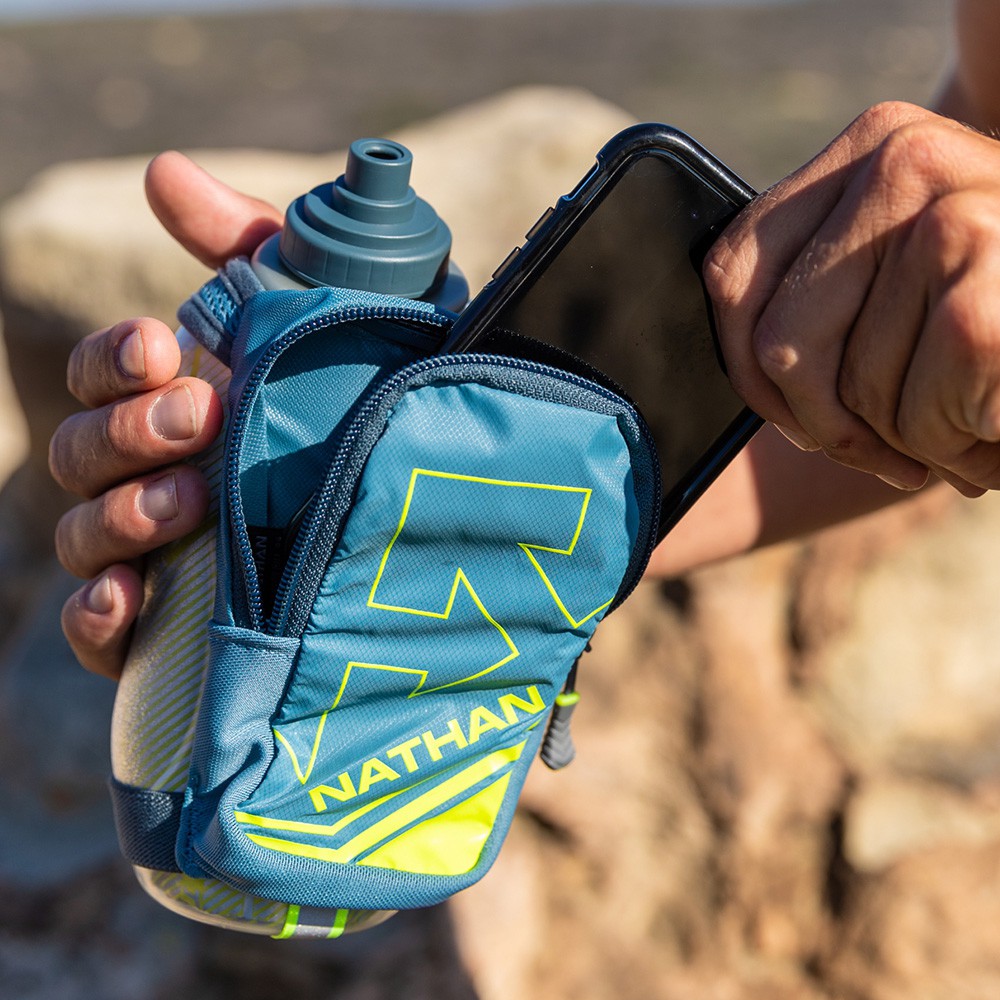 Do you feel that the products you create give runners a sense of confidence? Absolutely. When we are in conversation with all types of athletes, and especially ultrarunners, we hear the same thing; they want the product to be faster, lighter, stronger and products to perform and feel like a second skin. What's really cool about that mentality is that we are working hard to give athletes the sense of confidence they seek that maybe they didn't have when they wore product from a different brand.
For example, when an athlete puts on a Nathan VaporKrar Vest with a soft hand and all of the pocket placements for all of their needs, we've heard from them that it feels like they have their coach with them, riding them through and giving them everything they need during their run.
What are the key pieces in the Nathan collection every mid-level runner should consider purchasing? 
SpeedDraw Insulated Flask — If you have not introduced hydration into your run routine, then you want our ergo-shaped SpeedDraw Plus insulated Flask. The product offers the most natural grip possible in an 18-ounce water bottle. It comes with ample storage and does not affect your stride during your run routine.
Luna Fire 250 RX Run Chest|Waist Light — For visibility, you can't beat the Luna Fire. This is such a great cross-over piece. You can clip it onto your vest, belt or handheld and have a very bright strobe or you can clip it anywhere onto a waist pack and the light projects far so you can be Seen and See.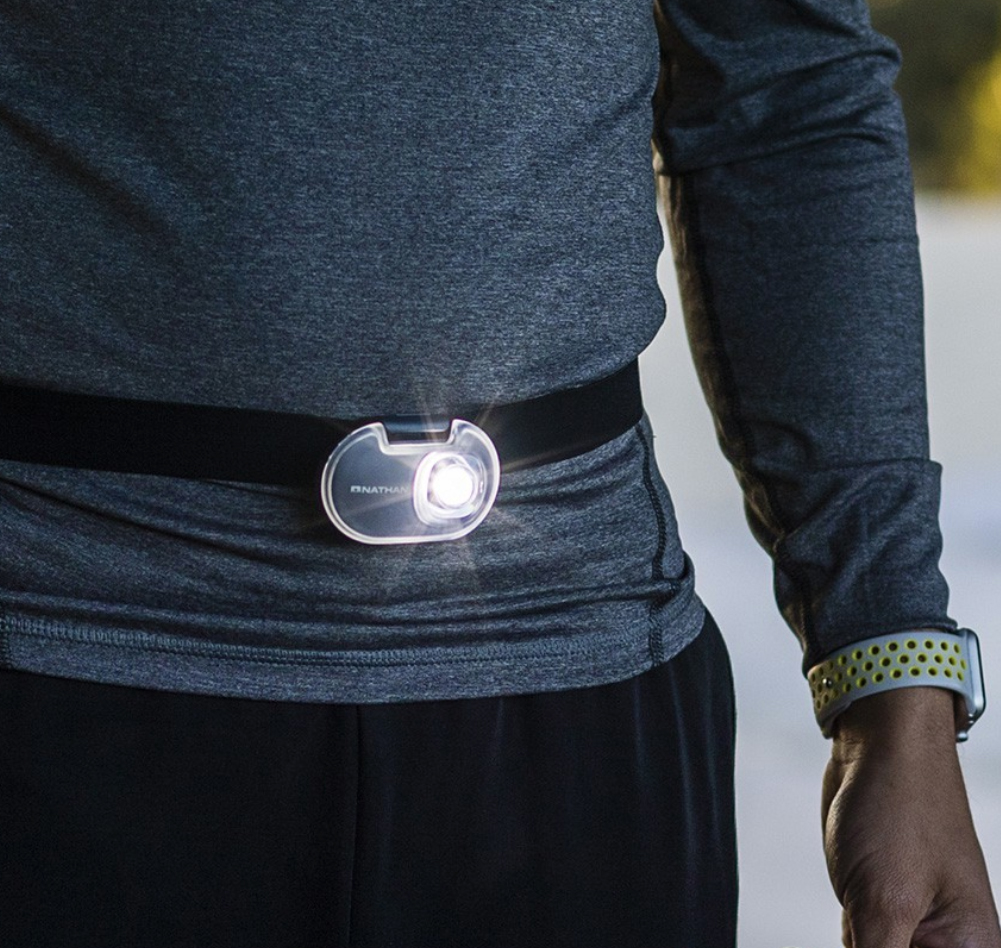 Safety First, Be Seen! is another of Nathan's mantra. Yes. All Nathan products have 360-degrees of reflectivity or lighting because, as a runner, you want to make sure you are 'Being Seen' as much as to 'See'.  Whether you are on the backroad or a busy street, you want the oncoming person or car to know immediately the reflective element is attached to a body in motion.
We work in tandem with highly specialized industrial lighting designers and engineers for the creation of the circuit boards in the lighted product we design in-house.
For a vest, we recommend the VaporKrar vest if you aspire to be an ultrarunner and want a performance piece that gets you driving faster and faster. If you are running as a crossover with hiking and/or biking, we recommend the Trail Mix 12L, it's a great pack to stuff and goes no matter what activity you are performing.
Two vests that get a special mention as our most significant creations to date, the Vapor Air and Vapor Airess. The fit features of both vests are specific to men and women based on the anatomical studies we performed during the design phase.
Whether we are making a vest, backpack or apparel, the human body is a constantly moving and an ever-changing form and woman have many more curves and each woman is different. Torse length and chest-to-sternum ratio drove our pattern making and fitting process for the Vapor Air and Vapor Airess. Hidden in the front pockets is a fit system that allows you to adjust both the measurement around your chest and sternum independently. If you are looking to have journey pieces, these are the pieces that should come with you.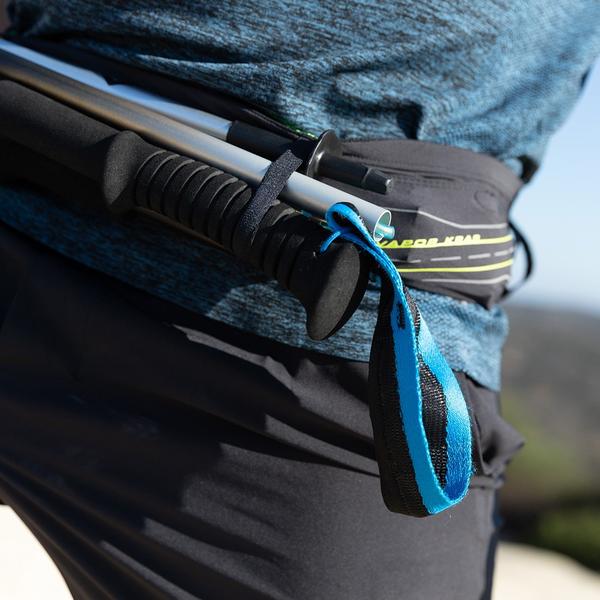 TrailMix Plus Hydration Belt — The bottles are easy to use, the holsters are easy to find behind you, and the back pocket accommodates your phone. The bungees on either side are great for easy stash items. The belt comes with a cord lock to change the tension of the bungees which are removable. This is a no-bounce belt. For a no-bounce fit, you must have side-to-side stretch and a tight fit over your hips. This belt has all that and does not ride up once the stretch is activated.
VaporKrar Waist Pack — There are two "handles" that you can pull to tighten the waist pack so as the reservoir of water gets smaller, you can tighten the pocket against your body, and the bottle will not bounce. We recommend you size up when choosing a waist pack, not the other way around.
Powerwash Laundry Detergent — It's a fantastic product for removing the stink from your clothes! The formula is fragrance-free, plant-based, coconut surfactant that not only removes odors but preserves the technical properties of a performance fabric throughout the lifetime of a garment all the while being eco-friendly to the environment.
You are both such passionate Creators. Yes, we are! We love what we do and love working at Nathan. Our goal as designers is to empower people to achieve things in ways that they never thought possible, make people feel safe and confident as runners and that they feel their best in any environment.
At the center point, Nathan encourages everyone to get outdoors and connect with nature.  Our job as designers is to create products that allow you to do that comfortably and confidently.
Photos courtesy Nathan