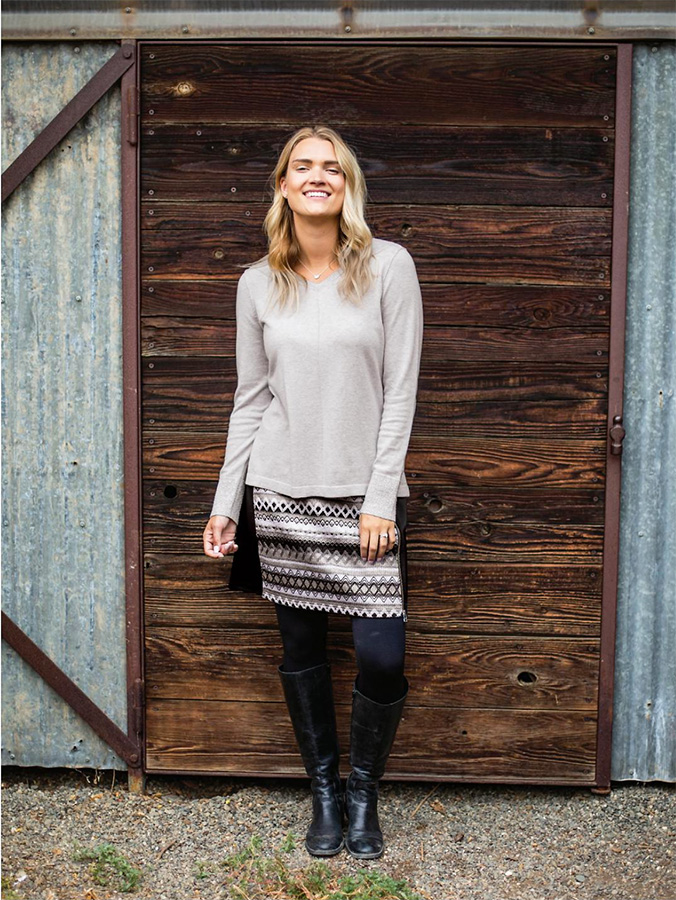 By Teresa Hartford
John Kirsch believes that sustainable style begins with the right fabrics.
Organically grown cotton is the primary fiber found in the Aventura and Ecōths clothing lines with the aim of "helping the Earth, one garment at a time."
The brands are sister/brother to the Sportif label started in 1969 by John's Father, John G. Kirsch, at a time when the outdoor clothing industry was just beginning to take off. The company, based in Los Angeles, was an early adopter of using innovative materials such as Gore-Tex and soon became a private label manufacturer for major retailers such as Eddie Bauer and L.L. Bean.
In the 1970s, the Kirsch's moved to Reno, NV and continued operating the business with their six children each taking part in the day-to-day operations when they reached teen years. Tragically, John Kirsch, Senior died in an airplane crash and John, Junior took over as head of the company at the young age of 24.
In the late '90s, John began researching niche/sustainable products that would carry the family business thru the next 35 years. An invitation to the founding meeting of the Organic Exchange in 2002, now the Textile Exchange, provided the catalyst to begin converting the majority of the family product lines to environmentally friendly fabrics. That same year, Aventura, a women's clothing line, was founded, and in 2014 Ecōths—a combination of the words eco and ethos—the men's casual lifestyle clothing brand was founded.
As Sportif enters its fifth decade, Aventura its second, and Ecōths its fifth year, we sat down with John Kirsch, President & CEO, at Outdoor Retailer last month to talk about sustainability, which is at the forefront of the company's vision.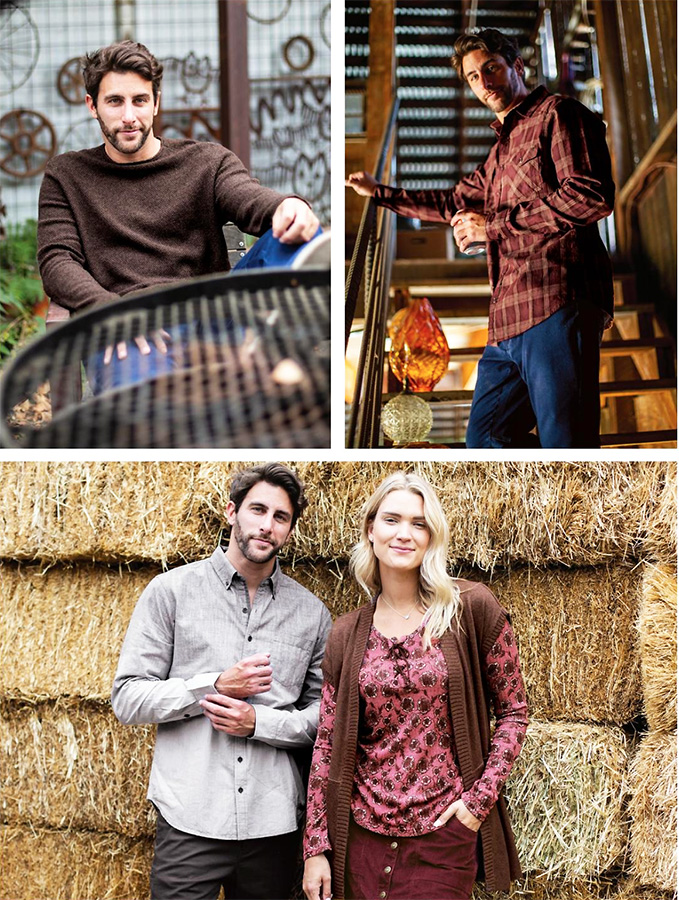 SGB | How do you define sustainability? JK | A system where everyone benefits from transparency and ethical decisions.
In 2002, when we founded Aventura, we were fortunate to be invited to the first Organic Exchange meeting with 15 other brands. We were able to lean on Patagonia's Mountain Equipment Co-op, REI and others and their early groundbreaking work with organic cotton.
Our first collection in 2002 was knitted with a dozen styles. Today, 80-percent of our line is made from low impact textiles, and that is defined as either sustainable, renewable, recycled or organically grown and processed. Also, 50-percent is sourced in Fair Trade Factories*.
In our lines, we use any number of sustainably grown crops—organic cotton, hemp, wool, as well as Tencel Lyocell, Modal & Tencel Modal, and recycled polyester. Where we can use a textile that is better for the environment and better from a social perspective, we will.
In the last several years, we have seen the adoption rate for sustainability grow in the Outdoor Industry. More companies are using organically sourced cotton because the supply chain has built up to support the growing market. As a brand, we are proud to have been at the forefront.
SGB | Why did you add the tagline 'Conscious Origins' to your brand? JK | Because we felt we had critical mass and could tell the story and not feel like we're greenwashing, We were early adopters of organically grown cotton for the right reasons. We didn't mention that we had an eco-line until we were 50-percent organic in 2002. And, when we launched Aventura in 2004, it wasn't until 2010 that we said we had a major green initiative with our line and could define what we considered green in our catalog.
SGB | Is the goal of the brand to utilize textiles that are better for the environment and better from a social perspective? JK | Yes. It's taken a while because organic textiles were not always available. Also, we wanted our products to fit and not shrink.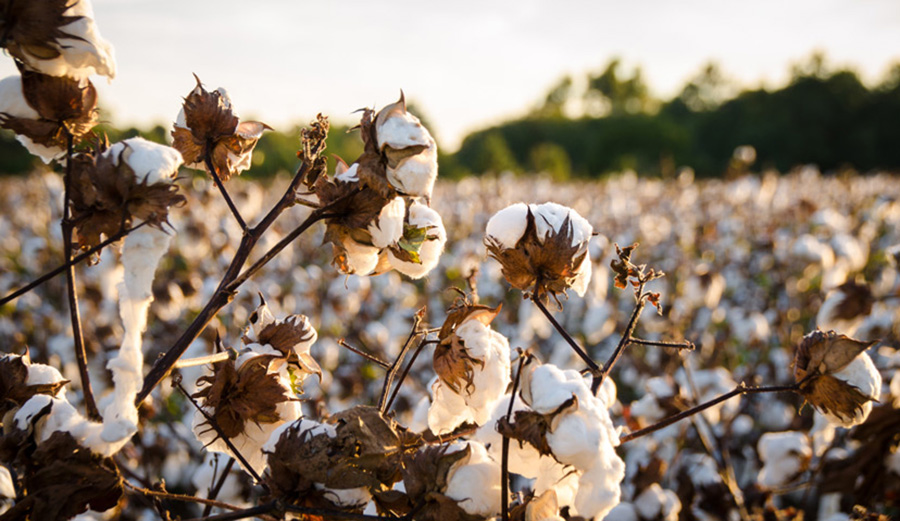 SGB | Why source cotton outside of the U.S.? JK | Because the supply chain for cut/sew and novelty items are not available here. There are no mills and no workforce. You can find factories in LA, which we've worked with, that can make very basic garments, but they're making printed dresses in mass and don't have the ability to make the novelty items. You could never find anyone beside India that can take organic cotton, dye the cones—and in small volumes—weave the yarn, then cut/sew. Knit goods can be made in the states because factories use automated machines. It's not a cut/sew business.
SGB | Why can't the cotton industry be revitalized in the states? JK | You're relying on mother nature and certified organic cotton is more expensive. U.S. consumers are not willing to pay 30- to 40-percent more, which would be the case.
We use factories that are certified. We can go back to any production lot and verify that an item was made from organically grown cotton. That adds cost. Consumers in the outdoor space resonate with environmentally aware supply chain and in most cases are willing to pay extra for it, but the mass market, not so much.
SGB | Do you see the trend growing with Millenials for organically sourced/grown product? JK | Absolutely. They want transparency, and they want companies to be able to prove their promise. And with social media, you have to be ready to defend your claim. And we have.
More companies are competing in the 'green' space, but it's far better for our planet. If you are going to cater to a Millennial or a GenX, they are more demanding of corporate transparency, diversity and inclusiveness, and if you're not, they will go elsewhere.
---
Fair Trade Certified Factories must adhere to rigorous social, environmental and economic standards to protect the health and safety of the workforce. This means safe working conditions, no child or forced labor, elimination of harmful chemicals, maternity leave, and much more. Photos courtesy Aventura x Ecōths