REI's foray into cycling with the introduction of its Co-op Cycles brand last year was a success, and 2018 will see the line expanding and diversifying.
Writer: Carly Terwilliger
For 2018, Co-op Cycles' ADV and CTY lines will debut four new bikes each. Along with the rest of the line, the redesigned ADV series, crafted for longer touring adventures, and the redesigned CTY series, built for around-the-neighborhood and city commuting, were built with input from the co-op's members and employee cyclists.
"We launched Co-op Cycles with a clear purpose – to engage our members and build bikes that reflect how they actually live and ride. It was clear they value simplicity, versatility and reliability, and the team ventured to reflect those values in the design of the initial line," said Paul Calandrella, REI director of cycle strategy. "The approach is clearly resonating with both our members and employees, and Co-op Cycles has exceeded sales goals well beyond expectations in its first year."
Co-op Cycles is leaning into a "trail-first" approach to focus on mountain (DRT), all-road (ARD), adventure (ADV), pavement (CTY) and youth (REV) bikes along with a related line of apparel.
A standout is the ADV 4.2 (pictured below), a burly off-road touring bike that comes equipped with 27.5 x 2.8 tubeless-ready tires, Shimano's SLX component set, ample front and rear racks, 22 gears, Cane Creek Thudbuster suspension seat post, Jones H-Bar handlebar and Magura MT4 hydraulic disc brakes.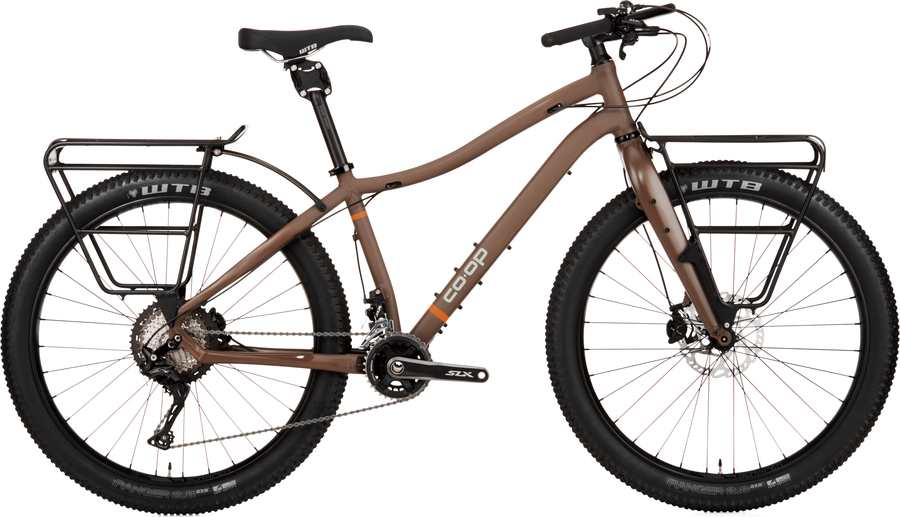 Photos courtesy Co-op Cycles