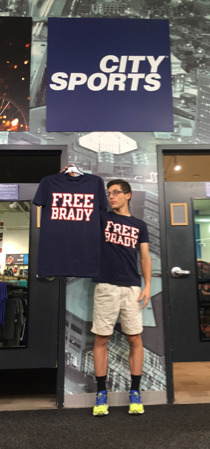 City Sports, the Boston based specialty sports retailer, has ordered and plans to sell thousands of "Free Brady" t-shirts that will be sold in most of its nine Boston locations and on-line beginning this weekend.
The move comes after the New England Patriot quarterback Tom Brady suspension was not overturned by the NFL.
The red, white and blue City Sports T-shirt include neither Brady's image, nor any explicit reference to the quarterback's full name or to the New England Patriots.
"New England's fan support of their beloved quarterback has been overwhelming so we wanted to, in turn, show City Sport's loyalty to New England when his four-game suspension was upheld," said City Sports CEO Marty Hanaka. "When that decision came out, we had to go with it," Hanaka said.
Hanaka predicted sales of several thousand t-shirts which were created by a City Sports designer.
"We saw hundreds of thousands of Brady-related tweets following the decision so we had to do something fun and creative," added Hanaka.