Alpacka Raft, a pioneer of the packraft category, is celebrating its 20th anniversary based in Mancos, CO. With the lightweight float craft category booming, the company has launched new models as it continues to define the category while opening up backcountry waterways for exploration. SGB Executive spoke with its president, Thor Tingey, for his view of the market, two decades in business and the booming paddle sports market that emerged as a result of the pandemic.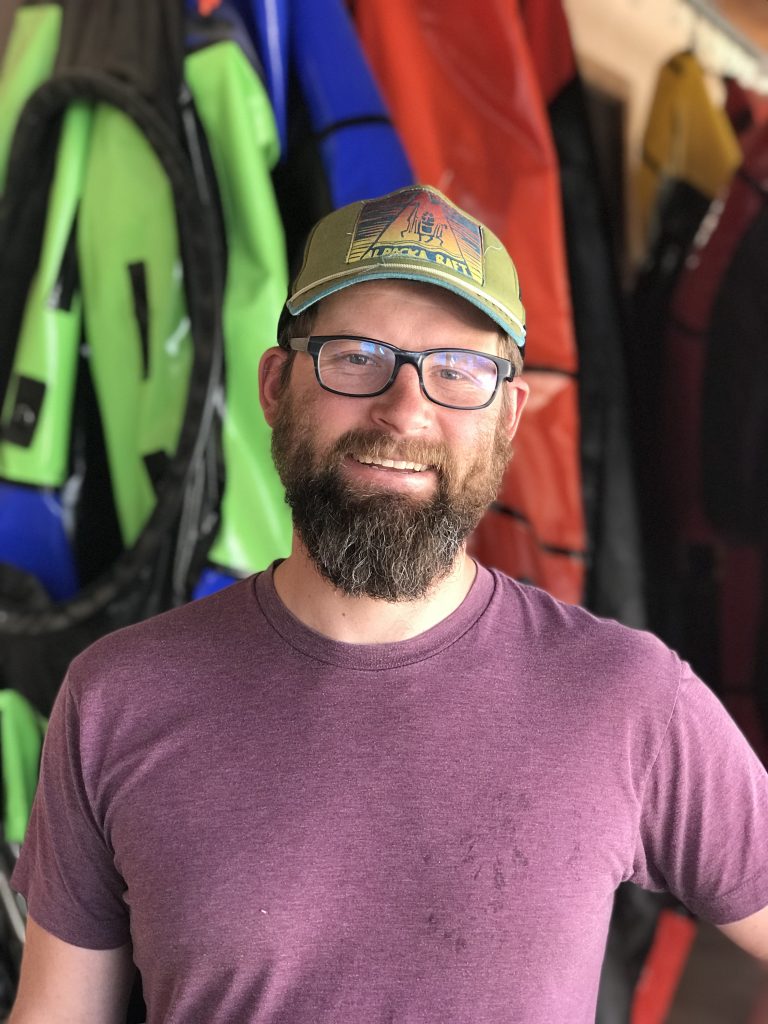 Let's start with the booming demand. How are your inventory levels? We're doing well, but not without some challenges. We build to order, so we don't keep an inventory of finished boats. We're more focused on our raw materials inventory and sourcing. Over 95 percent of our materials and components are sourced in the U.S. We haven't had to deal with shipping delays like companies that manufacture overseas. Most of our materials were easy to source in 2020, particularly our fabrics. That's changed significantly in 2021 as demand for fabrics and other parts has increased. We normally plan and purchase our materials three to four months ahead of time. Now we're working out six to nine months.
But even though we've been able to keep a good handle on our materials, our own build-to-order lead times have grown significantly this year from sales growth. In a normal year, we have about a seven-week lead time during peak season. This year we are running three to four months for lead times. That definitely slowed sales in May as we can't deliver until the end of summer. We haven't been able to increase production to meet demand because we're limited by space, staffing, and the time it takes to train new employees. But since we control manufacturing from start to finish, we're at least able to provide realistic lead times even if they are a few months long. Many brands that rely on third-party manufacturing can't even promise when they might have new stock.
How is the business looking as you head into 2022? We feel good about next season. We'll probably be able to increase production slightly as we hire more staff. And we're in good shape for bringing in materials. But lead times will probably remain fairly long for the foreseeable future.
As for our third-party products like paddles, PFDs and dry suits, we only have enough inventory in stock to fulfill current orders. We've been limited to preseason orders by almost all of our vendors, which requires much longer range planning and forecasting. Some vendors have been very good at meeting their preseason commitments, and others have had much longer delays. It seems to be the nature of the industry right now. We expect those issues to continue well into 2022, and they might even get worse because companies will try to order even more on their preseasons.
Your 20thanniversary is approaching. Did you think the demand for pack rafts would be this strong after two decades of working in the industry? We're thrilled at the level of demand for packrafting, which is popular but without the crazy spike in growth like SUPs. Sales growth has been steady throughout our 20 years, with a few notable big growth spurts. That has allowed our brand and manufacturing to grow organically and respond to demand without having to take giant leaps in manufacturing. It's great to see the sport being more widely accepted as a fun way to enjoy paddlesports.
How were Alpacka's sales in 2020? The global demand for outdoor recreation products hit packrafting hard. We saw about a 75 percent decline in sales in March/April 2020 when the pandemic first hit. But once people learned that the safest thing they could do was to get outside, sales doubled in May of 2020 and didn't slow down for an entire year. They've finally eased off this May, but only because our lead times have grown to three-plus months.
Why the growth? People wanted to be outside in the pandemic, which showed the heavy demand for all outdoor products. The stimulus probably made a significant impact, but we didn't see a notable jump in sales when stimulus checks hit bank accounts.
Did you experience supply-side or manufacturing/shipping issues? We've been fortunate that the vast majority of our materials are domestically sourced, and we manufacture all our boats in-house. We haven't had as many challenges with trying to deal with an overseas factory or shipping; however, we've had to be more on top of ordering raw materials and supplies because the lead times have doubled for almost all of our suppliers. That means if we forget to reorder a critical part, we might be unable to make boats.
What are the latest trends in pack raft design? Our designs are a constant evolution. We have traditional designs like the Classic, which is the benchmark for almost every packraft on the market these days. It's a tried-and-true design that is light, compact and paddles well. We spent 15 years developing it, and it's still the staple of our lineup.
We also have some newer, more innovative hull designs that offer better whitewater performance and better gear carrying capacity. Those are featured on our whitewater boats like the Gnarwhal and Wolverine and our two-person boats like the Forager and Oryx. Our whitewater boats also feature patented four-point thigh straps, which offer great control over edging and even rolling.
We're also working on throwback designs to go back to an ultralightweight (5-pound range), a fully-featured boat with a spray deck and cargo fly zipper. And we have new ideas for different packraft designs that are in various states of prototyping. Very few of these will ever see production, but it's that design process that leads to new boats or new features.
We're always working on new ideas. We just developed a new whitewater hull design in 2020 that we released a few preorders for in Spring 2021.
That's the new Valkyrie. What makes it unique? The Valkyrie is the closest thing to a true inflatable whitewater kayak. It features a new hull design with a long, rockered stern and bow that's very close to a modern creek boat. If you put it next to one of the contemporary sub-9-foot kayaks, the rockers are almost identical. Second, it features our patented four-point thigh straps which make it rollable. Third, it features a special floor design that provides kayak-like secondary stability for edging, carving and catching eddies. Finally, it uses a heavy-duty, 420d nylon fabric that can be inflated to about 2.5-3.0 psi which makes it much more rigid.
We've been working on the design for a couple of years, and it's amazing in the water. While it's been tested in Class V, we see it as the ideal backcountry Class IV boat, which has more appeal. Because it feels more like a kayak, it's the ideal boat for paddlers with a kayaking background or packrafters that have developed skills and want a more high-performance boat.
The only problem is that it's difficult to make. It has more than double the manufacturing time of any other boat. As a result, it's likely to be an annual limited release boat only rather than a regular offering.
What new technologies do you see in the market?  Three things make our packrafts the industry leader: design, manufacturing and materials. Design is something that we can control, and we put most of our resources into new designs rather than marketing. Manufacturing is something we partially control, which is why we build our boats to order in Colorado. We don't control the equipment we use to manufacture, but we are constantly looking at the latest equipment that could help us build better boats. For example, we use multiple forms of fabric welding equipment including RF welders, hot air welders and ultrasonic welders. We also invested in CNC and laser cutting machines to get more accurate cuts of our boats.
One of the main areas for new technology in packrafts is through materials. We're fortunate to have great relationships with our material suppliers and most of our materials are built custom for our boats. The materials make a huge difference in being able to build a boat that is both light and durable.
Are the zippered tubes a game-changer? Yes. The Cargo Fly zippers are the single biggest element that makes packrafts work for traditional trips. Without a Cargo Fly, your pack has to be mounted to the front of your boat. That works great for a backcountry trip, but it's much more cumbersome and limiting for a traditional river trip. With a Cargo Fly, you can easily do self-support trips on all of the major multi-week traditional river trips like the Grand Canyon, Salmon and Yampa.
Did you think that technology would ever come to the bigger raft market? Never say never, but it's unlikely in their current form. The Ti-Zips are incredible in what they can do, but they require a lot of maintenance, and even then they need to be replaced every few years much like a bike chain. The maintenance hassle is a worthy trade-off in a packraft because the zippers are essential for traditional river trips and whitewater handling, but larger rafts don't need zippers to perform well and aren't worth the maintenance. But if someone could design an airtight zipper that didn't have the same maintenance challenges as the Ti-Zip, I think it would be quickly adopted in segments of the larger raft market.
Any efforts in sustainability? Good question. It's difficult with a business of our size to do big sustainability projects, with the corresponding fancy label or acronym, that are easy to market. But there are still meaningful things small businesses like ours can do, and we're trying hard in those areas. These include packaging, energy use and durability.
I am personally obsessed with minimizing packaging. I can't stand the volume of throwaway packaging that I receive. Our goal is that when you order an Alpacka Raft, you should receive only the stuff you need and the box. You can get all of your instructions and product information from our website. It's not the heavily merchandized experience that most consumers expect, but we think it's a huge step towards minimizing waste.
We're fortunate to be based in Southwest Colorado, where we have a ton of sunshine. We're in the process of installing 55KW of solar at our factory, which will power all of our operations. Since we manufacture during the day, this also means that our solar will directly power the factory rather than feeding solar to the grid and then relying on traditional power for our operations.
It doesn't matter how sustainable a product is made if it isn't built to last. Our boats are built for a minimum ten-year lifespan, and there are many packrafts still going strong from our very first years. We also have a lifetime warranty on materials and workmanship and a full-service repair department. That keeps our boats on the water and out of the landfill.
Photos courtesy Alpacka Raft