Cascade Designs retained Sasso Vertical Sales to represent its brands in British Columbia, Yukon Territory and Northwest Territories. The agency also represents Gregory, Edelrid, Ortovox, and DPS Skis and has showrooms in Squamish and Canmore.
Principals include Dale Robotham, Sa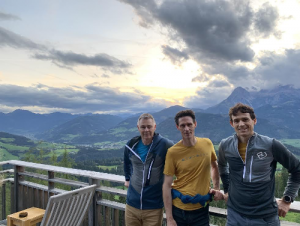 les Representative for the Northwest territories, Scott Milton, Sales Representative in B.C. Yukon and Jeff Perron, Sales Representative in B.C. West Kootenays and the territories up to Revelstoke.
"We're excited to welcome Sasso Vertical Sales to Cascade Designs," said Jason DeJong, Cascade Designs International Sales Manager. "They represented MSR 18 years ago, and we are thrilled to work with them again as their talented team provides 30 years of high-level service, on-point regional market insight and a superior level of technical knowledge of the retailers and outdoor products."
"Our team passionately embraces the outdoor activities and communities that we serve, and we are very excited about the opportunity to help serve and support the Cascade Designs family of brands," Robotham said.
Photos courtesy Cascade Designs/Sasso Vertical Sales