Said Josh Shaw, Mission's founder and CEO, "As a high-performance athletic brand, we look for partners who embody our same ethos, our same focus and our same maniacal commitment to winning, and Hailee truly embodies each one of those qualities in her life."
Writer: Thomas J. Ryan
Mission, co-founded by a number of elite sports stars including Dwayne Wade and Serena Williams, signed the Oscar-nominated actress and multi-platinum recording artist Hailee Steinfeld to become the face and spokesperson of its newly launched women's activewear line.
Steinfeld, at the age of 14, scored an Oscar nod for her debut in "True Grit." Now 20, she earned wide acclaim for her starring role last year as a misfit in the high-school comedy, "The Edge of Seventeen." As a singer who just gave an impromptu performance at Coachella, two of her three singles have gone platinum.
Steinfeld credits dance as her go-to work out, but fitness runs in Hailee's family. Her father is an established fitness specialist to some of Hollywood's elite.
"I've always enjoyed dancing as a way to not only express myself and my music, but also as a great way to stay in shape," said Steinfeld. "Dancing is a true full-body workout. It's fun and it's hard work!"
Signing the Hollywood mega-star is a significant milestone for Mission, which was founded in 2010. Most of its success has come from the popularity of the Mission EnduraCool Instant Cooling Towel, featuring a proprietary technology that cools to 30 degrees below average body temperature when wet. In early March, Mission broadened its thermoregulation ambitions by introducing its first full apparel collection fronted by Dwayne Wade, star guard with the Chicago Bulls.
Powered by 37.5 technology, the Mission VaporActive line offers permanent technology that won't wash out, maximum dry rates that are up to five times faster than leading competitors, and superior odor capture that lasts for the life of the apparel. The women's apparel line features over 15 designs including training shirts, training shorts, sports bras and leggings.
"As a high-performance athletic brand, we look for partners who embody our same ethos, our same focus and our same maniacal commitment to winning, and Hailee truly embodies each one of those qualities in her life," said Josh Shaw, founder and CEO of Mission. "Hailee is exceptional at her craft and truly an athlete in life at every level."
"I'm really excited to work with Mission to not only help design and develop an incredible line of great looking activewear and athletic apparel, but also to bring a brand to market that meets all my active lifestyle needs," said Steinfeld. "I love the fact that I don't have to compromise style and comfort in order to capitalize on the benefits of cutting edge temperature technologies in workout attire."
The apparel is sold on Amazon.com, DicksSportingGoods.com and Mission.com.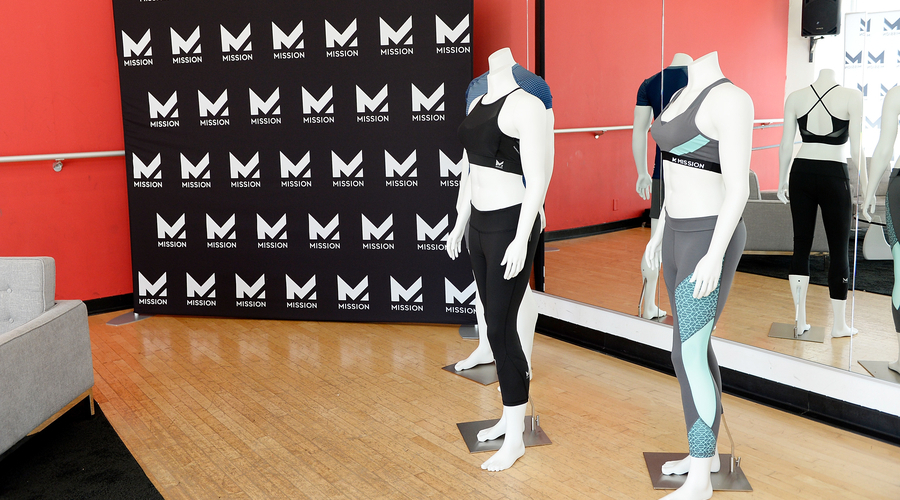 The signing comes as several sports brands have found wide success partnering with models and other celebrities, but working with non-athletes has stoked some controversy. Nike last year was slammed for signing supermodel Bella Hadid, with critics claiming her skinny frame promotes unrealistic stereotypes for young girls. But the trend reflects a merging of activewear and streetwear and continues to gain traction. In the women's activewear area, other collaborations have included Rihanna and Kylie Jenner with Puma, Gisele Bündchen with Under Armour, and Gigi Hadid, Bella Hadid's sister, with Reebok.
Photos courtesy Mission