Cotton is reasserting its place as a performance material, but corners of the market face limitations.
With sustainability at top-of-mind, brands are reconsidering "the touch, the feel, the fabric of our lives" as a natural, biodegradable fiber.
But while exempt from the concerns found with synthetic garments — being petroleum based or shedding microfibers that contaminate oceans — cotton comes with its own set of costs and concerns. Going organic presents an increase in price in the face of a limited supply that looks close to being outpaced by growing demand.
The Organic Cotton Push
Patagonia switched to 100-percent organic cotton 20 years ago, shortly after employees opening a store in Boston complained about the off-gassing from cotton t-shirts. Technical clothes still source primarily from other textile options, but organic cotton is prevalent in lifestyle wear. For a company that often sees other companies follow its lead on environmental improvements, the reality that organic cotton is still less than one percent of global cotton production is mystifying.
"We don't look at it as a failure, but we view it as a little disappointing," said Corey Simpson, public relations coordinator for Patagonia. "We can make better products with smarter, better materials. With organic cotton, we really want people to be aware — it's everywhere, and there's a better way to do it."
Cotton has been challenged as a high-pesticide user — a "dirty" crop — and a water hog. One sustainability advocate said when you know the truth about conventional cotton, there's no question about making the switch. But claims that cotton, for example, consumes 24 percent of pesticides globally were exaggerated, according to Cotton Incorporated's Senior Public Relations Director James Pruden, who cites figures that the cotton industry buys only 5.7 percent of pesticides globally. A ballpark figure of 15 percent comes from the Textile Exchange, a longtime advocate for organic cotton. The historic destruction of the Aral Sea to flood-irrigate cotton fields, he said, was a mistaken philosophy, and now one not deployed.
A Tighter Supply
While Cotton Incorporated, a research and marketing company funded by U.S. cotton growers and importers, is neutral about production methodology, it takes a pessimistic view on the outlook for organic cotton. That market was halved six years ago when India, a leading producer of organic cotton, tightened labeling requirements and disqualified 500,000 bales of cotton. Production still hasn't crept above about half a million bales a year. Just last year, production was down by 3.8 percent. Cotton growers in India, where production decreased 13 percent, fed that decline.
As it stands right now, said Liesl Truscott, European and materials strategy director for Textile Exchange, "brands are having to be careful with their growth targets around organic and working hard to build supply … Demand is definitely growing, so we need to incentivize and encourage and build supply."
Textile Exchange's prediction is that, with the acres expected to soon come online as certified organic, the future looks rosier.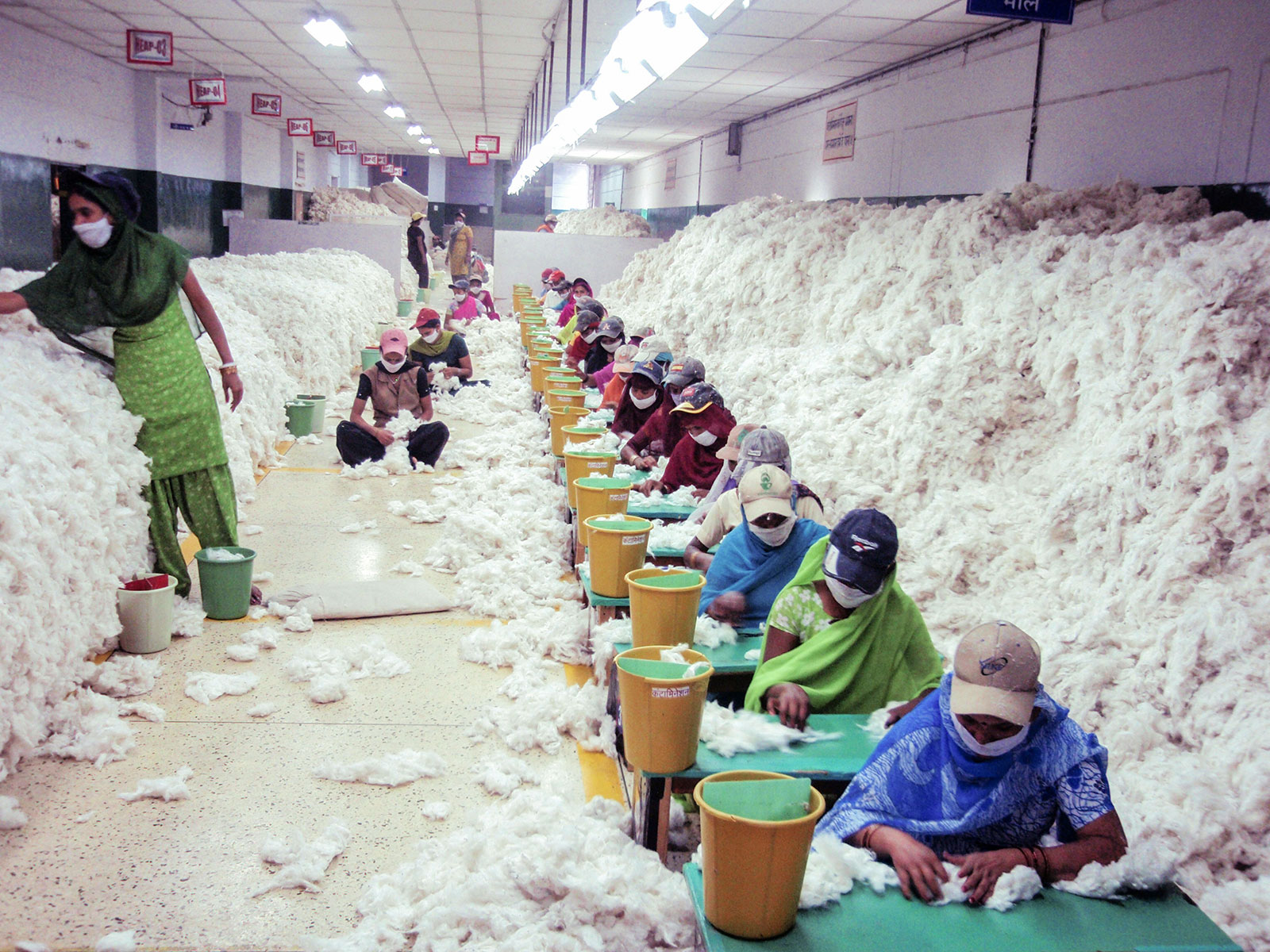 Manually decontaminating cotton before processing at spinning mill in India.
Photo courtesy Organic Cotton Accelerator
There's still a mysterious disparity, though. While brands balk at the additional cost of organic cotton – usually a 20- to 30-percent increase, though some report it as much as double – farmers in India have been dropping the crop because they're reaping 65 cents to 70 cents per pound whether their cotton is conventional or organic.
"If a brand ready to go organic finds from an agent they'll have to pay twice as much for the product and at the same time they're hearing farmers are not incentivized at the farm, these are definitely areas that need addressing," Truscott said. "Obviously, there's up-charging."
Research is underway to track down where in the train of logistical expenses those up-charges are occurring. Several models take aim at increasing transparency of the supply chain, and early indicators suggest the use of "Organic Fair Trade" cotton is poised to grow. Prana, owned by Columbia Sportswear Co., recently got a nod from the Textile Exchange as an "eco-pioneer" for pursuing this "deep green" option.
Cotton 2.0
Brands, manufacturers and farmers are assembling to ensure organic cotton can flourish. The Organic Cotton Accelerator, a coalition of big hitters like H&M, focuses on increasing access to quality organic cotton seeds (much of the conventional seed is genetically modified and cross pollination can contaminate organic growers) and tightening the supply chain. The Chetna Coalition, for smaller brands, is likewise working on improving efficiencies and incentives for organic cotton farmers.
"I think if we can get the business model right, and the investment back to farms right, and support transitional farms and strategic investments, there is a huge potential for it to grow," Trescott said. "I think demand will continue to grow."
In the outdoor industry, Cotton Incorporated is starting not with talking about organic, but with making the case for cotton's place as a performance material. The company has been trying to fight back against the oft-cited "cotton kills" axiom with ad buys in outdoor sports publications and at the Outdoor Retailer trade show.
"Our presence at these shows and in these publications is really to let people know, and let the industry know, that there are technologies that keep all of these inherent qualities of cotton that people like and also address these inherent performance issues," said Cotton Incorporated's Pruden. They've produced Storm Cotton, said to dry 40 percent faster than untreated cotton. Wicking Windows draws moisture away from the body to evaporate. TransDRY blends cotton yarns treated to be water repellent with absorbent cotton yarns for 50 percent faster drying than untreated cotton.
"Are these developments game changers? Are these developments incredible? I don't think anyone sees it that way, but everyone sees it as a trend where cotton is earning a place in the performance arena, and I think the feeling is that it will become more and more important," said David Parkes, founder and CEO of Concept III Textiles. "You're not seeing a massive change from synthetics to cotton, but there is a drift."
After 40 years in the textile business, he said he tries to make a point of staying ahead of those trends, and just met with Cotton Incorporated at Outdoor Retailer Summer Market to talk about adding cotton to their lineup: "I see a different future for cotton that was certainly not on my radar for many, many years."
Synthetic Alternatives
Synthetics manufacturers try to continue hanging on to those high-exertion consumers — the ones not worried about cotton killing them because overheating is more of a concern — with new technologies designed to keep wearers cool while borrowing cotton's advantages.
"We know a lot about how to minimize heat loss, provide insulation, keep people dry and warm," said Karen Beattie, senior product manager with Polartec. "Keeping people cool when it's hot, either outside or inside, is the flip side of the coin. You just do the reverse." The ingredient brand most recently debuted Polartec Delta that blends cotton-similar hydrophilic yarns — meaning they allow for some moisture retention on the skin — with hydrophobic yarns to encourage evaporative heat loss so wearers stay cooler in hot weather or high exertion activities. Outdoor Research, Salewa and Stio will have Delta products in 2017.
Columbia's Omni-Freeze Zero fabric was one of the first to employ a similar technique in its summer wear. And recently Concept III partnered with Coolcore, a chemical-free fabric technology that mixes wicking, moisture transportation and controlled evaporation to keep the fabric cooler than skin surface temperature. Brooks, Cabela's and L.L. Bean have already added it to their lines.
Ultimately, brands' choices will have to hit that sweet spot of performance, price, sustainability and perhaps a little patience.
Video courtesy Polartec