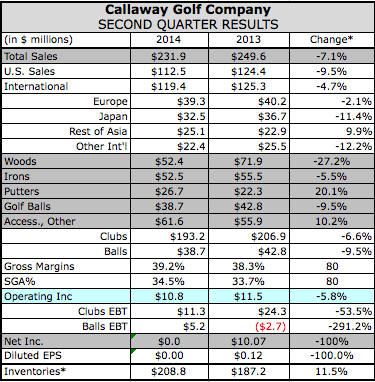 Callaway Golf Co. reported lower sales and profits in the second quarter but asserted that its turnaround is "well underway and positioning it for a return to profitability for the full year." Earnings in the second quarter tumbled 63.7 percent to $3.4 million, or 4 cents a share, slightly better than the company's prior guidance of breakeven to slightly profitable results. Sales slid 7.1 percent to $231.9 million, slightly more than prior guidance of flat to down 5 percent.

The company noted that it previously provided guidance that its sales and earnings would show a decrease in the second quarter as a result of a late start to the 2014 golf season, high retail inventory industry wide, and anticipated promotional activity during the quarter.
On a conference call with analysts, Chip Brewer, president and CEO, said market conditions were indeed "challenging," in the quarter. With chilly weather at the start of the golf season as well as excess inventory, the US hardgoods market was down mid to high single digits year-to-date, Callaway estimates. Japan and the UK were estimated to be down similarly. Added Brewer, "Most retailers are expecting these tough market conditions to continue until new products hit the field later this year and early next."
On the positive side, Brewer believes what while overall industry is "still a little high," it has improved and "is at a manageable level for the balance of the year." He also pointed to a "prevailing sentiment across retail channels that improved inventory and promotional discipline is needed going forward," setting the stage for improved industry conditions overall next year.
For Callaway, the positives were its first-half performance, marked by 10 percent revenue gain on a currency-neutral basis along with an EPS gain of 12 percent. Sales in the first half were up 5 percent in the U.S., 24 percent in Japan and 7 percent in Europe. Callaway' market share grew "impressively in almost all key categories and markets," said Brewer. In the U.S., its overall hardgoods share is at its highest level since 2007. X2 hybrids and fairway woods were both number one selling in their categories during the second quarter, and its overall woods, driver, and fairway woods shares are at the highest level since 2004.
Brewer also said Callaway's team "made excellent strides in addressing field inventory levels in key markets such as the US and Europe." For the back half, Callaway has a "robust product pipeline" of planned launches set and will continue to "aggressively market" the brand.
"We are anticipating market conditions to remain challenging through the balance of this year," said Brewer. "However, we expect that our brand momentum and our continually improving operational abilities will allow us to achieve our full year guidance of revenue growth and profitability."
For the full year, Callaway kept its prior guidance calling for earnings in the range of 12 to 16 cents a share, which compares with a 2013 loss per share of 31 cents. Sales are estimated to range from $880 to $900 million, compared to $843 million in 2013.