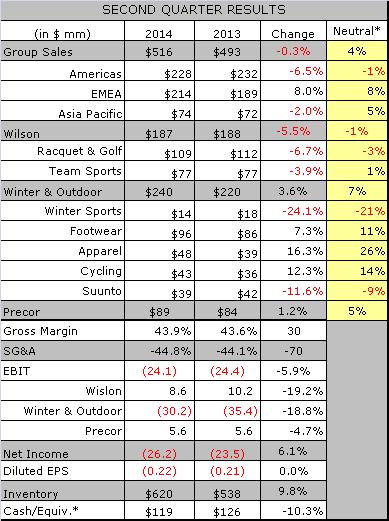 Amer Sports missed its second quarter sales and profit goals, in part due to charges taken at its Wilson/Ball Sports segment, where it embarked on an 18-to-24 month restructuring that is expected to significantly affect results in the back half.
"Today, it's behind in terms of growth and profitability," President and CEO Heikke Takala said of Wilson, which generated nearly 43 percent of Amer Sport's sales but only 17 percent of earnings before income taxes (EBIT) in 2013. "Being such a big part of the company, of course, we need [Wilson] to contribute positively."
The Finnish company achieved net sales growth of 4.0 percent in currency-neutral (c-n) terms during the quarter, as double-digit growth in Apparel, Footwear and Cycling sales more than offset a 1.0 percent c-n decline in Ball Sports, which sells gear and apparel for tennis, golf, baseball and American football. Direct-to-consumer sales were up 24 percent and sales in China grew 18 percent. Laggards included: Russia, where sales declined 11 percent; Argentina, which is undergoing its latest financial crisis; and Austria where U.K.-based Sports Direct International's acquisition and consolidation of Sports Eybl and Sports Experts AG is costing Amer Sports sales.
Gross margin increased 30 basis points to 43.9 percent, better than a year earlier. EBIT excluding non-recurring items was €-17.6 million, compared to a loss of €-18.7 million in the second quarter of 2013. Amer Sports usually loses money in the quarter, but restructuring charges at Wilson created an additional earnings headwind.
"The trading conditions have continued to be quite challenging, partially due to the Winter Sports Equipment market being cautious and due to the political uncertainties especially in Russia and Argentina," said Takala. "However, we continue to have strong momentum in the majority of the businesses, with significant further acceleration opportunities especially in Apparel and Footwear, Business to Consumer, emerging markets, and increasingly in digital products and services. To capitalize on these acceleration opportunities faster, and to speed up the Ball Sports turnaround, we will start the next phase of our restructuring."
Takala noted the 21 percent drop in Winter Sports Equipment (Atomic and Salomon) sales had a negligible impact, since the second quarter accounts for so little of its Winter and Outdoor segment's annual sales. Although pre-season orders for skis, boots and other snowsports equipment are down 4 percent compared with a year ago, Takala said an analysis suggests Salomon is gaining market share.
Still, the segment narrowed its operating losses by €5.1 million, or nearly 19 percent, which Takala said demonstrated the success of the strategic plan Amer Sports unveiled in 2010. By consolidating Atomic and Salomon ski manufacturing operations at fewer factories, the segment lowered its breakeven point.
The improvements enabled Amer Sports to invest in faster growing markets, including helmets, body armor and backcountry ski gear as well as extending apparel and footwear offerings. Arc'teryx and Salomon, for example, have improved styling and launched new products or collections to capitalize on suburbia's growing appetite for technical athletic and outdoor footwear and apparel.
Company wide, net cash flow after investing activities, improved to €-38.7 million during the quarter compared with €-50.0 million a year earlier.
| | |
| --- | --- |
| "The business is OK. Not great. We want to make it great."…Amer Sports President and CEO Hekki Takala | |
"We're now looking at organizing ourselves for the female consumer," said Takala. "We see that the female consumer is the clear trend, and there's significant growth in that segment."
While sales declined 9 percent at Suunto during the quarter, Takala said the brand is now making up those sales shipping its first family of Blue-tooth Smart-compatible products for a September retail launch. The line includes new Ambit sports watches, a heart rate monitor, and smartphone apps. Smart sports watches, like technical outdoor apparel and footwear, have also been embraced as a fashion statement by consumers worldwide, Takala noted.
Losses also narrowed by 4.7 percent at the Fitness/Precor segment on a 5.0 percent c-n increase in both global and North American sales. The segment derived €39.1 million, or about 60 percent of its sales, from North America during the quarter. APAC sales rose 15 percent to €10.2 million, while EMEA sales declined 3 percent to €15.8 million.
Ball Sports was the only segment to report negative growth in c-n terms, due in large part to the restructuring, which triggered €1.2 million in non-recurring charges.
"We got out of some product lines, some subcategories, where we have not had a good track record…to ensure that we reorganize and refocus our attention on places where we really can win," said Takala. "And that means short-term pain for longer term-gain."
The restructuring, which is now rolling through Canada, will focus first on improving gross margins and then seek to re-ignite profitable growth, especially in Individual Ball Sports, which comprises tennis and golf products. In the first phase, Wilson is phasing out low-profit and non-core products. Then it will reinvest the savings in Apparel and Footwear, Business-to-Consumer and digital marketing, products and services.
"Now we need to just ruthlessly start to execute and execute fast enough so that we see the improvement, which we desperately need in order for Wilson to contribute," Takala said.
The restructuring is expected to generate non-recurring expenses of €60 million, much of which will land on the income statement in the second half of 2014. Approximately €25 million of the sum will impact cash flow. Nevertheless, Amer Sports still expects c-n net sales growth to meet or exceed its long-term target of 5 percent annual growth and EBIT – excluding non-recurring items – to improve from 2013. Takala said the company is targeting 45 percent gross margin, 35 percent operating expense margin and 10 percent EBIT margin in 2016.
"Overall, we believe that we will continue building headcount and having a bigger company," said Takala, noting that Amer Sports employs more people than it did in 2009 before announcing its current restructuring strategy. "We just need to free up where we have too much in order to reallocate where we have too little. And the whole point is about renewing ourselves to grow faster."
Takala likened Amer Sports to a non-competitive Premiere League soccer team.
"The business is OK," he said. "Not great. We want to make it great."