By Thomas J. Ryan
"It starts with the runner," said Dan Sheridan, EVP, COO, Brooks Running, explaining how the brand's run-centric focus paved the way for a 27 percent hike in sales in 2020 amid the pandemic. But the performance particularly reflects the payback from recent investments in two areas—establishing a multichannel strategy and creating an internal runner research hub, the Run-Sight Lab.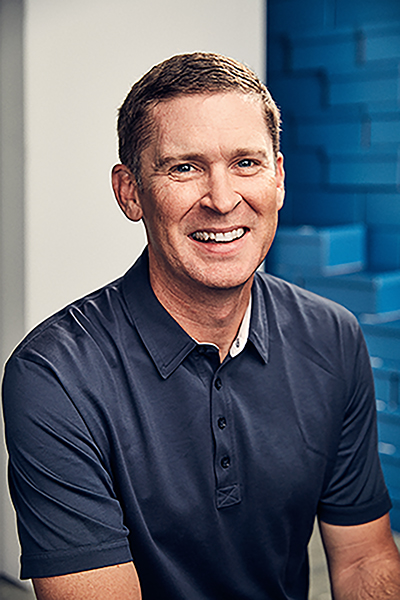 In an interview with SGB Executive, Sheridan said at the start of the pandemic Brooks focused on what would happen to run participation. He said, "Fortunate for us in the industry, more people are running and walking than ever before."
Sheridan said that as gyms and fitness studios began shutting down early in the pandemic, many people who hadn't been running or walking frequently picked up or revisited those habits. At the same time, frequent runners found they were running more.
Anecdotally, participation was undergoing a significant uptick in the U.S., Canada, and Europe, ultimately driving robust growth for Brooks in all key markets in 2020.
"We don't have all the data yet, but based on what we see, we think participation is at an all-time high," said Sheridan. "We sit in the middle of the lifestyle of run, which is why we grew 27 percent last year."
Run-Sight Lab Delivers Runners Insights
While many vendors in the industry also benefited from running's rediscovery, Sheridan believes Brooks, in particular, benefited over the last year from the "deep, deep runner insights" being cooked up inside the brand's Run-Sight Lab.
The Run-Sight Lab was born out of the 2016 launch of its Run Signature program. Based on learnings from extensive studies on the runner and a human's motion, Run Signature has been guiding Brooks' internal design philosophy and innovations over several years, focusing on an individual's unique biomechanics. Externally, Run Signature has helped guide product recommendations for runners.
However, Sheridan said Brooks realized that beyond Run Signature, the brand was missing insights into runners and related consumer insights, including their purchasing journey. The Run-Sight Lab has been in development over the last five years.
"What we developed was a team that's focused not only on biomechanics but the deep insights into what runners want and need," said Sheridan. "How they purchase, where they purchase, what are the adjacencies to their lifestyle, etc. This team now drives massive data for Brooks to build products, programs and solutions."
Insights from the Run-Sight Lab have helped Brooks develop merchandising ideas to support the Run Happy apparel shops inside select run specialty stores. The insights also help Brooks' marketing team communicate with runners from a frequency and reach perspective. During the pandemic, they've been crucial in reengaging runners as stores, running clubs and races faced restrictions during the pandemic.
Brooks quickly identified a mindset shift for those running amidst the pandemic, many of whom are leveraging the run for its mental benefits rather than running to achieve fitness, distance or event-related goals. With this insight, the brand adjusted its communications= approach to help Brooks connect authentically with runners.
Around the supply chain, Brooks' sales and operations team created a process that included a new demand model to replace retailer signals with cues from digital sell-through and running participation. Sheridan said that this customer-focused process by the middle of the year gave the brand the confidence that demand for Brooks exceeded the previous year's sales, prompting a green light to reignite production to secure franchise styles to meet demand.
Sheridan said the uncertainty of managing through the pandemic required continual adjustments.
"We were meeting weekly, if not daily, to manage the supply chain, and it took confidence in us seeing the market," said Sheridan. "It's again back to us seeing the runner clearly to be able to make inventory bets six months out. That's what our supply chain does, and so we were able to do that in a very agile way."
Brooks also benefited from investments and lessons learned from supply chain snafus faced in 2019 when widespread shipping delays resulted from the onboarding of a new distribution facility. The challenges restrained growth t—o a 3.5 percent gain in 2019.
Multichannel Approach Focused On Runner
Finally, the insights coming from the Run-Sight Lab have helped develop Brooks' multichannel selling approach over the years and significantly disrupted during the pandemic.
Sheridan said Brooks' strategy does not prioritize sending customers to Brooks' direct channel over other channels but lets the runner decide how and where they want to shop.
He said, "We focus on the runner and how they're shopping. They're in charge."
Sheridan added, "We know that runners shop across channels. They are not loyal to one. We know that through surveys and NPD data. Our entire focus is a sophisticated multichannel strategy to empower the runner to try our brand in every channel they want to where we distribute and, more importantly, to light up the digital channels."
As brick & mortar retail faced closures with the pandemic's arrival and has continued to face restrictions, online became critical. In the early days during the widespread store closures, Brooks' sales online shifted north of 75 percent and stabilized 46 percent by year-end.
Sheridan credited Brooks' run specialty and sporting goods' partners for how they embraced curbside pickup, delivery and other virtual ways to serve consumers' needs during the height of the pandemic. He said, "Our retail network, which, before the pandemic, made up almost 90 percent of our units, fared well. They were entrepreneurial, and they absolutely shifted to how the runner was shopping."
He also believes that the fanfare over online selling, the local specialty run store remains the center of the run community.
"What's unique is it's a collection of 10,000 running groups around the U.S. Nobody owns running," said Sheridan. "No channel is going to own running. It is local at its root, and the owner and the staff members are the best editors of performance products. They are so relevant to runners that people continue to seek them out to get their recommendation on products through all this disruption. Therefore, specialty run remains critical to our strategy to grow, and it remains critical to growing the sport."
Sheridan said supporting run specialty's online selling journey is a significant part of Brooks' multichannel strategy. Steps include working with Locally.com to enable runners to shop at Brooksrunning.com to make a purchase at a local store to supporting vendors and drop shipments, where Brooks sends an online order to a customer on behalf of the store. Brooks' "Endless Aisle" program enables stores that may be missing color or a size a customer wants to drop-ship through Brooks to save the sale.
"We've done a ton of work to get our brand a presence in specialty run and then drive demand to those stores through our digital channels," said Sheridan. And in doing that, we're going to drive sell-through and ultimately margin for the local retailer."
Brooks Seizes Market Share
For Brooks, sales reached $850 million in 2020, and the brand grew market share around the globe. At retail, Brooks was the No. 4 adult performance running footwear brand in the U.S. in 2020 with an 8.5 percent dollar share, up 1.8 points year-over-year. In the same period, the Ghost became the No. 1 franchise for adult performance running in the total and run specialty markets combined. Another outperforming model was the Adrenaline GTS, which grew over 25 percent.
Brooks gained more than 3 points of performance running dollar-share among runners in 2020 compared to 2019, and for the first time became the No. 2 brand among runners based on dollar-share position. Within the final two months of 2020, Brooks was the number one adult performance running footwear brand in the athletic specialty/sporting goods (ASSG) channel.
The apparel side faced more disruption with a planned run bra launch challenged by store closings in the spring of last year, but the brand's high-visibility apparel has recently seen more momentum as people have kept running through seasons in inclement weather.
In 2021, Brooks launched the Glycerin 19, which is picking up traction amongst runners. Simultaneously the brand launched the Glycerin GTS 19, which is the "go-to-support" option to ensure runners who need additional support can reap the benefits of the plush Glycerin style.
Overall, Sheridan expects to see healthy demand for running to continue. He noted that trend towards the outdoors and embracing active lifestyles has been building for several years, and more people have discovered its benefit during the pandemic.
"We believe the run's for everyone, and I think during a pandemic, we saw this come alive," said Sheridan. "Our purpose of why we exist is that we believe a run can change a day, a life or the world. And we're seeing that right now as more people get out and run."
Brooks is also encouraged to see increased frequency as existing runners have run more during the pandemic. Outdoor trail participation is witnessing an uptick to support another crop of runners with a unique experience.
"I think this is going to be sticky for the industry," said Sheridan. "So performance product is what everybody deserves, and Brooks sits in such a perfect place for this trend."
One concern remains the supply chain with congestion at U.S. ports causing some delays across the industry. Sheridan said Brooks would remain agile similar to 2020, and expects its sole focus on performance run will aid in supply chain execution but admits to significant constraints in the months ahead. "The unsung heroes in this industry will be those executing on the supply chain side," he added.
Photos courtesy Brooks