By Thomas J. Ryan
"This is a humbling time given the uncertainty of the path the health crisis will take and its impact on the economy," Jim Weber, the CEO of Brooks Running Company, said in an interview with SGB Executive. Seattle was one of the first hot spots in the United States' COVID-19 epidemic and it's the home of Brooks.
Weber was named president and CEO of Brooks in 2001 and has earned credit for building the brand into the dominant footwear leader in the run specialty channel.
Here, Weber talks about the many ways COVID-19 has impacted Brooks, the brand's recovery plan and running's fresh appeal amid shelter-at-home life.
…
How has the coronavirus impacted the Brooks family? This is, first and foremost, a health crisis, so our priority must be the safety and health of our employees. We are a global company, so we have been managing the effects of COVID-19 in Asia since January. Right now, all Brooks employees in North America, Vietnam and Europe who can work from home are doing so. Our supply chain has proven to be incredibly resilient and is largely operating normally. We made the decision to close our two retail stores in the Seattle area, and those employees are being paid per their regular schedules while the stores remain closed. Our distribution center in Indiana is operating as an "essential infrastructure" business, and we are fortunate to have our team there, delivering Brooks products to customers. We have taken many actions to protect employee health at our DC, including reducing the length of shifts to avoid overlap between employees while continuing to pay for full 40-hour weeks.
What's your recovery playbook? This is a humbling time given the uncertainty of the path the health crisis will take and its impact on the economy. We do believe running will make the cut as people seek normalcy and activity in their lives. Running remains convenient, affordable, accessible and in sync with the new physical distancing regimes in most communities. Anecdotally, we are seeing new runners in the streets and neighborhoods as people seek out ways to stay active, work through anxiety or stress, and connect to a source of positivity during a tough time. It is conceivable that one year from now we will see more people running than ever before.
At an industry level, we are thinking of this crisis in phases: First, in phase 1, while retail stores are largely closed, demand is depressed and being met online and with curbside pickup. In phase 2, stores reopen, and runners begin to return to retail while excess inventories are addressed. We think markets will be messy for a while. In phase 3 and beyond, running and retail markets will stabilize, and inventories will be in sync with demand. At Brooks, we are tuning our playbook to get through this as a business, team, and brand with the goal of standing tall when people come back outside.
What were some of the easy decisions versus the harder ones that the company has faced so far as its dealt with the pandemic? Easy decisions? Are there any? OK, for me, it is the work-from-home morning decision on whether to put on blue or grey sweatpants!… Truthfully, it's devastating to see so many partners in our industry experiencing store closures, furloughs and layoffs during this time. At Brooks, our goal is to continue executing our runner-focused strategy with our team in place, which requires a sense of urgency and bias toward action to be nimble in response to the changing situation.
What's your message to employees? There are two things we believe to our core: First, everything we do that matters to our customers—from a great product to runner engagement—is driven by our people. We are proud of our team at Brooks. Second, running is going to make the cut and may even play a more important role for people as we emerge from this crisis, and we want to be there for the runner.
How are you working with your retail partners? We are on the phones daily with retailers and running store owners to understand how they are responding. The scale of our frozen consumer economy from restaurants to retail is stunning. While stores are closed, we are trying to flex wherever we can. One of the first things we did is create a "shop local" initiative where runners can purchase directly from running stores through our website, and we will cover the costs of curbside pickup or same-day delivery. We've seen a great response to this since it launched.
How has the supply chain been impacted so far, or what hurdles do you see the pandemic causing in securing and moving product? Is inventory overhang already a concern? The supply shock was challenging, and now it is being followed by an equally challenging demand shock. Inventory is a big deal in our industry, particularly in performance products with lead times that are still long. Our sourcing partners first struggled with closures driven by stay-at-home orders deep into the tier two and three supply networks. Now they are coping with the demand shock as new factory orders are down 30 percent plus as brands work to bring inventories into line following retail store closures. In the end, we think Brooks' network has staying power, and we will all adjust through this cycle.
What's your take on how the pandemic may impact the sport or activity of running?As we have seen, this health crisis has had a devastating impact on our sport. Major events from the Olympics to the Boston Marathon have been postponed or canceled along with hundreds, if not thousands of smaller community race events. Schools and colleges are closed, so Spring Track & Field and other sports that include running as cardio cross-training are canceled. Yet, people are still running. Millions are finding a way to get outside and run.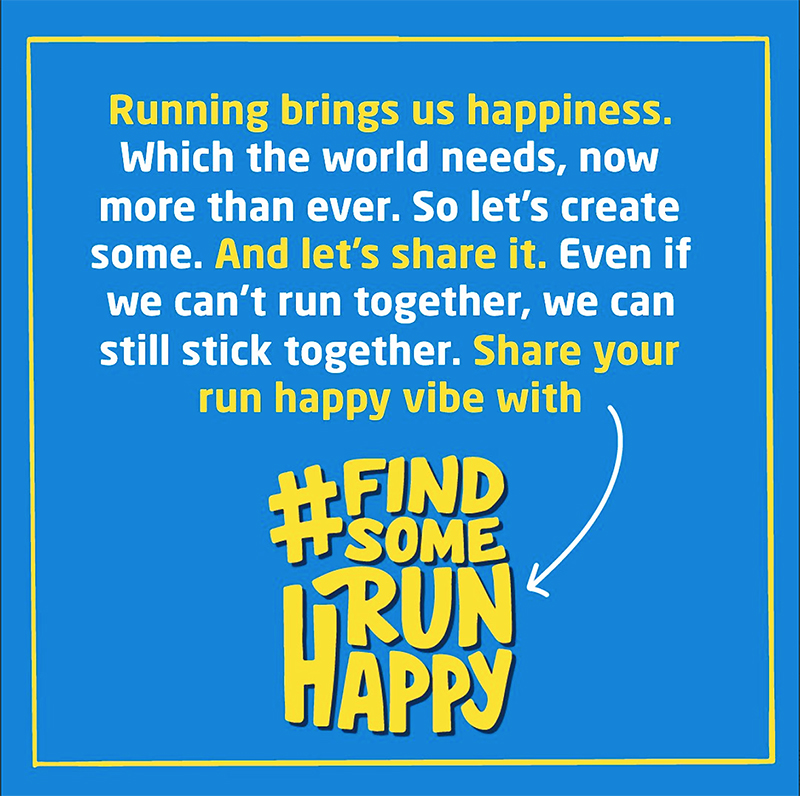 Have you seen any innovative solutions to help keep sales and runners still engaged at this time? Last week we kicked off an initiative called #FindSomeRunHappy on our social media channels. It's as simple as it sounds—we're celebrating what we know and love about the run and inviting the run community to join. We hope rallying runners everywhere to virtually unite and find the good along their own path will bring some positivity to all.
Many expect all this social distancing to change shopping behavior as people are ordering online much more and even using in-store pickup, etc. What's your take? As long as social distancing remains a best practice to stay healthy, it is clear the retail experience needs to adjust. With stores closed, digital shopping, virtual fittings, and curbside pickups are helping fulfill runners' shopping needs. When stores reopen, we see people coming back to stores because the curation, connection, and education offered by the best retailers in running will still be valued. At the margin, the behavior could change, but we think distinct choices across brands and retailers will survive.
We're seeing some increased interest in running. Do you see any other silver linings arriving out of the current challenges? At Brooks, we came into this crisis with great momentum, a well-positioned brand for our sport, the most exciting product pipeline in our history and a team and culture that was executing at a high level. For me, the silver lining of this crisis is the reminder that you should never take life or business for granted. There are no guarantees, so it is best to start each day both grateful to have a chance to make a positive impact and prepared to be resilient no matter what you encounter along your path.
Photos courtesy Brooks Running Company