By Eric Smith
The third quarter saw Duluth Holdings Inc., better known by its dba name of Duluth Trading Co., open three stores, bringing its brick-and-mortar total to 58. That number has since grown by another three, giving Duluth 61 retail locations.
While the notion of physical stores might seem antithetical in today's click-and-buy e-commerce landscape—supported by last week's Black Friday and Cyber Monday online sales figures—Duluth sees them as a critical point of entry for consumers, even as the company's store buildout has moderated in recent quarters.
By getting customers in the door through a variety of means—in-store events, sales, "buy online, pick up in store" offers, etc.—Duluth believes it can create the all-important (and sometimes elusive) stickiness that retailers covet.
Stephen Schlecht, Duluth's founder, interim CEO and executive chairman, told analysts Thursday morning that the company's strategy is gaining the right amount of traction at the right time.
"I believe we entered the fourth quarter better prepared to serve our customers at any time in the last two years," he said on Thursday's earnings call.
Much of that optimism revolves around Duluth's physical store location, which is at the heart of an omnichannel strategy that involves selling to customers wherever and whenever they want to shop and purchase.
So even as new store announcements taper, look for the emphasis on brick-and-mortar to grow as part of a larger customer acquisition play.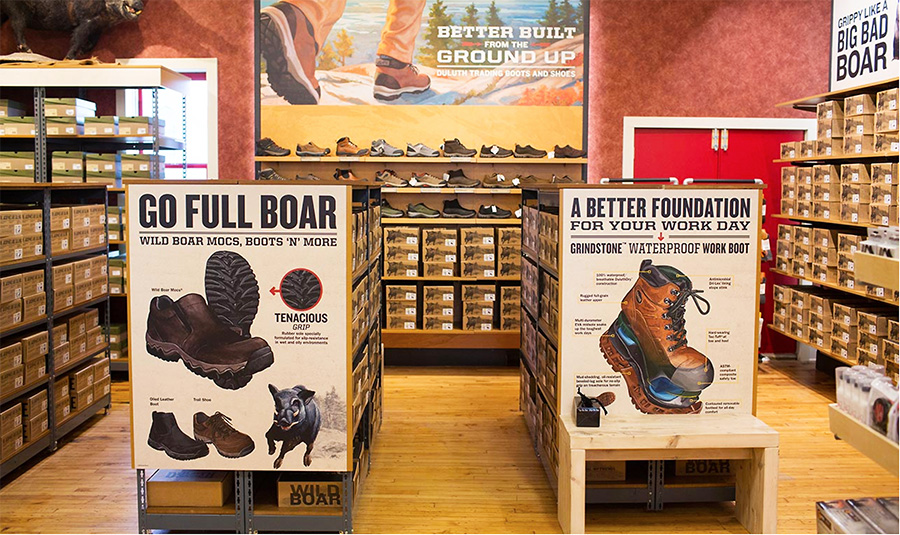 "While we announced last quarter that we were moderating our retail expansion, stores play an important role in building brand awareness and driving meaningful growth," Schlecht said. "In the third quarter, stores contributed nearly 50 percent of our top line, and they are critical to our omnichannel strategy to deliver the experience that today's customers demand, shopping, when, where and how they want. Now that we have BOPIS [buy online, pick up in store] and ship from stores capabilities, we are just beginning to see their potential."
In the third quarter, 13 percent of Duluth's direct sales were fulfilled from store inventory, "which supports improved customer service and enhanced inventory flow," Schlecht said.
He is especially upbeat about the way customers have adopted the convenience of ordering online and picking up in stores. What's more, a third of BOPIS customers bought additional items while in the store during Q3.
"Optimizing our retail stores and infrastructures is how we'll improve the ROI on the investments we have made over the last couple of years," Schlecht said. "We're also intensely focused on areas that need improvement. Driving traffic to our stores is a top priority. Even though we put our stores where our customers are, we still need to create greater market awareness through local advertising and in-store events."
This was only the second earnings call that Schlecht has overseen since returning to Duluth's top C-level post. He took over as CEO in September when Stephanie Pugliese resigned after 11 years with the company and more than four as its top executive.
When asked about what surprises he saw upon his return, Schlecht said, "We've gone through some growing pains with the rapid store expansion we did with bringing in new systems and new logistic inventory systems that we're using, IT systems. So that created a sort of a drag this last 24 months, and we're coming out of that. So I am fairly well. I feel the brand is solid. I think our systems are in a better place than they ever have been in the last couple of years. We've got a couple to complete yet, but the overall health of the business is good. Challenging environment out there but that's something a little bit out of our control. We're learning a lot about how to work this omnichannel program between the stores and the markets that the stores are in, and our direct business."
The direct business was indeed at the core of some "challenging demand trends" that Duluth faced in the period, Schlecht added.
Direct product sales were up 2.9 percent as reported, but Q3 benefited from the 53rd-week calendar shift, so excluding this anomaly, direct sales were down slightly for the quarter.
Jim Duffy of Stifel made mention of the company's direct challenges in his note to investors: "Duluth Trading is a unique brand and the Direct business enjoys compelling per customer economics. Green pasture opportunities in the basics, hobby/workwear, and everyday casual footwear and apparel market are supportive of growth potential, but pains in the Direct business growth increases dependence on Retail expansion for which proof of concept is nascent. With slowing Direct sales and growing Retail dependence, visibility to capacity for margin improvement is challenging."
Schlecht added that Duluth Trading will initiate an executive search for a permanent CEO "probably in the first, if not the second quarter of next year."
"We're going to do that carefully," he added. "And one of the things I've been trying to do is make sure that … I'm well informed about what the qualities are, the background experiences that we bring, what we're [going to] be looking for in our next CEO here."
Shares of Duluth Holdings Inc. (DLTH) were up $1.92, or 24.6 percent, to $9.73 at market close Thursday.
Photos courtesy Duluth Trading Co.