Covering the revenue haul on Thanksgiving, Black Friday, Small Business Saturday on through to Cyber Monday, a number of favorable reports arrived proclaiming a healthy start to the 2018 holiday shopping season for retail. Although online appears to again be seeing over-sized gains with a boost from mobile purchases, brick & mortar traffic also appears to be recovering or at least stabilizing.
Many of the early figures on the results over the weekend through Cyber Monday came from Adobe Analytics, which tracks transactions at 80 of the top 100 U.S. retailers.
Among Adobe's findings:
Thanksgiving online: For the first time online prices on Thanksgiving Day were as low as on Black Friday with consumers taking advantage of those deals in record numbers, making Thanksgiving Day the fastest growing online shopping day, with 28.0 percent year-over-year growth.
Black Friday online: A record $6.22 billion was spent online by the end of Black Friday, an increase of 23.6 percent year-over-year. On Black Friday, smaller retailers were 8.6 percent better than large ones ($1 billion or more in annual e-commerce revenue) at getting visitors to fill online shopping carts.
The Thanksgiving weekend online: The weekend marked the biggest online shopping weekend in U.S. history at $6.4 billion with deals extended through Sunday ($3.0 billion on Saturday at 25.5 percent growth YoY / $3.4 billion on Sunday at 25.6 percent growth YoY).
Season-To-Date Through November 25: $50.6 billion have been spent online to-date (11/1 – 11/25) at 20 percent growth YoY, with $15.3 billion from smartphones (56 percent growth YoY). Thanksgiving drove $3.7 billion (28.0 percent growth YoY) and Black Friday $6.22 billion (23.6 percent growth YoY).
Cyber Monday Off To Strong Start: As of 10:00 a.m. eastern time, Cyber Monday revenues had reached $531 million in online sales and was on track for a $7.8 billion day, up 18.3 percent. The outcome would make Cyber Monday '18 the biggest online shopping day in US history, with over $2 billion in online sales expected to come from smartphones
Adobe also identified a number of underlying trends:
Mobile shopping grows: Black Friday purchases made on smartphones smashed the current record ($1.4 billion) set on Cyber Monday 2017 with over $2.1 billion of sales coming from smartphones. Over one-third (33.5 percent) of online Black Friday sales were made on smartphones, compared to 29.1 percent on Black Friday last year.
Bigger Ticket Online: Consumers are also getting more comfortable buying more and bigger ticket items online. Average Order Value (AOV) set a new record for Black Friday (at $146), up 8.5 percent YoY.
Click-and-collect expands: Click-and-collect orders grew 73 percent from Thursday to Friday.
Discounts: As of Black Friday, highest discounts are in computers (discounted 17.8 percent on average), followed by TVs (down 18 percent) and toys (down 27.1 percent). Expect the best deals on Cyber Monday to be for toys. On Giving Tuesday, pet products (down 22 percent) and furniture & bedding (down 13 percent) will see the best deals.
Top Promotion Drivers: Direct site traffic ranks highest for driving sales this season at 27.2 percent share of sales (up 0.3 percent YoY), followed by paid search at 24.0 percent (up 6.1 percent YoY), natural search at 20.8 percent (down 5.5 percent YoY), and email at 20.4 percent (up 2.6 percent YoY)
Small Business Saturday online: The early hours of Small Business Saturday saw $400 million in online spend (24.3 percent growth YoY) as of 10 a.m. ET and on track to set a new record making Small Business Saturday a $3 billion online sales day for the first time.
Some debate ensured over whether in-store traffic was improving.
RetailNext, which uses cameras to track people in both mall-based and stand-alone retailers, estimated traffic at U.S. stores fell between 5 percent and 9 percent during Thanksgiving and Black Friday compared to 2017.
But a poll of 60 U.S. mall managers from real estate services provider JLL found the wide majority reporting flattish traffic. ShopperTrak also found that traffic fell only one percent over the two-day period, improving from the 1.7 percent drop in 2017.
"The fact that the combined shopper visits remained almost the same this year compared to the last three years proves that the notion of Black Friday not being popular anymore is a myth," said Brian Field, senior director of global retail consulting for ShopperTrak, in a statement. "Shopping in physical stores during the holidays continues to be an exciting annual event for consumers and based on the Black Friday traffic data, retailers are in for a successful holiday season."
Some media reports indicated that some malls were packed over the weekend while others saw light traffic, indicating that the gap between healthy and unhealthy malls is likely widening.
Among the other reports:
The International Council of Shopping Centers (ICSC) found that an estimated 151 million people visited a mall or shopping center over the weekend. ICSC found that 49 percent of shoppers spent more than in 2017, and 30 percent spent the same as last year. Gift-buying claimed the largest share of this spending, with shoppers spending an average of $227.70 on Thanksgiving and Black Friday. The shopping is not expected to stop on Black Friday, as adults surveyed planned to spend $189.90 on the Saturday and Sunday after the big day. Said Tom McGee, president and CEO of the International Council of Shopping Centers. "More shoppers visited their local mall or shopping center this year than last year, proving again that this holiday season is going to be strong and that consumers want to spend money on gifts for family and friends."
Four-day Black Friday weekend sales totaled about $60 billion, according to analytics provider Customer Growth Partners. Consumer electronics and appliance sales rose 6.4 percent vs. CGP's estimate of 6.1 percent growth, while apparel sales rose 5.4 percent, in line with the firm's projection, but still the best growth since 2011.
Real-time figures from Mastercard projected that overall sales totaled $23 billion on Black Friday alone. That's up about 9 percent from the day after Thanksgiving last year. Mastercard projects that overall holiday sales from November 1 through Christmas Eve should grow by 5 percent this year.
Total spend for Black Friday weekend is predicted to reach roughly $59.6 billion, according to estimates by GlobalData Retail. That would represent an increase of 5.7 percent over sales during the same period last year — Thanksgiving Day to the following Sunday — and the best growth rate in the United States since the post-recession Black Friday boom in 2011.
The top 10 shopping apps on the U.S. App Store added half a million first-time users on Black Friday, up 16.3 percent from the same day in 2017, Sensor Tower Store Intelligence estimates show. Overall new shopping app installs on the platform grew 9 percent year-over-year to approximately 1.8 million. Amazon topped the ranking of most-installed shopping apps, as it did last year, but runner-up Walmart posted more significant year-over-year-growth. The charts below rank the top 10 overall, brick-and-mortar, and online-only shopping apps for Black Friday 2018.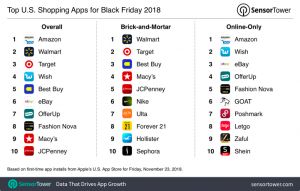 Image courtesy Dick's Sporting Goods