Wrote the New York Times in a review, "Not since Jack Nicklaus ambled down the fairway in plaid Sansabelt trousers has golf wear looked this wonderfully gauche."
Writer: Thomas J. Ryan
Bill Murray and his brothers are back again with the first spring line from the William Murray Golf collection.
First launched last fall and quickly selling out, the lifestyle and apparel brand created by the comic legend and his five brothers (Ed, Brian, John, Joel and Andy) continues to break away from traditional golf apparel companies by bringing "a new look and feel to the industry with a little irreverence and a lot of style."
The spring collection, which will be available exclusively at williammurraygolf.com, will consist of new polos, golf buttoned downs, shorts and hats in various styles and colors inspired by the Murray brothers.
Wrote the New York Times in a review, "Polos in tropical flower patterns and baggy shorts of aqua camo hark back to the 1970s, not only in their loud patterns and colors but also in the combustible material — 92 percent polyester. Not since Jack Nicklaus ambled down the fairway in plaid Sansabelt trousers has golf wear looked this wonderfully gauche."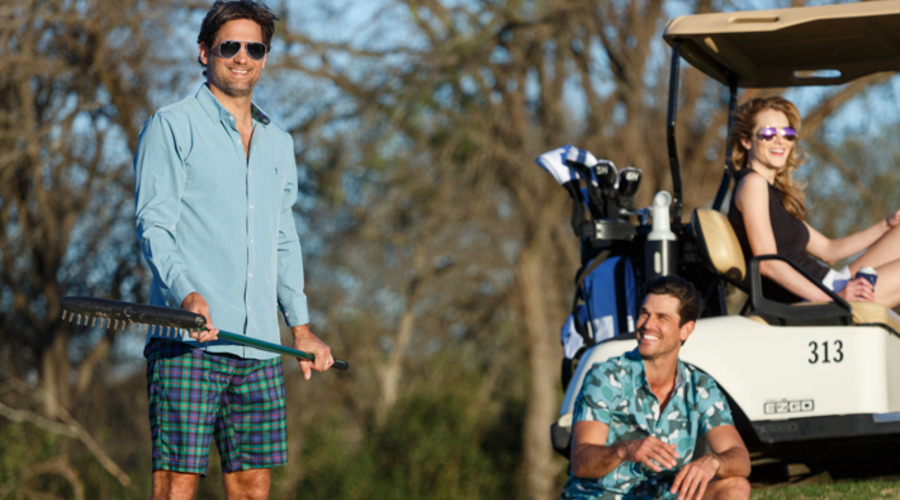 The Murray brothers came up with the line in a partnership with Resignation Media, owners of the entertainment website thechive.com.
Joel Murray, who is CEO of Murray Brothers Golf, told SGB in a showroom visit at Resignation Media's headquarters that the line is aimed at younger males who aren't looking to take the game as seriously as older generations. The best seller last fall was a shirt with highball glasses that shows a few being spilled. Bill Murray came up with the spilled part.
Bill Murray's adoration of golf is well documented and extends far beyond his famous Hollywood role, Carl Spackler in Caddyshack. Along with his brothers, he hosts an annual charity golf tournament, Murray Bros. Caddyshack Charity Golf Tournament, in St. Augustine, FL, with the mission to better the lives in communities across the country. In their younger days, all the Murray brothers caddied at Indian Hill Country Club in Winnetka, IL.
The brothers plan to bring out two collections a year and eventually expand into jackets, blazers and pants.
Photos courtesy William Murray Golf